Posted by George Hanson., Jr Esq. on Oct 17, 2011

Categories:
Featured Article
|
Comments Off

on Pacquaio a No-Show—Cunningham Wins Again!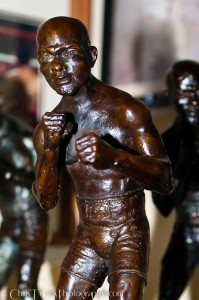 What:              Fourth Annual Briscoe Awards
Who:               John DiSanto, www.phillyboxinghistory.com
Date:               6:00 p.m. – 9:00 p.m., Monday, October 10, 2011
Venue:             Veterans Boxers Association – 2733 E. Clearfield St., Philadelphia, PA 19134
Pictures:          www.christoneyphotography.com
I heard Manny Pacquaio was scheduled to attend the Briscoe Awards. However, he had a change of heart when someone told him that the organizers of the event were going to randomly test attendants for steroids. True? No, it was my response to an earlier email poking fun at Floyd "Money" Mayweather, whom a "family" member quipped was coming to the awards until he heard that "Pacquiao was also appearing and insisted that he take a blood test.  Oftentimes, I wonder what the scribes who write for major publications do for fun, since unlike me, it appears they are precluded from being outlandish and pushing the envelope of the First Amendment.
Who needs Pacquiao when you have two-time IBF cruiserweight champion Steve "USS" Cunningham, Derek "Pooh" Ennis, "King" Gabriel Rosado and Dhafir "No Fear" Smith? These are throwback pugilists—four Philadelphia warriors who made their mark on the sweet science, like a dog on a fire hydrant, the hard way—they earned it. The building was packed as many including former world champions, Joltin' Jeff Chandler—once The Baddest Little Man on the Planet—and Robert "Bam Bam" Hines came to enjoy what has become the most significant boxing award ceremony in the City of Brotherly Love. Hollywood has the Academy Awards or Oscars and Philadelphia boasts The Briscoe Awards, memorializing fighters from the hotbed of the sweet science. To win one is an accomplishment, but to capture two, like Steve Cunningham, is distinctive.
"I can't wait to get back in the ring with the guy who stuck me up," exclaimed Steve Cunningham—accepting his second Fighter of the Year award, he won it in 2007—and referring to his October 1st fight with Yoan Pablo Hernandez in which he lost the IBF cruiserweight title in Germany by 6th round technical decision. Hernandez, a resident of that country, suffered a cut due to an alleged head-butt and the fight was stopped and the judges had him ahead on the scorecards. It has become the consensus that Cunningham suffered a fate that oftentimes is preceded by having a gun pointed at your nose or being blindsided by a club over the head—he got robbed! He went on to thank his wife and kids, who were in the audience, his trainers and his attorney. "This was a down week but this makes me happy. It is beautiful to get recognized in your hometown."
I was perched at ringside on July 30, 2010 in the Asylum Arena when junior-middleweights Derek "Pooh" Ennis and "King" Gabriel Rosado wreaked havoc on each other fighting like their lives were contingent on victory for the USBA title. It was another classic all-Philly matchup by Uncle Russell—promoter J. Russell Peltz. For 12 rounds, with much of the audience standing, the tide ebbed and flowed back and forth in a pugilistic tango. When it was over, I knew that we had witnessed the Fight of the Year, as Ennis edged his friend and cross-town rival winning by a majority decision. There was no indication of their long-running friendship for the duration of that memorable match. However, from the time they both arrived tonight you could tell that they not only have a genuine friendship, but also a deep respect shared by men who waged war together and survived.
With photographer, Chris Toney, kneeling on the floor with writer, Gary Purfield, adjacent and Doghouse Boxing's chief scribe, Ken "Forever Involved In Controvesy" Hissner, in the far corner relaxing on a bar stool, Ennis was first to receive his trophy from John DiSanto. Flanked by his father and trainer, Bozy Ennis, he thanked his team which includes managers Eddie Woods and Moz Gonzalez, who were cheering nearby. "We are waiting for someone to call," he concluded, alluding to an opportunity to fight for a world title. Rosado with trainer, Billy Briscoe, in tow accepted his Briscoe and thanked everyone, adding, "Billy is in his 30s but he is old-school. I am waiting on an opportunity," reinforcing Ennis' statement.
Earlier it was Hissner who introduced Dhafir "No Fear" Smith by stating, "He looks too pretty to be fighter, but he has the best jab in the business. Nobody gave him a chance against Jeff Lacy, but we knew he was going to win." On December 11, 2010, Smith ventured to St. Petersburg, Florida and beat the former IBF super-middleweight champion in his hometown taking a unanimous 12-round decision, garnering the Briscoe for Upset of the Year. Humble and introspective, Smith gave credit to his trainer, Percy "Buster" Custus, and thanked both of the fighters who prepared him through rigorous sparring—USBA cruiserweight champ, Garrett "The Ultimate Warrior" Wilson and world light-heavyweight title challenger, Yusuf Mack. Both men, not far away, were beaming, appreciative of being acknowledged.
Before the Briscoe recipients were recognized, John DiSanto introduced Eddie Everett, brother of Tyrone Everett, former junior-lightweight contender who died tragically in 1977, to present The Everett Brother Award. This honor was created by Everett and his brother, Mike, a former junior-welterweight title contender in memory of their late sibling. It is presented annually to an amateur boxer who embodies the qualities of sportsmanship and leadership. There could not have been a more worthy recipient than Damon Allen—four-time national amateur champion and the third ranked lightweight in the country.
Having known him since he was a little tyke trailing behind his great-grandfather, trainer Mitchell Allen, at the Shepard Recreation Center in West Philadelphia, it was pleasing to see him recognized with this award. Allen is not only a great boxer, but he is also an incredible young man, who despite his pugilistic prowess and success remains grounded and humble. A college student, he has his eyes set on the 2012 Olympics in London. With or without an Olympic berth, it is axiomatic that a promoter will be giving this nineteen-year-old a big signing bonus to get his John Hancock on a professional contract. Yes, he is that good!
I would be remiss if I didn't mention, or attempt to recall many notables from the boxing community. Also in attendance were: Key "Pixel Princess" Fisher, Khalil Farah, Greg "Hot Shot" Hackett, Mitch Allen, "The New" Ray Robinson, Brittany "Bam" Rogers, Julie Briscoe, Dillon "Lil Dave" Price, Damon Allen Sr., Dave Price, Marc Abrams, Simon "One Punch" Carr, Livvy Cunningham and Rodney Rice. I was so swept up in the moment that I forgot to relay another Pacquiao joke to Uncle Russell.
Why pass on this opportunity?
It was brought to my attention that Manny Pacquiao is still without a U.S. driver's license because he refuses to be tested!
Continue to support the sweet science, and remember, always carry your mouthpiece!
Related Articles: