Posted by George Hanson., Jr Esq. on Nov 11, 2010

Categories:
Featured Article
|
Comments Off

on Papa's Got a Brand New Bag! — Judah Decisions Matthysse
Date:            Saturday, November 6, 2010
Venue:           The Prudential Center, Newark, NJ
Promoters:       Main Events, Golden Boy & Super Judah Promotions 
Coverage:        HBO's Boxing After Dark
Commentators:    Jim Lampley, Roy Jones Jr., Harold Lederman & Max Kellerman
Ring Announcers: Michael Buffer & Joe Antonacci
Matchmaker:      J. Russell Peltz
Referees:        Earl Brown, Randy Neumann, Lindsey Page & Ricardo Vera
Pictures:        www.christoneyphotography.com
The professional fighter is a complex creature with varied idiosyncrasies. In order to garner a better understanding of these noble warriors you need to go through the experience of confrontation—become a literary pugilist. The ring is not for everyone, especially the faint of heart. Therefore, you will have to conceptualize, use your imagination and place the organized violence or the fighter in context.
In 1965 The Godfather of Soul, and former professional boxer, James Brown, went into a North Carolina recording studio and emerged with the hit single Papa's Got a Brand New Bag. This was after a legal battle with King Records in which he and the record company agreed to a new contract with a higher royalty rate than their previous agreement plus Brown's retaining publishing rights and complete artistic control—"Papa did get a brand new bag."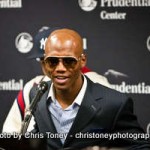 (Zab Judah – post-fight press conference.)
The veracity of what you are about to read may be questionable. However, legend has it that another professional fighter who was on a mission walked into his promoter's Florida office, which shared the same first name as Brown's record company. The fighter pulled his box cutter, slammed the door and emerged a free agent clutching one of the eponymous CEO's pants pockets and its contents. The talented young fighter, who lived life in the fast lane cared little about contracts and broken promises. He was owed money and he wanted out! Fast forward several years later, he became focused, moved from his hometown of Brooklyn to Las Vegas formed his own promotional company, forged an alliance with Main Events, his original promoter, and is the poster child for all that is good about boxing—Zabdiel Judah got a brand new bag!
Although Judah cut off the "Coiffed One's" pants pocket with a box cutter and was thus released from his promotional contract, Judah has changed and is now living a Spartan lifestyle and is a model citizen. He is not shy about speaking of his religious faith and God. It was writer Joyce Carol Oates who wrote, "The boxing ring is an altar. It is not an altar of sacrifice solely, but one of consecration and redemption. Sometimes." And tonight in a tactical 12-round junior-welterweight bout against knockout specialist Lucas Matthysse (27 wins – 0 losses – 0 draws –25 kos) of Argentina, Judah proved that "Papa's got a brand new bag" by sticking to the fight plan, boxing like a phantom, maintaining his composure and walking away with a split-decision 114-113 twice. The dissenting judge had the same score for Matthysse.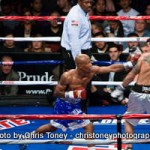 The first nine rounds can be summed up as follows:  The southpaw Judah (39 wins – 6 losses – 0 draws –27 kos) came forward, dictating the pace by backing up the Argentinean with crisp right jabs mixed in with the occasional right hook, straight left and left uppercut that was oftentimes delivered while backing up, stopping on a dime and firing off the back leg. Despite a cacophony of boos that started in the second round, Judah executed the fight plan devised by his father and trainer—sticking to it like O.J. to his alibi.
(Judah (L.) on the attack.)
Matthysse expended his energy by focusing on landing his vaunted left hook to the body followed by a straight right aimed at Judah's solar plexus. However, many of them never found pay dirt as Judah a scholar of the sweet science picked them off on his elbows by bending his knees and twisting at the waist—classic.
As expected whenever you have a southpaw facing an orthodox fighter, there was an occasional clash of heads in Round 3 and Judah sported a small cut under his left eye, which was inconsequential to the outcome. This inevitability occurred again in Round 9 with Referee Brown admonishing Matthysse. Despite Judah boxing brilliantly and taking a fighter who had never been beyond Round 4 into deep waters, the boo-birds reappeared in Round 7. I guess fans were accustomed to the once reckless and mercurial Judah who would have reacted and made the mistake of trading with an opponent who terminated 93% of his previous engagements before the final bell. However, Papa had a brand new bag and it was filled with all the tools of his trade.
In Round 10 Judah's flawless perfection of defense was penetrated as the Argentinean stepped into his sense of time and delivered a straight right that crashed off the southpaw's gloves and slid onto his chin like Ricky Henderson stealing second base. Tottering, bobbing and weaving, his equilibrium askew, a few punches grazed Judah's head and he wisely took a knee, eyes transfixed on the referee who began the count—a knockdown. The great strength of a pugilist is his pride. In the past, a twenty-something Judah would have been overwhelmed by machismo and the roar of the crowd and would have engaged in a shoot-out despite being hurt. Though momentarily shaken the imperceptibly two-division world champion knew that getting a respite was the optimal decision. It was reasonable too conclude that he had won at least eight of the previous rounds with textbook boxing.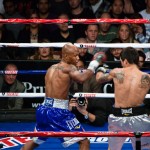 Rising at the count of five, Judah demonstrated indubitably that he wasn't going to abandon his fight plan by fighting defensively, stopping momentarily to deliver a stinger of a left uppercut to slow the advances of his charging adversary. He made it out of the round on good footing. Matthysse opened Round 11 by launching a laser right that found Judah's gloves. However, lightning never struck twice and Judah boxed for the next two rounds, despite being outworked, to the final bell. Two judges scored it 114-113 Judah, while the third judge had the same score for Matthysse. Judah won by split-decision and holds the NABO junior-welterweight title. He is poised for a showdown with Kaizer Mabuza of South Africa for the vacant WBO junior-welterweight championship. Perhaps a victory against Mabuza will allow this artist of pugilism to lure one of the troika (Devon Alexander, Timothy Bradley, Amir Khan) into the squared circle. Papa's got a brand new bag and neither of these three is rushing to view its contents.
THE UNDERCARD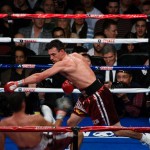 Earlier in the broadcast, in the co-main event, former IBF featherweight and junior-lightweight champion Robert "The Ghost" Guerrero (27 wins – 1 loss – 1 draw –18 kos) of Gilroy, California won the vacant WBO Intercontinental title, taking a unanimous 10-round decision by scores of 100-90, 98-90 and 96-92 over 2004 U.S. Olympian, Vicente Escobedo (22 wins – 2 losses – 0 draws –14 kos) of Woodland, California. The southpaw Guerrero stalked Escobedo from the opening bell, working behind the right jab, picking shots with pinpoint accuracy, backing up his adversary who fired back while retreating.
This continued until early in Round 3 a well-timed Guerrero right-hook found its mark, ricocheting off of Escobedo's noggin, depositing him to the canvas. Rising at the count of five, the former Olympian accorded himself well for the remainder of the round showing no effects of the knockdown. Escobedo took a close fourth round by being busier and landing a nice right cross on his opponent. However, his success was ephemeral as the former champion had him reeling in the fifth round opening a cut over his right eye. Continuing where he left off, Escobedo was reintroduced to the canvas in Round 6, only this time it was a sizzling left uppercut that penetrated his guard like a hollow-point bullet piercing a wooden door. With two minutes remaining in the round, Escobedo rose at the count of seven, gathered himself, and traveled for the next 120 seconds on good footing.  The remainder of the bout was closely contested with sporadic exchanges with Escobedo winning the final two rounds on my scorecard. Despite Escobedo losing the decision, he captured the hearts of romantics all over the world when he took a knee and proposed to his girlfriend, placing a diamond ring on her finger in the ring after the decision was announced.
OTHER RESULTS
Undefeated lightweight Adrien "The Problem" Broner (17 wins – 0 losses – 0 draws –14 kos) of Cincinnati, Ohio mesmerized the audience with his fast hands and fancy footwork, dropping Ilido Julio (40 wins – 19 losses – 1 draw – 35 kos) of Miami, Florida twice in the opening stanza with left hooks, stopping him at 1:34 of the round. Forever the showman, Broner celebrated by dancing—doing his version of "The Dougie" capped off by a back-flip. It is a pity that his bout wasn't televised because the exciting Broner is made for television.
2008 Ghanaian Olympian Bastie "The Beast" Samir (5 wins – 0 losses – 0 draws – 5 kos) who now resides in Las Vegas made short work of southpaw Damion Reed (2 wins – 3 losses – 0 draws –1 ko) of Reidsville, North Carolina, dropping him four times with left hooks to the body, forcing Referee Page to call a halt with 23 seconds remaining in the opening round of this scheduled four-round middleweight bout. Samir is going to hurt many fighters in the middleweight division. He is Dick Tiger reincarnated, but faster and more powerful.
2008 U.S. Olympian Sadam "World Kid" Ali (9 wins – 0 losses – 0 draws –5 kos) of Brooklyn, New York stopped Gary Bergeron (12 wins – 6 losses – 0 draws –7 kos) from New Orleans at 2:18 of Round 2 of a scheduled four-round welterweight bout. Canadian welterweight Michael Zewski (4 wins – 0 losses – 0 draws – 3 kos) won a four-round unanimous decision 40-36 on all three scorecards over Ardrick "The Hitman" Butler (5 wins – 2 losses – 0 draws –2 kos).
'Lightweight Mike "The Artist" Perez (9 wins – 0 losses – 1 draw – 4 kos) of Newark, New Jersey needed just 1:02 of the opening round to stop Hevinson "The Destroyer" Herrera (14 wins – 6 losses – 1 draw –12 kos) from Miami, Florida during this scheduled four-rounder. 
In another scheduled four-rounder, Junior-lightweight Tyrone Luckey (1 win – 0 losses – 0 draws –0 kos) of Middletown, New Jersey had Alex Montes (1 win – 1 loss – 0 draws –0 kos) from San Juan, Puerto Rico bouncing off the canvas four times like a jack-in-the-box over the span of three rounds forcing Referee Page to end the one-sided affair at 2:55 of Round 3.
Southpaw junior-welterweight Michael Brooks (2 wins – 0 losses – 0 draws –1 ko) of Long Island, New York, won a unanimous four-round decision over tough Philadelphian Kwame Hill (1 win – 5 losses – 0 draws –1 ko). Newark light-heavyweight Angel Conception (2 wins – 0 losses – 0 draws – 0 kos) won a four-round unanimous decision over Maurice "Static" Amaro (1 win – 2 losses – 0 draws –0 kos) of Philadelphia by scores of 40-36 on all scorecards.
RECAP
Zab Judah has always been a walking paradox— intelligent and extremely talented, yet reckless. Oftentimes Judah teeters on the edge of normalcy. Maybe winning a junior-welterweight world title at the age of 22 came too easily to the Brooklyn native whose natural gifts overwhelmed his opponents. I guess time is a teacher to the now 33-year-old two-division former world champion who is now a husband and a father. Sometimes there are lessons in facing adversity and being toppled from the space occupied by only the elite fighters. There is no question that Judah is back, but he is more disciplined and insightful with an air of humble superiority. And yes—the talent never left. Papa's got a brand new bag and it's shiny as hell!
Continue to support the sweet science, and remember, always carry your mouthpiece!
Related Articles: