Posted by George Hanson., Jr Esq. on Nov 25, 2015

The Mouthpiece
By: George H. Hanson Jr., Esq.
Date:                       Friday, November 20, 2015
Venue:                    2300 Arena—Philadelphia, PA
Promoters:              Marshall Kauffman—King's Promotions
Ring Announcers:    Nino Del Bueno
Referee:                 Gary Rosato & David Franciosi
Photos:                   www.christoneyphotography.com
There was a time in the 60's and 70's when South Philly-born disc jockey and radio personality Jerry "The Boss With The Hot Sauce" Blavat ruled the airwaves and television from Philadelphia to Atlantic City—becoming a Philadelphia icon and legend. Blavat was a bigger than life personality and today at the age of seventy-five he is still going strong. It is probably due time that Blavat transfers his moniker to boxing promoter Marshall Kauffman who is dominating the local boxing landscape and surrounding territories reaching all the way down to Washington, D.C. Yes, Kauffman is the new "Boss With The Hot Sauce" and one can only appreciate the irony that he has ascended to the throne in the Capital of Boxing—Philadelphia—with his company aptly named King's Promotions.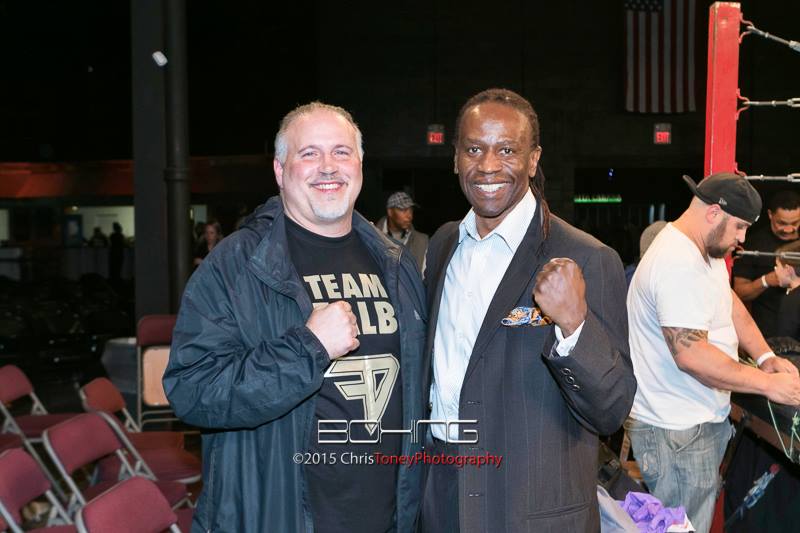 (L – R) Kauffman and Hanson.
And tonight on the eve of the Miguel Cotto vs. Canelo Alvarez middleweight mega-fight, Kauffman packed the house with a card comprised of a three round exhibition, seven four-rounders and two six-rounders including the main event. I am tempted to call Blavat and tell him as we would say in Jamaican patois, "pass di hot sauce." Because, it is glaringly obvious that boxing has undergone a paradigm and power shift and Kauffman is now king.
"I am glad that Frank got in six rounds because he hasn't fought in nearly six months and his next fight is against Omar Douglas" stated Kauffman after his charge super-featherweight Frank DeAlba (16 wins – 1 loss – 2 draws – 6 kos) had just waged war in the six-round main event capturing a unanimous decision by scores of 60-54 twice and 59-55 over the well-traveled Jesus Lule (7 wins – 14 losses – 1 draw – 1 ko) of Fort Meyers, Florida. Lule blanketed DeAlba at the opening bell and stayed on top of him like the tarpaulin of a Jamaican market truck heading to Kingston on a rainy day. The southpaw DeAlba had little or no breathing room and was in perpetual motion unleashing combination as Lule came forward matching his intensity.
Round after round they went toe-to-toe with DeAlba ripping off combinations and Lule returning fire never allowing his adversary to land two unanswered punches. It was this strategy that kept Lule in the fight and prevented DeAlba from pitching a shut-out. Lule captured an extremely close fourth round on my scorecard and accorded himself nicely over the remainder of the frenetic fan-friendly fiasco.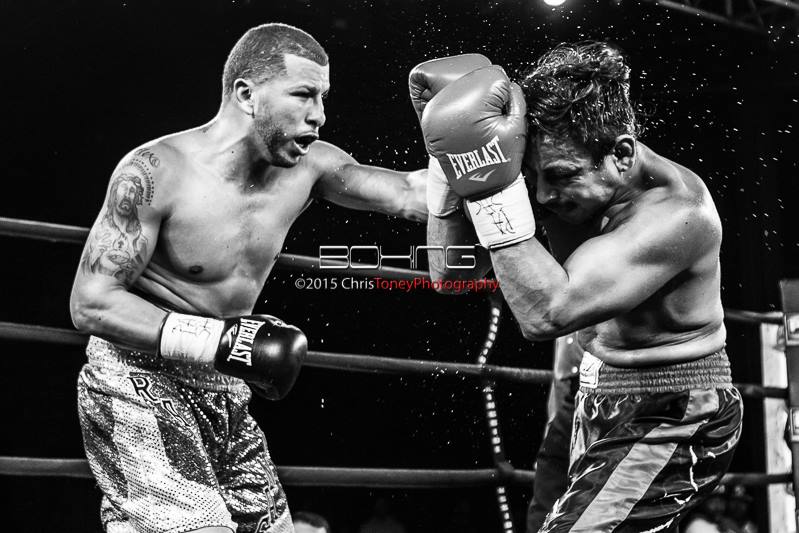 DeAlba (L.) landing the left hook on Lule.
The gong sounded and super-middleweight Tahir Thomas (4 wins – 0 losses – 0 draws – 3 kos) of Salisbury, Maryland hopped on Antowyan "The Iceman" Aikens (10 wins – 0 losses – 0 draws – 1 ko) of Atlantic City, New Jersey like the tall rangy fighter had slapped his mama. Decked out in full-length white tights under his trunks resembling a gloved court jester in King Arthur's court, the shorter, stockier Thomas attacked with reckless abandon hell-bent on sending Aikens to the canvas early. Aikens who is a dead ringer for heavyweight great Larry "The Easton Assassin" Holmes got on his toes reminiscent of the champ and boxed while circling and using his jab. Like Holmes back- pedaling from a trailing Alfredo Evangelista, Aikens stopped for a split-second and uncorked a blistering straight right that connected, smacking Thomas in the face sending him to the canvas. Surprised and somewhat shaken, the fallen pugilist was up as referee Rosato reached the count of three, dusted off his gloves and allowed the fight to resume. Unabashed, Thomas continued his forward march and finished the round on good footing.
The second round was a continuation of the opening stanza with Aikens and Thomas appearing as though this was a movie and they were recreating the second Larry Holmes vs. Earnie Shavers fight. Thomas came forward attacking the head and body and Aikens countered with blistering rights and uppercuts. I scored the second round for Aikens and the third for Thomas who had the Atlantic City fighter on the ropes evading punishment, shoulder rolling. By the fourth stanza Thomas was bleeding from the nose and Aikens had a nice sliver over his left eye, as this became a war of attrition. I gave Aikens the fourth round and had to score the fifth for Thomas who was a little busier.
Thomas roared out for the final round with deadly purpose. He was all over Aikens throwing everything but the kitchen sink knowing that he was probably behind on the scorecards and needed a knockout to secure victory. He caught Aikens with a combination and continued unleashing. More exhausted than hurt, Aikens succumbed to the barrage and wisely took a knee to gain a respite and halt his attacker's momentum. He listened to the count and was up as the referee tolled the count of eight. The action resumed and Aikens rode his bicycle and made it to the final bell. One judge scored it 57-55 for Aiken; the second judge had the same score for Thomas and the third judge saw it 56-56. The action packed bout —candidate for "2015 Philadelphia Fight of the Year" was declared a split-draw.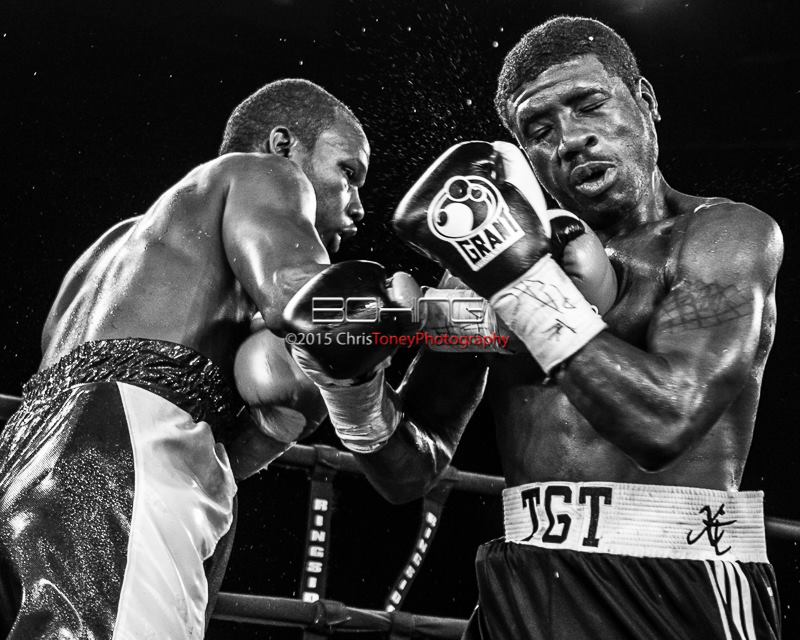 Aikens (L.) landing the right.
Cruiserweight Hafiz Montgomery (1 win – 0 losses – 0 draws – 0 ko) of Toms River, New Jersey made short work of winless southpaw Devon Mosley (0 wins – 3 losses – 1 draw) of Capitol Heights, Maryland in their scheduled four-rounder. The bout began with Montgomery working his jab pursuing Mosley who kept his distance while countering. Montgomery came forward setting the tempo as his opponent made the bout competitive by countering. Montgomery capitalized on an opening and drilled Mosley with a thunderous straight right that sent him to the canvas flat on his face stretched out on his belly as thought he was taking a midday nap. Referee Franciosi started the count as Mosley resembling a newborn calf lifted his head and started to rise on spaghetti legs. The referee tolled ten as Mosley made it to a standing position. The fight was over and Montgomery declared the winner by knockout at 2:34 of the opening round. Mosley left the ring disheartened, tears streaming down his cheeks.
With Ivan "Mighty" Robinson—the man who handed the late Arturo "Thunder" Gatti two consecutive losses—as part of his entourage Philadelphia featherweight Derrick "Show Stopper" Bivins (1 win – 3 losses – 2 draws – 0 ko) followed his trainer Rashiem Jefferson into the ring for his four-round bout with Eliezar Mendez Garcia (1 win – 1 loss – 0 draws – 0 ko) of Reading, Pennsylvania. Little did we know that the tall rangy fighter was going to live up to his moniker. The shorter Garcia stayed close to Bivins at the opening bell working the body. Bivins despite his height advantage was able to land better uppercuts than his nemesis and took the opening stanza. Early in the second round, Bivins struck with a short right that connected high on Garcia's cranium short-circuiting his equilibrium sinking him to one knee as though he was an NFL quarterback leading a huddle. He took the count and was up as referee Franciosi tolled seven. But, Garcia wobbled forward forcing the referee to call a halt at 45 seconds of the round. Bivins was declared the winner by technical knockout.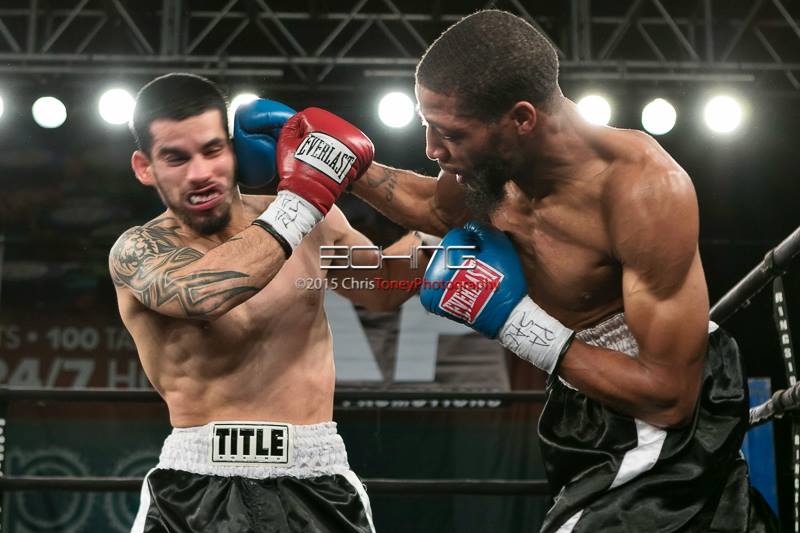 Bivins (R.) lands the overhand right.
In an all-Philly match-up debuting heavyweight Corey Morley squared off against Brian "Wild Man" Donahue (3 wins – 13 losses – 2 draws – 0 kos). Morley at 284lbs had the decisive edge in weight over the 204 lbs. Donahue whose experience more than compensated for the size disparity. Donahue captured the opening stanza of the scheduled four-rounder by landing a few short rights and outhustling Morley who was navigating in unchartered territory. Morley made the necessary adjustments and won the second round with some good body shots. The next two rounds were close as both combatants had their moments with Donahue talking to Morley throughout the bout. When it was over one judge had it 39-37 for Morley with the second having the same score for Donahue. They both were overruled by the third judge who scored it 38-38. Thus, the bout was declared a split-draw.
I couldn't get the Lenny Kravitz's song "It Ain't Over till' It's Over" out of my head after witnessing debuting Philadelphia cruiserweight Tyrell Colston's fight against Hector Perez (2 wins – 1 loss – 0 draws – 1 ko) of Atlantic City, New Jersey. Wilson under the guidance of trainer Kevin Carmody strolled out of his corner for the opening bell supremely confident working magnificently behind his long stiff jab connecting at will against the shorter more compact Perez. It was a beautiful display of the sweet science as Colston dictated the pace. Midway through the round Colston found Perez's chin with a well-timed straight right sending him to the canvas. Perez was hurt but he managed to get to a standing position as referee Rosato reached the count of five and dusted off his gloves, checked his vitals before signaling for the fight to continue. Colston had Perez in dire straits and attacked wobbling him with another straight right. But, Perez has incredible recuperative powers and was able to counter, hold and dodge further punishment making it to the bell.
A fight ain't over until it is over because Perez came out in the second round and connected with an overhand right high on Colston's head as he was turning, discombobulating his internal wiring sending him to the canvas. On shaky legs, Colston made it upright as the referee reached the count of three. The fight resumed and a rejuvenated Perez attacked Colston whose legs appeared rubbery. Perez wasn't going to allow his opponent to make it out of the round and connected with a hard left hook that landed on the side of Colston's head sending him sideways through the ring ropes in the far neutral corner. Colston was able to make it to his feet but was groggy. Thus, the referee waved off the action and declared Perez the winner by technical knockout at 1:47. It ain't over till' it's over!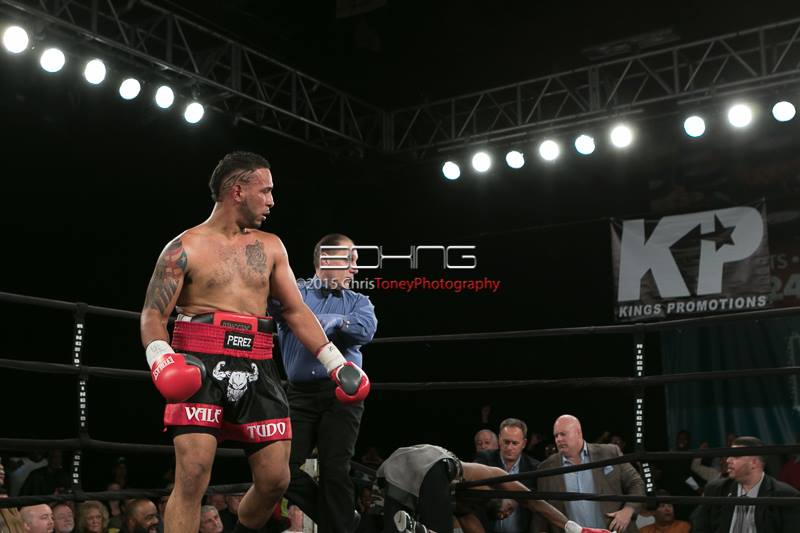 Perez walks to the neutral corner.
Buffalo native the outlaw Jack "Shady" Grady (0 wins – 1 loss – 1 draw) rode into 30th Street Station Thursday on the iron horse for the weigh-ins. And tonight he strolled into the ring brash, bold and unafraid for his four-round bout with local fan-favorite Scott "Irish Thunder" Kelleher (2 wins – 0 losses – 0 draws – 1 ko) who trains out of the nearby Joe Hand Boxing Gym under the tutelage of the Hinnant brothers –Wade and Randy. The last time Grady was in the area he fought to an entertaining four-round draw with tough Kevin Garcia on June 20th at the Valley Forge Casino and Resort. Grady smiled as the pro-Kelleher crowd booed him during the introductions but cheered raucously for his opponent. Grady seemed to revel in the crowd's disdain.
The bell rang and Grady ran straight at the lanky Kelleher like a maniacal bull attempting to gore the gloved matador. It was clear that this wasn't going to be a boxing match but an old school brawl. Kelleher landed a few clean shots as Grady came forward throwing shots from every conceivable angle. An inadvertent head-butt opened a cut over Kelleher's left eye. The fight was in its embryonic stage and already blood was on the canvas. Kelleher took a close opening round.
The fight continued at the same pace over the next three rounds with Grady on the attack switching intermittently from orthodox to the southpaw stance making it almost impossible for Kelleher to get a proper read to land his power shots. It was an ugly fight but Kelleher managed to keep his composure and work his jab never allowing Grady to dictate the pace and take control of the fight. The young Philly pugilist fought a smart fight despite Grady's unorthodox style and unpredictability. When it was over all three judges scored it 40-36 for Kelleher who won by unanimous decision. The crowd cheered wildly as Kelleher's hand was raised in victory.
In a four-round light-heavyweight bout Christopher "Ice Cold" Brooker (4 wins – 1 loss – 0 draws – 4 kos) of Philadelphia faced tough Edgar Perez Villanueva (6 wins – 16 losses – 0 draws – 3 kos) of Chicago, Illinois. Brooker came out of his corner bombing away at the shorter Perez with heavy hooks to the head and body. But, the cagey and experienced veteran kept his hands high blocking the heavy barrage, returning fire landing a few body punches on the chiseled Brooker. Brooker won the first round and dropped Villanueva in the next round with a right uppercut about twenty seconds before the bell. Villanueva was up before referee Rosato reached the count of five and was able to finish the round. Brooker dominated the remaining two rounds opening a cut over Villanueva's left eye in the third stanza. No surprise that all three scorecards had it 40-35 for Brooker by unanimous decision.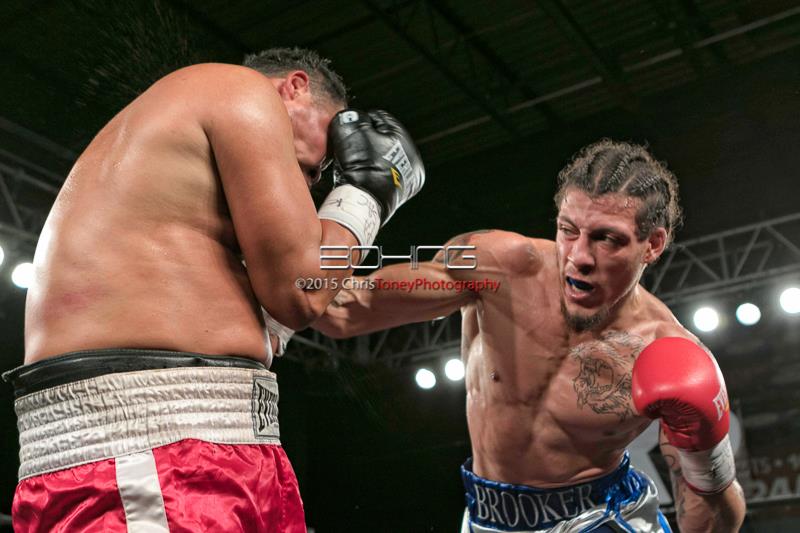 Brooker (R.) shakes Villanueva with a right.
Fellow scribe turned professional pugilist Ryan "Macho" Bivins (0 wins – 1 loss – 0 draws) made his debut on October 18, 2014 at this same venue. And with several fights falling through at the last minute, it was a relief as Bivins made his way into the ring to face debuting Daryl Bunting of Ashbury Park, New Jersey for their scheduled four-round super-middleweight bout.
Bunting attacked at the opening bell landing to Bivins' body and head forcing him to retreat and ride his bicycle while sticking and moving. However, Bivins landed a short right wobbling Bunting as the bell sounded to end the opening stanza. Bunting took the fight to Bivins backing him up for the next two rounds with sheer aggression forcing him to fight while backpedaling. However with almost a minute left in the fight Bivins turned the tide with a vicious combination that had Bunting in trouble on the verge of being knocked out. Fueled by his success, Bivins pounced on his opponent throwing punches from every angle hoping to close the show. The bell saved Bunting who was reeling around the ring as the round ended. Bivins started a little too late and it was axiomatic that Bunting would be awarded the decision. However, one judge scored it 39-37 for Bivins with the second judge having the same score for Bunting and the third scoring it even at 38-38—a split draw.
The show opened with a three-round middleweight exhibition between southpaws—Terrence Williams (4 wins – 0 losses – 0 draws – 1 ko) of Harrisburg, Pennsylvania and Junior Castillo (7 wins – 0 losses – 0 draws – 7 kos) of Reading, Pennsylvania. Someone forgot to tell these two fighters that it was supposed to be an exhibition because they both threw punches with bad intentions much to the delight of the fans. It was a spirited demonstration of the sweet science.
It was another exciting night of the sweet science as members of the Union League of Philadelphia enjoyed the action along with the Philly boxing faithfuls. Boxing is truly the fifth sports franchise in Philadelphia—The Capital of Boxing—where Kauffman is now king—"The Boss With The Hot Sauce." Dave Wilkes doesn't have to wait – he should go ahead and etch Kauffman's name on the trophy for "2015 Promoter of the Year" award for his upcoming 20th Annual Salute To Philly Boxers Awards banquet.
Continue to support the sweet science, and remember, always carry your mouthpiece!
Related Articles: