Categories:
Featured Article
|
Comments Off

on This is a do-or-die fight for me, I hate losing – Chris Arreola
By Michael Amakor | April 25, 2014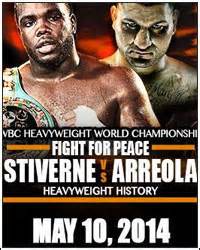 On Saturday, May 10, Bermane Stiverne (23-1-1, 20KO's) of La Plaine, Haiti and Chris Arreola (36-3-1, 31KO's) of Riverside, CA will battle at "FIGHT FOR PEACE – HEAVYWEIGHT HISTORY", for the vacant World Boxing Council Heavyweight Championship at the USC Galen Center on the campus of the University of Southern California in Los Angeles and LIVE on ESPN and ESPN Deportes' Noche de Combates and presented by Corona Extra (8 p.m. ET/5 p.m. PT).
To promote the fight, both fighters have been fielding questions from the media related to all the buzz surrounding their fight and I was fortunate to have time to attend one such event held on April 22.
From the onset of the conference, it was clear that this fight was all about Arreola even though Stiverne was the first to field questions. Typically, the usual suspects ESPN and the Las Vegas Review Journal dominated the discussion with Stiverne drawing some interesting responses but not the ones I was interested in asking. Shortly after those questions the floor was closed, and the opportunity to question Stiverne about a host of issues evaporated.
To my delight however, I was the third man to question the one time title challenger and WBC International heavyweight champion Chris Arreola and here is what he had to say.
Bernie Bahrmasel: Next up for Chris Arreola and Henry Ramirez is Michael Amakor from FightKings.com. Michael, go ahead please.
Michael Amakor:    What pains you about your loss to Bermane? Is that one of the biggest losses of your career, and why does that particular one stick?
Chris Arreola: Oh, well it sticks because it was my last loss. That's one of the main reasons it sticks most. But it's very simple: I hate losing. I don't like losing, and especially when I'm the idiot that causes the loss. Yeah, Bermane broke my nose and stuff like that, but I kept trying and trying to win and win the fight, but I couldn't. Bermane was just a better fire that night, the better-conditioned fighter.
He was able to put combinations together which I wasn't. I was just looking for that one shot, and that's one thing that I won't be making a mistake this time. I'm not going to be looking for just one shot. I'm going to be on him. I'm going to be accumulating punches, and I'm going to make them work every minute of every round. I said it before, and I mean it: I'm going to make him work.
Michael Amakor:    Now, you also mentioned a little about the desperation. Why the desperation at this stage of your career?
Chris Arreola:   I have two losses, man. This could be my very last shot, and I'm not going to take this shot for granted. I'm not going to screw this shot up. I'm going to make sure that I make it count. I'm going to make every punch count. I'm going to make this fight count, man.
This is a do-or-die fight for me, man, because I said it before and I'll say it again: I'm not a paycheck fighter. I'm not a fighter that's going to be a gatekeeper. That's not me. I don't want to be in the sport to do that. I'm in the sport to be a champion, not to be a paycheck fighter or a crossroads kind of fight kind of guy.
Michael Amakor:      Okay, and my last question: We, the media, we tend to kind of back you into a corner after you lose a fight, but you've actually manned up for all these fights and gone the distance. You've not been stopped. Would you, now that you have an opportunity, would you blame yourself for those losses, or would you blame your trainer – I hate to put the trainer on the spot – or certain things that couldn't allow you to get to your full potential? What have you done in this camp that's different from everything else?
Chris Arreola: My trainer, he's a complete jerk. No, I can't stand the guy. But I'm going to say one thing, man, I can never blame him for my loss. I'm a man. You know, I stand when I pee; I don't sit when I pee. And I take every loss on me. Henry's at the gym every day waiting on me. Henry was at the gym making sure that I was doing what I was supposed to do, but it was always up to me. It's always up to me whether I do it or not.
And of course, every loss is my fault. I'm not going to blame Henry. Henry is doing everything he's supposed to do. Henry watches fights. Henry analyzes things. I'm the one that didn't do the work. And the difference now is that when we're in camp there's only one car key, and that's Henry's car, and we go to the gym every day, and I make sure I put in the work every day. Because, like I said, this fight my back is against the wall. I can't lose this fight. I won't lose this fight. I have to do it for myself and for my family.
Bernie Bahrmasel:  Great. Thanks very much, Chris. Michael, thanks very much for the questions, we appreciate it.
NOTES: I hope to catch up with Bermane Stiverne before the fight, there is still some hope, the fight is still about 15 days away. Either way, May the best man win.
Related Articles: