Categories:
Featured Article
|
Comments Off

on Ray Narh more than ready for Alvarado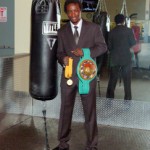 By Prince Dornu-Leiku
Barely 48 hours to fight night, Ghana's Sugar Ray Narh is in top fighting mood as he rounds up preparations to take to the ring on Saturday against Michael Alvarado when the two knockout specialists fight for the vacant World Boxing Council (WBC) Continental Americas Super Lightweight title on the undercard of the much publicized Manny Pacquiao vs. Sugar Shane Mosley WBO Welterweight clash at the MGM Grand in Las Vegas, USA.
Narh has exclusively told SportsInGhana.com from his US base that training and preparation have been good. Nothing, he says, will stop him from victory against the unbeaten Alvarado. "Practice has been great and yes I'm more than ready to take care of business on Saturday and come out with the win," Narh famously called Emperor has said.
The Emperor is so confident of victory that he has even predicted a victory by the short route. Though he is not specific on the particular round, Narh says Alvarado will not last the full 12 rounds come Saturday night.
"My prediction is that I'll win by a KO in any of the rounds. My fans should be by their set early with their popcorns and sodas ready to party because I got this and it's finished. The battle has been won," an obviously confident Ray Narh has envisaged.
The 32 year old Ghanaian (25-1, 21 KOs), wants the win to send a message to the big boys of the Light Welterweight division not to run away from fighting him. Currently world-rated No. 6 by the WBC, Ray Narh is already looking forward into the future, though he has pledged not to be distracted from the task on Saturday.
"After this I'll be looking forward to have a shot at all of the world titles in the 140 division. But I'm focused because I have a job to do on Saturday and nothing will distract me," Narh promised.
Related Articles: