Posted by George Hanson., Jr Esq. on Nov 21, 2014

Categories:
Featured Article
|
Comments Off

on Ray Robinson Babbbby!
November 19, 2014
The Mouthpiece
Ray Robinson Babbbby!
By: George H. Hanson Jr., Esq.
It never ceases to amaze me the endless debate between new entrants to the sweet science—those who just discovered boxing and the shoulder roll—regarding the greatest fighter off all-time. There is never any consensus or closure regarding these exercises in futility. One of these debates that raises my ire and eyebrows is the one regarding Sugar Ray Robinson and the current Pound for Pound King—Floyd "Money" Mayweather.
For the overwhelming majority of us long-time boxing aficionados this is a moot point because Ray Robinson is without a doubt the greatest boxer who ever lived and we believe that he would have defeated Mayweather. To some of the new converts, most unable to distinguish between a fish hook and a left hook, this is a tactical match with Mayweather winning by decision—giving new meaning to heresy and delusional.
But, all is not lost because there is a possibility of Mayweather facing Ray Robinson in the squared circle. Moving up the ranks and standing 6 feet 1 inch from the City of Brotherly Love—The Capital of Boxing—Philadelphia is a welterweight bearing the name Ray Robinson—not a moniker but his legal name given at birth. Robinson sports "The New" before his name to distinguish between himself and the legendary fighter. The southpaw (18 wins – 2 losses – 0 draws – 8 kos) is currently ranked in the top 15 in the world. It is axiomatic that there aren't fourteen welterweights in this galaxy that are better than Robinson. The Philly pugilist is supremely talented and is getting better.
On May 12, 2012 Robinson sent 1996 Olympic Bronze medalist Terrance Cauthen—two days shy of his 36th birthday—into retirement with a straight left in the second round of their bout for the vacant Pennsylvania welterweight title. Cauthen was Floyd "Money" Mayweather's roommate at the 1996 Summer Olympics in Atlanta. There are those who are predicting that Robinson will be Mayweather's curtain call.
Diane Nettles, Robinson's mother, was able to single-handily raise seven children—five boys and two girls—without a father. Ray Robinson the baby of the family has been a fighter for most of his life. As a toddler he was thrown down a flight of stairs by his father—a man for whom he has no recollection. "I never met him, he wasn't a nice man." With both legs broken the little boy was relegated to a body cast and eventually recovered.
As an eight year-old Robinson wandered into the old Joe Hand Boxing gym because he wanted to do something different than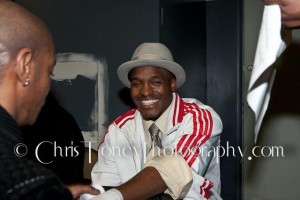 his friends who were busy playing basketball and football. There he met Moses Robinson, "Mo," who was training most of the youngsters. Mo, a former professional boxer took the young man under his wings becoming his trainer, surrogate father, mentor, and best friend. They swept through the amateur ranks winning numerous titles and securing a promotional contract under the banner of Joe DeGuardia's Star Boxing.
Sugar Ray Robinson's sartorial splendor is legendary and like the celebrated fighter his namesake is bringing back style and grace to the sweet science. On fight night Robinson can be seen decked out in exquisitely tailored suits coordinating shirt and tie—and as we would say in colloquial terms—cleaner than the Board of Health. He credits Mo for teaching him that "the first impression is the best impression." "Mo gave me the blueprint and always told me to stand out."
Joining the punch-for-pay ranks in December 2006, the gifted, tall and rangy southpaw fighter rolled off 11 consecutive victories before losing a majority decision to undefeated prospect Brad Solomon on December 3, 2009. It would be almost seven months before he would return to the ring and again he suffered defeat—a unanimous decision loss to future welterweight champion Shawn Porter on July 16, 2010—a fight Robinson believed he won. Two consecutive losses and Robinson found himself without a promoter.
It was the great Bob Marley who sang, "The stone that the builder refuse, will one day be the head cornerstone." Robinson rebounded and is on a seven-fight win streak including a seventh round stoppage for the vacant USBA welterweight title of dangerous contender Ray "The Emperor" Narh on August 2, 2013. In his next fight on February 21, 2014 Robinson bested the highly regarded undefeated Russian—Aslanbek Kozaev—winning a twelve-round unanimous decision and the vacant WBO NABO belt. Under the guidance of Delaware based Champs Management, Robinson is rapidly moving up in the ratings and will be in the top 10 by early next year.
"My six year-old daughter Mya and my mother are my inspiration. I want a better life for them," said Robinson. Thus, he is always working or honing his skills. The Philadelphia fighter works full-time with business partner Ashleigh Hester running Box Fit—a combination of their respective skills—out of the Greg Long Gym in Feasterville, Pennsylvania. Hester and Robinson were able to mesh her expertise in strength and conditioning with his boxing acumen to provide clients with the ultimate fitness workout.
In the afternoons he heads to Bozy's Dungeon Gym in Philadelphia where trainer Derrick "Bozy" Ennis is putting the finishing touches on Robinson's arsenal. Ennis was handed the reins by Mo who believed he had "taken Ray as far as he could" and handpicked the man widely known as "The #1 Trainer in Philadelphia."
It is difficult to find a more disciplined and focused fighter. The twenty-eight year-old Robinson is trapped in a time warp and behaves like he is from an era when boxers conducted themselves with the decorum, grace and dignity of foreign diplomats. He is widely recognized as the role model for all young fighters. Unlike too many contenders and champions, the buffoonery and bright lights of the nightlife evade Robinson. When he isn't working or training he can be found with daughter and favorite sidekick—Mya—reading or hanging out. He lives the Spartan life and is always in shape. He is first to tell you, "I live right and box right" and is on a mission to capture a world championship. "Every dog has his day. Mayweather is a great talented fighter but he is beatable. And I feel I can beat anyone."
Ray Robinson babbbby!
Continue to support the sweet science, and remember, always carry your mouthpiece!
[email protected]
Related Articles: