Posted by George Hanson., Jr Esq. on Oct 13, 2010

Categories:
Featured Article
|
Comments Off

on Rite of Passage: "Young Swift" Garcia Bags Arnaoutis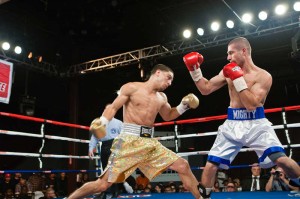 Have you ever been on a lion hunt? Since the Kenyan government outlawed lion hunting, we will never witness a young Maasai warrior's traditional rite of passage of sending the "King of the Jungle" to the tall grass in the sky. Therefore, allow me to provide you with the metaphors and analogies to let your mind wander to the plains of the Serengeti. Lion hunting is outlawed; however, metaphorically it is an age-old tradition in the sweet science—the mystical transcendence of a young fighter to contender status by ceremoniously slaying an aging lion. The fascination of such a fight pushes forward the envelope of boxing as mass-market entertainment because old lions oftentimes devour young warriors—Glen Johnson, Bernard Hopkins! However, at times, the old kings are stripped of their crowns by youthful cubs.  
This brings me to the case of Danny "Young Swift" Garcia whose promoter, Golden Boy, has been prophesying that it is only a matter of time before this young pugilist straps one of the world championship belts around his waist. No argument out of me when the guardians of the kraal are: Timothy Bradley, Amir Khan and Devon Alexander. Yes, let's invoke "Young Swift" in the conversation—especially after he tasted his own blood, continued to stalk the prey and emerged from the tall grass victorious in this rite of passage.
The Arena was packed, standing room only, as the gong rang and Garcia (18 wins – 0 losses – 0 draws – 12 kos) of Philadelphia met the aged lion—southpaw Mike "Mighty Mike" Arnaoutis (22 wins – 6 losses – 2 draws – 10 kos) of Queens, New York by way of Greece in the center of the squared circle for their scheduled ten-round junior-welterweight bout. Arnaoutis came forward as the young warrior, hands high in striking position, retreated cautiously, one step at a time, peering from behind his gloved javelins, looking for an opening. They exchanged jabs intermittently before Arnaoutis showed his incisors by launching a picture-perfect overhand left that Garcia met six inches from his face by raising his right glove in the nick of time, parrying the punch— the old time trainers like Jack Blackburn would have been proud. Comfortable in the pocket Arnaoutis' attacks were countered with an arching right— imagine holding a machete in your right hand, left foot forward, and swinging it across your body towards a target in front of you. It was the traditional feeling out round with Garcia having the edge.
 The hunt continued in the next stanza with Garcia emerging with a slight trickle of blood over his left eye and what appeared to be a four-inch welt on the same side. No need to worry because perched in Garcia's corner calmly waiting was Floyd "Money" Mayweather's cutman, Rafael Garcia, who also practiced his art with Roberto Duran and Alexis Arguello. Garcia continued pressing the action as both combatants circled each other, probing and countering for the remainder of the round. 
 There is a point in a hunt when the young warrior has to charge the lion and deliver a mortal wound. That moment came at precisely one second before the bell to end the third round when Garcia followed an arching right with a crushing left hook that cut Arnaoutis down. The bell rang and Arnaoutis got to his feet and went down for a second time, reminiscent of Trevor Berbick being imploded by a Tyson hook. Somehow, he got up took the count and was allowed back to his corner. The fight should have been over, but what do I know? Besides, the sand was almost at the bottom of the hour glass and you could feel the electricity in Garcia's corner—the lion was wounded—"Young Swift" with his ferocious eyes fixed on Arnaoutis' corner came out for the fourth round—the death-knell.
Maybe Arnaoutis' corner was hoping for something to happen, for anything that would turn the tide of battle. However, I couldn't hide from the truth—Mike Arnaoutis was done. Boxing since the age of ten, competing in over 200 amateur bouts and thirty professional contests, 21 years of the sweet science had robbed him of his equilibrium and recuperative powers. Arnaoutis had never before appeared so vulnerable and fragile, so far from the fighter who contested for a world title. Garcia was going to do what another young contender, Demetrius Hopkins had failed to do—make sure the once highly rated prospect and contender did not have a good exit. A right hurt Arnaoutis forcing his legs to quiver as he backed into the ropes where Garcia landed another right followed by a murderous left hook that drove him to the canvas. Sitting on his haunches listening to Referee Rosado toll the ten-count, the fallen lion was saved by his manager, Mike Michael, who rushed into the ring. A jubilant Garcia was declared the winner at 1:05 of the fourth round proclaiming, "All junior-welterweights better watch out, I am on my way!"
Other Results: Lightweight Arash Usmanee (8 wins – 0 losses – 0 draws – 5 kos) of Afghanistan by way of Alberta Canada dropped Anthony "Flawless" Flores (9 wins – 1 loss – 1 draw – 6 kos) in the opening round and again in the fourth winning a unanimous decision by scores of 78-71 and 79-70 twice in this eight-rounder. The lanky Flores' corner spent the duration of the bout telling him what he was doing wrong instead of providing sound technical advice. You can't keep a charging bull at bay with a range finder disguised as a jab. Then again, what do I know?
As fate would have it the first round knockdown scored by Philadelphia lightweight Victor "The Fighting Barber" Vasquez (11 wins – 4 losses – 1 draw – 6 kos) was the difference in his six-round split decision victory over Bryne Green (5 wins – 3 losses – 0 draws – 3 kos) Orlando, Florida. This was an entertaining war with Green seriously hurting Vasquez in the fifth round who was fortunate to get a well-needed respite due to a blow south of the border. Two judges had it 57-56 for Vasquez with the dissenting judge having the same score for Green.
2008 Ghanaian Olympian, middleweight Bastie "The Beast" Samir (4 wins – 0 losses – 0 draws – 4 kos) now residing in Las Vegas exploded like a premature mine blast on unsuspecting Joe Dunn (0 wins – 1 loss – 0 draws) of Philadelphia dominating the opening round and dropping him in the second forcing Referee Esteves to call a halt at 2:39—much to the delight of his trainer, Ken Adams.
Philadelphia lightweight Kareem "Cool Breeze" Cooley (1 win – 1 loss – 0 draws – 1 ko) won a unanimous four-round decision over southpaw Eilud Torres (3 wins – 1 loss – 2 draws – 2 kos) of Allentown, Pennsylvania by scores of 40-36 twice and 39-37.
In the final bout lightweight Wanzell Ellison (2 wins – 0 losses – 0 draws – 2 kos) of Newark, New Jersey won a unanimous four-round decision 40-36 on all three scorecards over the diminutive Aaron Anderson (1 wins – 7 losses – 0 draws – 0 kos) of Knoxville, Tennessee.  Anderson, who barely clears five feet, frustrated Ellison all night with every antic in the book. He clowned, shuffled, and stuck his chin out with both hands behind his back while entertaining the crowd. Truly a showman, he won the crowd over with his flair for the unexpected even wobbling Ellison in the second round with a blistering right. The taller Ellison had no answer. He didn't win the bout—Anderson gave it to him. 
Danny Garcia is a legitimate heir to the junior-welterweight championship with his successful rite of passage. Enjoying the night, at ringside, were his elders and stable-mates the ageless wonder—Bernard "The Executioner" Hopkins and "Sugar" Shane Mosley. Amongst them were members of the boxing community including legendary matchmaker, Don Elbaum; Robert "Bam Bam" Hines; Steve "USS" Cunningham and his wife/manager Livvy Cunningham; Bozy Ennis; Nazim Richardson, Julian Williams and manager Stephen "Breadman" Edwards; "Hammerin" Hank Lundy; Ardrick "The Hitman" Butler and trainer Aaron Ford; Mike "Machine Gun" Jones; Joey "Polish Thunder" Dawejko; and "Dangerous" Darrell Jones.
I am fascinated by boxing's grace, brutality, metaphorical possibilities and the ability to reflect life. Arnaoutis will understand what happened to him more than anyone—where his dream is gone forever, Garcia's is taking shape. The hunt will never stop!
Continue to support the sweet science, and remember, always carry your mouthpiece!
Date:                           Friday, October 8, 2010
Venue:                         The Arena, Philadelphia, PA
Promoter:                    Golden Boy Promotions & Joe Hand Promotions
Announcer:                  Joe Martinez
Broadcast:                   TeleFutura's "Sólo Boxeo Tecate"
Referees:                     Gary Rosato & Benjy Esteves Jr.
Pictures:                      www.christoneyphotography.com
Related Articles: