Posted by George Hanson., Jr Esq. on Feb 3, 2013

Categories:
Featured Article
|
Comments Off

on Roswell 47— Vasquez and Rodriguez
By: George Hanson Jr., Esq.
Date:                            Saturday, January 26, 2013
Venue:                         Harrah's Chester Casino & Racetrack, Chester, Pennsylvania
Promoters:                  Joey Eye Boxing Promotions & David Feldman
Ring Announcer:      Larry Tornambe
Referees:                      Steve Smoger & Shawn Clark
Matchmaker:              Joey Eye
National Anthem:     Althea "Lady Thunder" Saunders
Coverage:                    www.gofightlive.com
Photos:                        www.christoneyphotography.com & www.keyartphoto.com
Legend has it that on the eighth day God created Victor "The Fighting Barber" Vasquez in a galaxy far away and dropped him off in Roswell, New Mexico with his cohorts who were captured by the US army. But, the diminutive Vasquez made his way across the country to Philadelphia and like a chameleon blended in with the blue collar backdrop of this hard-nosed rugged city where professional boxing is the fifth sports franchise.  I am sure many of you reading are in disbelief but this is my column and like Sophia Petrillo – "I work alone!"  Many religious zealots are shaking their head calling me blasphemous and crazy and they do have a right to the wrong opinion. Vasquez came here from beyond and that is my story and I am sticking to it!
Vasquez is unlike any boxer in the City of Brotherly Love. Despite a quiet humble demeanor, he remains the biggest box-office attraction in the metropolis of pugilism littered with boxing gyms in virtually every neighborhood. Most of his contemporaries, delusional in their pursuits, refuse to hold down a 9 to 5—living on hand-outs and advances from managers and benefactors who "own" them in direct contradiction to the 13th Amendment which outlawed slavery and involuntary servitude. They shun gainful employment like roaches running from Raid.
"The Fighting Barber" is not just a moniker it is a lifestyle because Vasquez has a thriving business that adds more to his coffers than gloved combat. His ring earnings pale in comparison to his cache as a coiffeur. The differences don't end there because I have never seen or heard of Vasquez ever having a manager—I assume that he handles his own affairs.  Besides the overwhelming majority of these managers are nothing more than dressed up charlatans with their only qualification and talent being the ability to convince their charges of endless possibilities. Yes sir, Victor Vasquez is a walking anomaly from another world—or so it seems.
Undefeated lightweight Althea "Lady Thunder" Saunders who opened the show with an exciting three-round exhibition with junior-featherweight Lakeysha "The Total Package" Williams brought chills to the capacity crowd with her rendition of the national anthem as Vasquez waited patiently in his corner. Referee Smoger completed the formalities and the main event commenced with Vasquez (15 wins – 7 losses – 1 draws – 7 kos) meeting Esteban Rodriguez (6 wins – 4 losses – 1 draw – 1 ko) of Lebanon, Pennsylvania in the center of the squared circle. The shorter Vasquez pressed the action with neither man landing anything of consequence probing, looking for a chink in the other's armor in what we customarily call a "feeling out" round. Everyone in the building knew that the action was going to heat up in the subsequent round as it isn't in Vasquez's DNA to fight at a pedestrian pace.
True to form, Vasquez strolled out of his corner at the beginning of the second round and blanketed Rodriguez like a wool overcoat forcing him to fight at a pace that he was unaccustomed.  Back and forth, toe-to-toe the action filled the ring round after round as the pugilistic patrons reveled in pugnacious pageantry. Vasquez never took a step backwards as Rodriguez stood his ground having no other choice but to fight or be swept away by the gale force winds of the gloved hurricane of a fighter covered with ink. They fought tooth and nail until the bell rang cutting through the cheers of Vasquez's adoring fan concluding the sixth and final round. Unscathed and unmarked a beaming Vasquez collected his 16th win—a unanimous decision 58-56 on all three scorecards.
Twenty-three year old undefeated junior-middleweight Dante "The Phenom" Moore (8 wins – 0 losses – 2 draws – 4 kos) entered the ring nonchalantly like a Philadelphia dandy on a springtime stroll through the cobblestone streets of the Old City.  The kid, a 2005 National Junior Olympic champion, turned professional at the tender age of 18 in 2007.  Maybe his casual approach extends to his five-year stint in the punch-for-pay ranks which is filled with long periods of inactivity averaging only two fights per year. There is no doubt that Moore is an exceptional talent but after watching him I believe that I have a better chance of raising the dead than him developing a sense of urgency.
In a scheduled eight-rounder against Atlantic City's DeCarlo Perez (8 wins – 2 losses – 1 draw – 3 kos), Moore appeared oblivious that he was in a prize fight and not a sparring session. For the first five rounds he side-stepped, parried, pivoted, dipped, ducked throwing the occasional jab with a painted mask of disinterest as Perez pressed the action trying to decapitate him. Maybe, he believed that we all gathered to witness his defensive wizardry and we all should be amazed by his ability to evade destruction like a matador in the bull ring.  Unlike Moore, Perez fought like someone was holding his family hostage and their release were contingent upon him being victorious. Round after round he pressed the action forcing Moore to use every defensive trick in his arsenal. There was no doubt that Perez won the first five rounds. But things were about to change.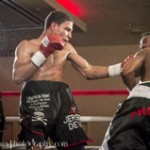 I would surmise that Moore probably was offended that the audience didn't rise and acknowledge his boxing acumen instead of cheering Perez's pugilistic prowess and attempts to separate him from his senses. Because, Moore attacked with bad intentions in the last three rounds doubling up on his left hook to the body and head and connecting with a laser-like jab. Not to be dissuaded, Perez fought back and hard. But, Moore captured the final three rounds—a little too late! Perez won a well-deserved unanimous decision by scores of 78-74 and 77-75 twice—handing Moore his first loss.
In a rematch of their September bout, Philadelphia junior-featherweight Alex "Macho" Barbosa (4 wins – 1 loss – 0 draws – 1 ko) faced the man he bested—the diminutive monarch—"King" Arthur Parker (1 wins – 8 losses – 0 draw – 1 ko) of Lancaster, Pennsylvania. During the week Parker posted on Facebook that he was going to knock out Barbosa. It was refreshing to read some trash talking from the generally reserved and respectful Parker a full-time accountant and graduate of Millersville University. Barbosa, a Temple University graduate, never responded to the post telling me dismissively on fight night "Arthur Parker going to knock me out."
Ali had Frazier and Barbosa has Parker. The gong sounded and both southpaws met in the center of the ring with the barely 5 feet tall Parker—sporting a scruffy beard and mustache— looking like a miniature Marvelous Marvin Hagler—came forward launching his overhand left that connected.  Parker captured the first and second rounds as he befuddled Barbosa with his jab and his elixir overhand left. But, Barbosa spurred on or trying to halt the profanity-laced tirade from one of his corner men took the last two rounds by being busier using his jab to neutralize Parker. The fight was scored a majority draw as two judges had it 38-38 while the third scored it 39-37 for Parker.  I am looking forward to a third encounter.
Many of us can speculate, promulgate, pontificate or even postulate. But, none of us could have predicted what transpired in the highly anticipated scheduled six-round junior –welterweight bout between Chester's Julio DeJesus (6 wins – 3 losses – 3 draws – 3 kos) and Philadelphia's  Ramon "Little Weed"  Ellis (4 wins – 7 losses – 2 draws – 2 kos).  Ellis, who has been on the short-end of several hometown decisions, winless in his first six bouts, had turned the tide posting four wins, one loss and two draws in his last seven encounters. Needless to say that one of the two draws was further indication that eye examinations should be mandatory for boxing judges.  Ellis, a budding chef taking a respite from his culinary studies at The Philadelphia Art Institute had trained diligently for his match with DeJesus who holds a Bachelor's degree in Criminal Justice from Penn State University.
The bell rang and Ellis, usually a slow starter, came out jabbing as the muscular compact built DeJesus came forward moving his head. Not much time had expired when DeJesus struck like a honey badger sending a Cape cobra to reptile heaven. He landed a vicious overhand right over Ellis' jab as he was bringing it back to his chin, crashing him to the canvas as silence and disbelief filled the room.  Referee Smoger started counting as Ellis got to one knee rising at seven, hurt but reserved and ready to continue. Smoger dusted off his gloves and the rumble resumed as DeJesus rushed over and landed another right sending Ellis into the ropes as Smoger called a halt to the action. In only 50 seconds DeJesus did the implausible—smoking Little Weed and winning by technical knockout!
Standing 6 feet 1 inch, undefeated welterweight Jovantae Starks (5 wins – 0 losses – 0 draws – 4 ko) of Minneapolis, Minnesota now fighting out of Philadelphia, resembled a young Tommy "Hitman" Hearns using his jab rarely missing the straight right, dominating Romon Barber (3 wins – 3 losses – 0 draws – 2 kos) of Wichita, Kansas. Barber was obliterated like a man wearing a steak in a lion's cage as he was dropped in the opening stanza having to be rescued at 1:57 of round two by referee Clark who prevented the inevitable—Barber comatose on the canvas. The twenty-three year old Starks should be on everyone's radar.
Heavyweight Lonnie Kornegay (1 wins – 7 losses – 2 draws – 1 ko) of Baltimore, Maryland had everyone laughing during the fighters' meeting in  the dressing room as referee Shawn Clark reminded the combatants that the foul protector wasn't a "chest protector or rib protector, it was a groin protector." Kornegay wanted to let both Smoger and Clark know that they should pay close attention because he was going to be throwing plenty of body shots tonight.  Kornegay made good on his promise as he stayed close to John Mercurio (5 wins – 0 losses – 0 draws – 4 kos) of Philadelphia like a trench-coated pervert on a crowded bus copping a feel on a buxom blond. You couldn't squeeze a quarter between the two heavyweights as they fought toe-to-toe with referee Clark warning them for holding. The rounds were identical and the fight should have been declared a four-round draw. What do I know about boxing? Two judges scored it 40-36 while the third had it 39-37, all for Mercurio!
Philadelphia lightweight, Tyrone Crawley Jr. (2 wins – 0 losses – 0 draws – 0 kos) reminded us that the apple didn't fall too far from the tree and that he was a chip off the old block as he used his athleticism, speed and uncanny ability to throw punches from every conceivable angle to win all four rounds against Benjamin Burgos (1 win – 2 losses – 0 draws – 0 kos) of Mount Pocono, Pennsylvania winning 40-36 on all three scorecards.  Crawley Jr. brought back fond memories of his father—a lightweight contender and title challenger in the 80's—who was in his corner giving instructions.
Close to sixty-six years later and the US government continues to deny that beings from another galaxy crash-landed in Roswell, New Mexico. Maybe, in 2079 the occurrence of tonight's show featuring Victor Vasquez will be in question. But, I was there and you read about it.
Continue to support the sweet science, and remember, always carry your mouthpiece.
Related Articles: