Categories:
Featured Article
|
Comments Off

on Rosecroft Rumble: Jackson Benson Defeats Scott Sigmon to win WBC USA 168 title
By Michael Amakor | From September 7, 2013
As I headed to the Rosecroft Raceway in Fort Washington Maryland for yet another boxing match I couldn't help but wonder about ESPN's debate show "Pardon the Interruption" where hosts Tony Kornheiser and Michael Wilbon declared "He's (Floyd Mayweather) is the last headliner out there in professional boxing,"
"What other names do you know? You know the Klitschko name, that's it. Who else do you know," said Kornheiser.
"He's the last guy out there for a sport that's all but dead," said Wilbon. "This is it. It's over for boxing after this."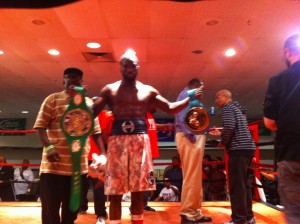 I wish I could have dragged both Kornheiser and Wilbon to the Rosecroft Raceway in Fort Washington Maryland to watch WBC FECARBOX super middleweight Champion Phil Jackson Benson's entourage usher him into arena for his ring entrance and his annexation of the WBC United States (USNBC) Super middleweight Champion by defeating former title holder Scott "Cujo" Sigmon via a 2:45 minute sixth round stoppage before a boisterous crowd of tribal hard-core DC beltway boxing fans and aficionados in the arena.
Boxing, like many other sports is they glue that fuses together many disparate groups of people from different walks of life into the arena for this event promoted by the venerable Gene Molovnoski, a veteran promoter of many great fight cards in the DC Beltway region, through his promotional outfit Keystone Boxing.
The first fight of the evening featured Junior Welterweight (140lbs) Benjamin Olinga, a southpaw from Cameroun who in 2011 suffered a brutal knockout in a Keystone boxing promoted event. In this fight the vastly more improved Olinga came out as aggressively as he had in that fight, but this time he controlled the pace to win this four round scheduled fight over Tyrone Wright (1-1, 0ko's) by split decision. Olinga scored a win for the first time in his professional career after two hard losses.
In a side chat with Gene at ringside I reminded him that Olinga had defeated the house in the very first fight of the night.
"I don't care who wins or loses", "I just want to have a good fight", he retorted among many other quotes along those lines.
Junior Featherweight Marcus "Bonecrusher" Bates completely dominated and almost had Carlos Alcala out on his feet in the final minute damaging Chicago's Alcala with body shots and jabs. Alcala got back into the fight in the 2nd round with some lunging hooks but Bates eluded them and retaliated with a few hooks of his own. In round three the pace slowed down considerably, and a mouth piece was sent out of Bates mouth. Alcala inched his way back into the fight but got dramatically stopped at the 1: 40 minute of the 4th round. Bates (2-0, 2kos) amazingly did a complete back flip after the stoppage along with some bull foot dragging. I personally cannot wait to see him fight next time, opponent please be ready for this developing phenom.
In the third fight of the evening light Heavyweight Jesse Noriega was curiously escorted into the ring by main event fighter Scott Sigmon serving in his corner. This distraction did not stop Eric "Inferno" Gaven from taking the fight to Jesse by sticking the jab and lunging leaving him susceptible to counters that Noriega occasionally took advantage of in the pocket and in the center of the ring. Eventually Noriega unleashed a left hook and an overhand right on the top of Gaven's (2-1, 0kos) head right as he was trying to bob and weave the shot sent him to the canvas for the count in the very 1st round. The winner by first round TKO Jesse Noriega (2-6, 2kos).
In the fourth fight of the evening a very patient and more experienced Aaron Chavez (3-3-1, 0kos) a lightweight from Vero Beach Florida dropped the over confident Joshua Davis in the 2nd round en-route to sweeping the score cards 40-35, 38-37, to 39-36 to win the fight by unanimous decision.
In the fifth fight of the evening, determined Junior Welterweight Ramesis Gil won both rounds on my scorecard by taking the fight to former amateur standout Mike "Yes Indeed" Reed who had come into the ring with much fanfare. Eventually the more technical sound southpaw Mike took control of the fight with accurate counters and hooks to Ramesis's head and body. Ramesis determination to make it a street fight excited the crowd but he began to get careless and then Reed unleashed a right hook that staggered Ramesis, and another right hook by Reed sensationally ended the fight at the 1:23rd minute of the 6th and final round. Reed is remains undefeated in five professional fights, three of which like this one he won by knockout.
In the sixth fight fan favorite Junior Middleweight Alantex Fox came to the ring with much fanfare only to run into a stout resistance from Tiger Shah who refused to take a backward step despite a fusillade of digging body shots and hooks by Alantez Fox. Tiger Shah amped up the pressure on Fox to make it a brawl, and succeeded in disorienting Fox who kept jabbing and catching some fluid counters weakening his resolve down the stretch. Fox somewhat regains control in the 5th round. At the conclusion of the 6th round the judges scored it 60-54 by unanimous decision for Alantez Fox now undefeated in 13 fights which includes 12 wins with 4 by knockout and a draw.
In the main event Phil Jackson Benson now (13-1, 12kos) was poised, relaxed and in control of the fight with Lynchburg's anointed son Scott Sigmon Cujo who despite a head first swarming and crowding attack was unable to penetrate Jackson's defense and was picked apart with free-wheeling upper cuts and hooks delivered from all angles until the referee had seen enough of the near one sided contest in the 6th round of a scheduled 10 round fight.
By my score card, three house fighters Govan, Davis, and Wright from the red corner had been defeated, and by knockout, certainly not bad for any fight card organized by any promoter, they house should not always win. I confirmed my feelings about this night of boxing with a few of the fans exiting the arena, and the consensus was that you always had great fights and a good time at events featured by Keystone Boxing.
As I exited the arena after the fight I overheard discussions about the next fight card in the same arena on October 18th and another aficionado mentioned I'll see you at the card in Baltimore.
Like I said I wish I could have dragged Kornheiser and Wilbon to hear all that scuttlebutt. Despair not, boxing is alive and well my friends.
Summary
KO of the Night: Toss up between Alcala vs Bates and Jess Noriega and Govan, but I will let you decide from the fight videos captured by FightKings TV.
Best Fight of the Night: Gil vs Reed
WATCH ENTIRE CARD
Related Articles: