Posted by George Hanson., Jr Esq. on Aug 23, 2011

Categories:
Featured Article
|
Comments Off

on Savage Beauty!—Vasquez and Rios in a Barnburner.
Date: Friday, August 12, 2011
Venue: Harrah's Chester Casino & Racetrack, Chester, Pennsylvania
Promoters: Joey Eye Boxing & David Feldman
Ring Announcer: Larry Tornambe
Referees: Benjy Esteves Jr. & Blair Talmadge
Matchmaker: Nick Tiberi
Coverage: www.gofightlive.com
Photos: www.christoneyphotography.com & www.keyartphoto.com
"You've got to know the rules to break them. That's what I'm here for, to demolish the rules but to keep the tradition." Alexander McQueen
Last Friday I made the trek from Philadelphia to New York's Metropolitan Museum of Art to wait in line for nearly two hours to witness Savage Beauty—the exhibit celebrating the late Alexander McQueen's contribution to fashion. The iconic McQueen, who passed in February 2010, pushed the fashion envelope, the haute couture equivalent of Jimi Hendrix, beyond what had been attempted or conceptualized. He was an artiste of the highest order who used fashion to express culture, politics and identity. Mouths were agape as I along with my comrades and fellow fashion explorers moved meticulously slowly eyeing the over one hundred ensembles and seventy accessories in wonderment of McQueen's eccentric genius.
Tonight I made the short trip to Chester, Pennsylvania to witness another performer who like McQueen uses his art to express his identity. Philly lightweight Victor "The Fighting Barber" Vasquez (12 wins – 5 losses – 1 draw – 5 kos) is a fighter—the pied-piper of pugilism. Similarly to McQueen, he attracts throngs of admirers in an almost Svengali-like manner. In Philadelphia boxing is a religion. It unifies, heals and offers its followers a respite from the harsh reality of working day in and day out in pursuit of the American Dream. The tattooed bald-pated fighter unlike many of his contemporaries is a throwback traditionalist—he fights because he relishes the art of fighting. His time-warped magic reeks of the golden age of boxing in the City of Brotherly when the Cambria and the old Arena reigned supreme.
Vasquez told me that he doesn't know why his fans flock to him. But he believes it is because he fights hard and always does his best. Boxing is in his DNA and he doesn't care who is across the ring when the bell rings. That is the mass appeal of this quiet humble man, a barber by trade, who enjoys the savage beauty of methodically breaking the spirit of his adversaries in an attempt to temporarily separate them from their senses. Indeed the emotional intensity of his fights is the consequence of the interplay and connection between him and his loyal followers. They live vicariously through this small warrior telepathically transporting themselves into the ring, swapping punches with his opponents, dodging, slipping, and countering—a meditation on the dynamics of power—between fans and fighter.
Angel "The White Tiger" Rios (9 wins – 5 losses – 0 draws – 6 kos) of Bronx, New York entered the ring decked out in a black hoody, house speakers blaring Eye of the Tiger by the rock band Survivor, the theme song to the movie Rocky III. A 1000-watt smile on his face, Rios resembled a cherub plucked from a Christmas play instead of a gloved purveyor of pugilistic pain. The thunderous cheer invaded the brief silence, drowning out the music which was almost inaudible, as Vasquez with trainer Billy Briscoe in tow made his way to the ring solemn and serious as a death row inmate taking his final walk on the way to ole Sparky—his transportation to the other side.
Referee Talmadge gave the final instructions, sent the fighters to their respective corners. The bell rang and the boxers met in the center of the ring with Vasquez's hands held high, peering for an opening behind his gloves. The shorter Rios, legs spread wide, resembling a land crab ambling sideways or moving laterally to avoid danger. It was the traditional "feeling out" round with the slight edge to Vasquez who landed a good left hook to his opponent's body immediately followed by a straight right. Brevity has never been my forte. However, it serves us best if instead of a round-by-round synopsis I briefly summarize the action.
The rounds were close with both men fighting with passion as though it was a life and death struggle for supremacy. Vasquez claimed the next three rounds by working efficiently to the body, whacking away at Rios's ribcage with left and right hooks converting some of them into uppercuts that found their mark. Rios fought back trying to rip Vasquez's head off its hinges with an overhand right that barely missed his shiny dome. Despite the body assault, Rios never wavered, his smile intact, he started to find his rhythm capturing Rounds 5 and 6 by landing a few rights and uppercuts as they fought to the bell.
With many of his fans on their feet, Vasquez pinned in a corner, rallied in the seventh round and stood toe-to-toe exchanging furiously for almost two minutes with Rios. He went downstairs raking the New Yorker's sides like he was on a farm chopping wood with a metal axe as the building vibrated with rapture at the close of the round. Rios had the edge in the final stanza as he landed a few right hands, all the while beckoning to promoter David Feldman, seated next to me at ringside, and shouting: "This is for you!" Feldman told me that earlier he and Rios had a minor disagreement. The crowd cheered raucously at the final bell. One judge scored it a draw 76-76 while the other two had it exactly as my scored card 77-75 for Vasquez who captured a majority decision in an entertaining exhibit of the sweet science.
In the six-round co-feature undefeated Philadelphia lightweight prospect Angel Ocasio (5 wins – 0 losses – 0 draws – 1 ko) kept his composure, showed poise and patience in out-boxing the relentless Rasool Shakoor (3 wins – 8 losses – 1 draw – 1 ko) of Jackson, Mississippi. The soft-spoken Shakoor who lists Muhammad Ali as his favorite fighter, had only one gear—forward—as he came straight ahead for eighteen minutes, eyes fixated on his target never blinking or changing his facial expression. Ocasio, fighting his first six-rounder, has been availing himself of the services of his strength and conditioning coach. He boxed, using lateral movement to evade danger, ripping off combinations as Shakoor kept coming forward like a camel in a sandstorm—undeterred.
I scored the fourth round for Shakoor because he landed a grazing right hand early and was able to close the distance with constant pressure with a few punches finding their target. His success was short-lived as Ocasio reclaimed the tempo and boxed for the final two rounds scoring with combinations, causing a welt under Shakoor's left eyes. No surprise as Ocasio captured a unanimous decision by scores of 60-54 and 59-55 twice.
There is an old adage that it takes two to tango. Let me conjure up one for the records: You can lead a fighter to the ring but you can't make him fight—as was the case in the scheduled four-round light-heavyweight bout between Philadelphia's Tony "Boom Boom" Ferrante (11 wins – 2 losses – 0 draws – 6 kos) and William Prieto (5 wins – 5 losses – 1 draw – 2 kos) of Lorain, Ohio. Ferrante who had scored knockouts in his last two bouts has not taken a break from training between fights. Thus, he was like Seattle Slew in the starting gates of the Belmont Stakes, the final leg of the Triple Crown—anxiously awaiting the opportunity to be spectacular. Prieto, tight-lipped and distant during my attempted pre-fight interview was in startling contrast to Ferrante. He sported a small tire around his midsection probably forgetting that winter is months away and no need to start the process of insulating one's body for the cold.
The gong sounded and Ferrante was on the attack as Prieto retreated. It wasn't long before the man from Ohio was holding as Ferrante tried to gain separation. During one of those moments of trying to
disengage from his opponent, Ferrante exploded with a left hook that sent Prieto to the canvas. Rising at the count of five, he survived the remainder of the round by awkwardly bobbing and weaving. To the dismay of the audience, before the commencement of Round 2 Prieto and his corner signaled to referee Estevez that he was done for the night. Ferrante was declared the winner by technical knockout at 3:00 of the first round. If I were in-charge Prieto would have left the venue with as much money as he had when he entered the ring. It would have snowed in Jamaica before he was remunerated for his poor performance.
Other Action: With a few bouts falling by the wayside for various reasons the Vasquez exhibit was supplemented with three 3-round exhibitions. The show opened with junior-lightweights as #1 ranked contender Melissa "Huracan" Hernandez (15 wins – 2 losses – 3 draws – 5 kos) and undefeated sizzling hot prospect "Queen" Ronica Jeffrey (7 wins – 0 losses – 0 draws – 1 ko) donned the 16-oz gloves and headgears and gave an artful chess match of countering, parrying and feinting. Jeffrey is up on deck next Friday at Dover Downs, Delaware in a six-rounder against Ela Nunez for the vacant NABF super-featherweight title. Someone forgot to send the memo to former world amateur heavyweight champion, Joey "Polish Thunder" Dawejko (4 wins – 0 losses – 0 draws – 1 ko) and his friend, light-heavyweight Taneal Goyco (4 wins – 2 losses – 0 draws – 2 kos) that their match was only an exhibition. The two met in the center of the ring and tore into each other with reckless abandon giving more meaning to the term "Philly Gym War." The shorter, compact Dawejko marched forward like a Sherman Tank and Goyco planted his flag and refused to take a backwards step. They punished each other to the head and body for three rounds much to the delight of the audience. Thank God they were wearing headgears and big gloves. Watch out Saul Alvarez, former IBF junior-middleweight champion Buster "The Demon" Drayton is making a comeback! The 57-year-old Drayton—16 years removed from his last professional fight— and light-heavyweight Chuckie "The Professor" Mussachio (17 wins – 1 losses – 2 draws – 5 kos) entertained the audience for nine minutes. The elder statesman was comfortable in the role of the bull with the youthful Mussachio looking like the famous torero Juan Belmonte, side-stepping his adversary's charges.
Call it a classic case of the fox being let into the hen house. But I couldn't help noticing that Philly welterweight Greg "Hot Shot" Hackett fresh off his controversial loss to Juan Rodriguez last month—the leading candidate for 2011 Philadelphia Fight of the Year —was perched at ringside helping the bevy of stunning ring card girls—which included Stephany Ramirez—in and out of the ring. Hackett, known for his outlandish comedic Facebook posts which consist mostly of relationship advice, is probably the result of a clandestine relationship between Dear Abby and comedic genius Richard Pryor. At the end of each round, on cue, Hackett would hop out of his chair take the hand of one of the ladies and escort her up the nearby steps into the squared circle and wait patiently for her to make her walk, placard in hand, around the ring before gently parting the ropes and leading her back to her ringside seat—all the while smiling like Hugh Hefner had given him the keys to the Playboy mansion.
It was another exciting night of the sweet science as fans waited patiently for Vasquez to exit his dressing room and as has become the norm, accommodate every photo request. They cannot get enough of the Fighting Barber as he continues to be the biggest ticket seller in the City of Brotherly Love. His admirers were oblivious to the limited amount of scheduled bouts. It didn't matter because they came to feast on the savage beauty of Vasquez's fistic montage.
Continue to support the sweet science, and remember, always carry your mouthpiece!
[email protected]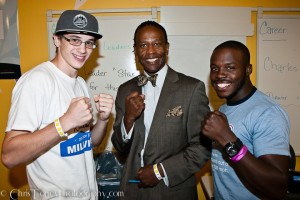 Related Articles: