Categories:
Featured Article
|
Comments Off

on Double Epic in Atlantic City – Seth Mitchell Impresses, & Dawson Defeats a living Legend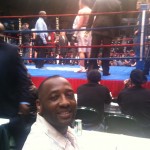 By Michael Amakor | April 28, 2012
Boardwalk Hall, Atlantic City, New Jersey
Photos By Naoki Fukudu
The world of boxing saw two epic events take place on April 28, 2012 at the historic Boardwalk Hall in Atlantic City, a city popularly referred to as America's playground.
First off, we saw the official crowning of a new champion in the light heavyweight division. For those mystified by boxing weight classes, it's the division that features fighters weighing between 168lbs and 175lbs and the one time home of late great fighters and champions like Joey Maxim, Archie Moore,and Bob Foster to name a few. The coronation of the new king of the division occurred when 29 year old "Bad" Chad Dawson (31-1, 34ko's) out-hustled and defeated Bernard "The Executioner" Hopkins (56-6-2, 34ko's) the defending WBC champion and a veteran of many ring wars over 12 dominating, but competitive rounds.
For those who have not heard about Popkins as Bernard Hopkins is popularly hailed or comically derided because of his pre-fights boasts about schooling his younger opponents on the finer points of the sweet science. He holds the record at the ripe young age of 47, as the oldest recognized champion in boxing history, a feat he accomplished by unifying all the belts (WBA, WBC, WBO, & IBF) in the Middleweight division and defending these belts a record number of times before stepping up to the light heavyweight division and defeating the champion who was almost two decades his junior in an awe inspiring performance.
So it was no small feat when Dawson seized the WBC title from him and had his hands raised in victory effectively ending Hopkins domination of the division, but Hopkins did not make it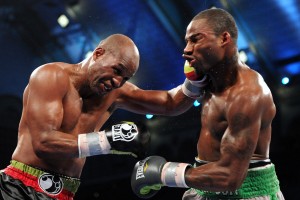 easy for Dawson and pulled all the tricks from his proverbial gym bag to daze Dawson with some scorchingly powerful straight rights to the head in the fourth round, also the same round where Dawson suffered a bloody gash above his right eye from a concussive clash of heads ruled accidental by referee Eddie Cotton, but scoffed at by an infuriated Dawson and some fans ringside familiar with Hopkins Modus operational antics.
Unfortunately for Popkins, he was a few wee ticks past his prime and much slower to boot allowing Dawson to control the fight and negate several of his ring tactics including grabbing and holding after bursting with combinative assaults, a frustrated and indignant Dawson wrestled Hopkins to the canvas after an epteenth time such attempt in this rematch.
A rematch you might ask, yes, because in their first fight back in October last year, the fight was stopped dramatically after Dawson frustrated by Popkins grab and hold antics shook off or tackled some might say an off balance Hopkins off of him into the ropes and Hopkins could not continue claiming he had injured his arm. A TKO victory was awarded to Dawson that night, but later reversed on appeal by team hopkins vexing Dawson immeasurably because he believed Popkins had found a way to duck out of the fight, there were rumors that there would be no rematch but Hopkins eventually agreed to the rematch after a lot of saber rattling by both camps.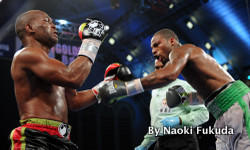 This time the fight went the distance and Dawson got the win, but not without some drama as Hopkins did enough for one judge, Luis Rivera to score the fight 114-114 to the consternation of most fans, but everybody seemed to agree with Steve Weisfeld and Dick Flaherty who both scored it 111-117 for Dawson. But alas, perhaps Luis was simply intrigued by the artistry and skills showcased by Popkins who made the fight very competitive to the final bell at 47 years old.
In a press release by his promoter Golden Boy Promotions after the fight, Hopkins was quoted as saying "I fought hard Saturday night and feel the fight was closer than two of the scores reflected," said Hopkins. "Regardless of the result, I will continue my career and challenge any champion in my division. I might be older, but I don't feel a decline in my skills or abilities in the ring. I love to fight and am still competing at a level where boxing cannot deny me the opportunity to succeed."
Most fans might scoff at what the perceive as a rash decision by an over the hill athlete but one things for sure, Hopkins has been counted out several times, but has shocked us with his tenacity in the past and can never be discounted if a champion is foolhardy to get into the ring with a charged Hopkins when not physically and mentally prepared.
In the co-main event before Dawson's win, fans were treated to a highly entertaining fight when the undefeated Seth "Mayhem" Mitchell (25-0, 19 ko's) from Brandywine Md stopped Chazz "The Gentleman" Witherspoon (30-3, 22ko's) to seize the North American Boxing Organization's (NABO) Heavyweight title to the delight of most of the boxing fans in attendance.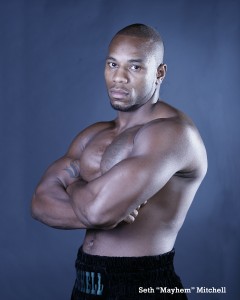 This delightful performance was interesting to the boxing community for one simple reason, the prime one being that Seth's win kept alive the hopes that perhaps he was the next great and exciting heavyweight that all American boxing fans have been craving for since the epic fall of Iron Mike Tyson, and some may argue since Evander Holyfield continues to fight past his exciting prime.
In the first round, the Gentleman, was anything but civil, as he shocked everybody by taking command of the fight in the 2nd half of the first round by connecting with some very heavy handed over hand rights that had the younger Seth Mitchell dazed and wobbly and nearly almost out on his feat, Chazz relentlessly continued to connect with more of those overhand rights forcing Seth to try and hold and cover up when he could sending a shock wave through the arena in fearful anticipation that the next great hope may be finished off before he even got started, but it was not to be as Seth Mitchell managed to survive the round.
Unfortunately for Chazz, Seth Mitchell had fully recuperated and got right back into the fight in the second round, making the first round a hollow memory as he began applying pressure on Chazz with accurate jabs and some digging body shots breaking down Chazz and preventing him from getting back into fight to lose the round.
In round three after a few fistic exchanges, Seth dropped Chazz to the canvas with a counter left to the chin, Chazz beat the count administered by referee Randy Newman but the end was not far off, as a blistering overhand right, a right cross and a barrage of punches against the ropes forced an alarmed Newman to rush in to inspect a dazed Chazz before furiously waving his hands to stop the fight at the 2:31st mark because Chazz was basically out on his feat and was only being held up by the ropes.
A distant memory was the forgettable undercard featuring unknown fighters that barely kept the fans in their seats or the even more restive press row crew already agitated from dealing with poor internet connectivity issues, as everybody was once again excited about the brutal and dominating performance the had just seen which kept alive the hopes that there would be many more such rampages from the next exciting American heavyweight – Seth Mitchell.
LISTEN TO LIVE RINGSIDE COMMENTARY FOR HOPKINS AND DAWSON
LISTEN TO LIVE RINGSIDE COMMENTARY FOR WITHERSPOON VS SETH MITCHELL
Related Articles: