Posted by George Hanson., Jr Esq. on Dec 16, 2010

Categories:
Featured Article
|
Comments Off

on Sigmon Decisions Kennedy & Byarm Stops Thorpe
Southern Comfort
Sigmon Decisions Kennedy & Byarm Stops Thorpe
By: George H. Hanson, Jr., Esq.
Date: Saturday, December 11, 2010
Venue: Pikesville Armory – Pikesville, Maryland
Promoter: Murray "Jake" Smith – Baltimore Pro Boxing
Matchmakers: Josh Hall & Murray "Jake" Smith
Announcer: "Auctioneer" Brad Dudley
Referees: Bill Clancy, Ken Chevalier & John Gradowski
Pictures: www.christoneyphotography.com
I have always used the terms "southern hospitality" and "southern comfort" interchangeably not paying attention to the clear distinction. "Southern hospitality" is a phrase used to describe the stereotype of southern residents being particularly warm and welcoming to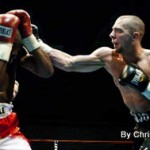 visitors in their homes or region. Many social engineers have argued that the ingratiating demeanor is a masquerade designed to mask deficiencies in southern culture, particularly slavery, discrimination and widespread poverty. "Southern Comfort," comparatively, is a fruit, spice and whiskey flavored liqueur created by bartender Martin Wilkes Heron in New Orleans back in 1874. Heron relocated to Memphis, Tennessee in 1889, patented his concoction and began selling it in sealed bottles bearing the slogan, "None Genuine But Mine." Still going strong, Southern Comfort is usually sold 100 US proof or 50% alcohol by volume.
Entering Pikesville Armory my cohorts and me—amateur boxers Shumpert Caldwell and Chris Willis, high school senior and aspiring journalist shadowing me in press row— were greeted at the entrance with a hearty helping of southern hospitality. The attendants at the door and the security officers were gracious as they welcomed us to the venue and gave us directions to the dressing rooms. On my way to the dressing rooms to interview the fighters, I passed the concession stand manned by Island Cuisine, a Jamaican restaurant located in Baltimore. The aroma of jerk chicken, curry goat and beef patties had me longing for home as I noticed the bottles of Southern Comfort, Jack Daniels and other "feel good" liquids being sold at the adjacent stand or makeshift bar.
Little did I know that when you mix southern hospitality and too much Southern Comfort, the social dynamite exists for an explosive situation. Fight night was no different. Two people, a woman and a man, were hoisted in the air by security officers and carted out of the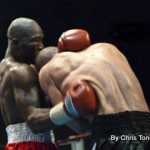 Armory for fighting and instigating a brawl with 10 seconds remaining in the sixth round of the scheduled 10-round main event—Scott "Cujo" Sigmon vs. "Vicious" Julius Kennedy for the East Coast Super- Middleweight Championship. Allegedly the woman, perched at the ringside table that I had vacated earlier and high on Southern Comfort, had "forgotten" that it was 2010, not 1910, and was spewing racial epitaphs to describe Kennedy who is Black.
I have often wondered what a terrifying phenomenon it would be if I could venture back into time to Reno that hot July 4th in 1910 when heavyweight champion Jack Johnson, impervious to racial slurs and threats being hurled at him, dismantled The Great White Hope— James J. Jeffries knocking him out. I didn't get the memo declaring that it's copacetic for White people to use the term "nigger"—neither did anyone else, except this lady and a few of her drunken friends. Thankfully, I was on the other side of the Armory and not within earshot. Kennedy's handlers responded to her boyfriend, who made his way to their corner, and a fight ensued and the lady rushed from her post to the other side to join the fracas. Fortunately, security was swift and order was restored while the fighter waited for nearly fifteen minutes to finish the 10 seconds that remained in the round.
Sigmon (12 wins – 2 losses – 0 draws – 5 kos) of Bedford, Virginia, a certified fitness trainer, probably won the sixth round since a point was deducted from Kennedy for a second low blow that appeared to land on the belt line. Kennedy (7 wins – 1 loss – 1 draw – 3 kos) a longshoreman from Baltimore by way of Guyana, had previously landed south of the border in the round that garnered a warning and a three-minute respite for Sigmon. The first two rounds were taken by Sigmon, who outworked his adversary by using a pesky jab, hook and straight rights. They didn't appear to have much power behind them, but they kept Kennedy at bay, although he gained momentum in the next three rounds by landing harder shots and rocking his opponent on a few occasions.
The remaining rounds were almost identical with Kennedy landing the harder punches, mostly overhand rights and blistering hooks while Sigmon pecked away like Joe Calzaghe. However another point was deducted from Kennedy in Round 8, his right eye now almost shut, for an alleged low blow. Sigmon, the thespian, winked at my photographer, signifying that he outwitted referee Clancy. At the conclusion of this action-packed bout Sigmon was awarded a unanimous decision by scores of 95-93 and 96-92 twice.
The train continues on the undefeated track as heavyweight Maurice "Freight Train" Byarm (9 wins – 0 losses – 0 draws – 6 kos), from Washington, D.C. by way of South Philadelphia, scored a fifth round technical knockout at 2:59 over Winston Thorpe (3 wins – 0 losses – 1
draw – 2 kos) of Columbus, South Carolina, in a scheduled six-rounder, a battle of southpaws, for the East Coast Heavyweight Championship. Thorpe, a roofer by trade, was confident in the dressing room and gave Byarm all he could handle by being aggressive in taking the opening round. Maybe Byarm had been watching tapes of Wilfred Benitez, as he kept his back to the ropes for most of the fight trying to decapitate the roofer with right uppercuts that started in Florida, swept through South Carolina crossing over the Virginia border, barely missing Thorpe in Maryland.
Thorpe stayed close to his adversary matching his punch output. In the fifth round, Thorpe was given a short rest due to a low blow by Byarm. Midway through the round, Byarm landed a combination that shook the roofer and immediately swarmed all over him. Many of the punches were missing when to our surprise referee Gradowski waived off the action with one second remaining in the round. The stoppage was somewhat premature by the referee since Thorpe had eluded many of the bombs that were launched in his direction.
There is something thrilling about two beautiful women donning boxing gloves to do combat in the squared circle. Or maybe it is because growing up on a farm in Jamaica it was commonplace for me to witness my older cousin Cecile annihilating any boy who was foolish enough to engage her in the art of fisticuffs. She was a walking paradox, tall and beautiful with a cheerful spirit, but when angered she would pounce like a jungle cat with hands and feet moving in unison blazing into combat. She was the fighter and enforcer and nobody messed with her younger cousins. Tonight brought back fond memories of my cousin as I watched middleweights Shelley Sievert (4 wins – 1 loss – 1 draw – 1 ko) of Severna Park, Maryland and Tori "ShoNuff" Nelson (1 win – 0 losses – 1 draw – 0 ko) of Ashburn, Virginia wreak havoc for six rounds— a rematch of their June bout, a draw and Nelson's debut.
Sievert, who was on the soccer team at Towson University, graduating with a bachelor's degree in Exercise Physiology, now works in her family construction business. She told me in the dressing room that she wasn't going to waste any punches against her shorter opponent. The 34-year-old Nelson has a 15-year-old son and a 12-year-old daughter and started boxing four years ago in her quest to lose weight. She works three jobs and stated that "Smokin" Joe Frazier was her idol and that she would be coming forward all night.
The bell rung and Nelson came out of her corner like Frazier wading in with both hands as Sievert got on her toes like Muhammad Ali. Nelson, moving her head from side to side threw vicious body shots with both hands. It was a classic case of the bull versus the matador as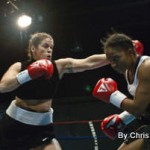 Sievert popped her jab trying to keep her charging opponent at a distance. There wasn't much to distinguish each round as Nelson rarely took a backward step, pressuring Sievert forcing her to fight while backing up. The bull was winning this battle as Sievert clutched throughout the match whenever she felt the force of Nelson's body attack. It was no surprise when Nelson was awarded a unanimous six-round decision by scores of 59-55 and 58-56 twice in this entertaining and well-fought tactical bout.
Other Results: The show opened with two Baltimore heavyweights, Riley Brooks (0 wins – 1 loss – 0 draws) and Lonnie "Big Black Attack" Kornegay (0 wins – 3 losses – 0 draws) fighting to a majority four-round draw. One judge had it 39-37 for Brooks, another saw it the same way for Kornegay, while the third judge had it 38-38. It was an entertaining match with the shorter Brooks doing his impersonation of "Iron" Mike Tyson by ripping quick combinations to Kornegay's head and body. I had it 39-37 for Brooks.
Middleweight Devin Butcher (1 win – 0 losses – 0 draws – 0 kos) of Baltimore, Maryland won a four-round unanimous decision by scores of 40-35 and 39-36 twice over Stephen Franklin (1 win – 1 loss – 0 draws – 1 ko) of Martinsburg, West Virginia. The lanky Butcher styled his way to victory sending Franklin to the canvas in Round 2 with a well-timed jab. It was an entertaining bout but Butcher controlled the action with his jab and was able to evade Franklin's punches by using his quick reflexes to lean backwards as they whistled past his chin.
Baltimore light-heavyweight Dale "Hit Hard as Hell" Robeson-El (5 wins – 0 losses – 0 draws – 3 kos) lived up to his moniker dropping tough Ariel "Iron" Espinal (8 wins – 17 losses – 3 draws – 3 kos) of Brooklyn, New York in the second round with a vicious left uppercut straight right combination. Espinal rose at the count of five but was unable to evade the heavy bombs that were landing when referee Clancy rescued him at 2:59 of the round.
It was an entertaining night of boxing as fans packed the Pikesville Armory. Tonight, I learned the difference between southern hospitality, which was freely given upon arrival, and Southern Comfort, which could be purchased at the concession stand. Sometimes too much of the latter by a few can ruin the goodwill of the former, demonstrated by the majority. Allow me to quote Silky Slim (played by Calvin Lockhart) in the 1974 blockbuster Uptown Saturday Night, directed by Sidney Poitier—"Never has so much been owed by so few to so many."
Continue to support the sweet science, and remember, always carry your mouthpiece!
Related Articles: