Posted by George Hanson., Jr Esq. on Jun 14, 2011

Categories:
Featured Article
|
Comments Off

on Son of Shavers – King Kong Got Nothing on Mansour!
The Mouthpiece
Son of Shavers – King Kong Got Nothing on Mansour!
By: George Hanson Jr., Esq.
Date: Friday, May 27, 2011
Venue: The Rollins Center at Dover Downs Hotel & Casino, Dover, DE
Promoter: Dover Downs Hotel & Casino
Ring Announcer: Larry Tornambe
Referees: Benjy Esteves Jr. & Gary Rosato
Matchmaker: Nick Tiberi
Coverage: www.mcn.tv
Commentators: Billy Vargus, Larry Tornambe, George Hanson Jr. &
Richie Quinones
Photos: www.christoneyphotography.com
"Earnie Shavers hit me so hard, it shook my kinfolk back in Africa!" exclaimed heavyweight champion Muhammad Ali after surviving 15 rounds and retaining his title on September 15, 1977 against the man considered to be the hardest puncher of all time—Earnie "The Dark Destroyer" Shavers. In a professional boxing career that began in 1969, Shavers won 44 of his first 47 fights by knockout, including 27 in a row with 20 of them in the first round. He finally hung up his gloves in 1995 after compiling a record of 74 wins – 14 losses – 3 draws – 68 knockouts. Randall "Tex" Cobb, who stopped Shavers in the eighth round in their 1980 classic said "If anybody hits harder than Shavers, I'd shoot him." My trainer, Charles Ramey, recounted that Shavers hit heavyweight contender Jimmy Young so hard in their February 19, 1973 match at the Philadelphia Spectrum that the centripetal force pulled Young forward landing him on the canvas in a headstand. I wasn't there and since the old man always claims he is not always right, but seldom wrong—I have to accept the veracity of his account. To say that Shavers can punch is an understatement. It is tantamount to saying that the Devil loves wickedness!
"Son of Shavers" – victorious Amir Mansour
I never thought in my lifetime I would ever witness another pugilist with the brutal, earth-shaking punching power stoked in the fires of hell like Earnie Shavers. However, the "impossible" oftentimes becomes reality, which I witnessed as I sat ringside at Bally's Atlantic City on April 2nd. Heavyweight Amir "Hard Core" Mansour hit Hector Ferrero with a straight left so vicious and violent in the opening round that the audience cringed with trepidation as the fallen fighter laid comatose for several minutes before being carried out on a stretcher. My mind's eye queued up the Shavers' highlight reel and I knew that I had just seen "The Son of Shavers"—not his biological offspring, but a fighter who not only has the same punching prowess but also bears an uncanny resemblance in stature, demeanor and style! Ferreyo was the fifth fighter to leave the ring via a stretcher after feeling the trauma and fury of a Mansour punch ignited in hell's furnace. Thus, I have created another category to denote a fighter's record—"OLROS" or "Opponent Left Ring on Stretcher." Mansour has compiled a record of (13 wins – 0 losses – 0 draws – 10 kos – 5 olros)
If we were to make a movie chronicling Mansour's journey, it would be entitled Son of Shavers and I would commission my friend and Hollywood screenwriter, Adrian Charles Henry, to write the screenplay. Tonight's fight with Raymond "King Kong" Ochieng (23 wins – 13 losses – 3 draws – 18 kos) of Kenya would be a seminal scene and I am sure Henry would write a small part for me and I would deliver my lines like Denzel Washington in his Oscar winning role in the 2001 blockbuster Training Day—"King Kong ain't got nothing on Mansour!" Maybe Ochieng had read all the newspaper clippings or seen the YouTube videos documenting Mansour's force because he made his way to the ring like a man who was going to the gallows. The only thing that was missing was a priest or minister leading the way, reading from the scriptures. Ochieng must have been contemplating his fate and did not want to end up being part of the Mansour legend that has been rapidly blazing like a forest fire and part of the YouTube knockout montage paying homage to this bald-pated knockout artist. Soon, Ochieng would be featured as the next victim.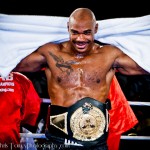 Mansour (R.) just landed a straight left.
If Ochieng's moniker, "King Kong," was supposed to be the harbinger of fear and destruction, the intimation factor was reduced to that of a capuchin monkey when the southpaw Mansour hurried across the ring at the opening bell of their scheduled 10-rounder for the vacant WBC Intercontinental heavyweight title and sent the Kenyan crashing to the canvas with a crucifying straight left. Rising on unsteady legs before Referee Rosato could reach the count of five, Ochieng was upright for about 20 seconds before another murderous straight left deposited the petrified fighter to the canvas for the second time. He was slower getting up, rising at the count of six. Like a heat-seeking missile Mansour attacked with precision as Ochieng slipped to the canvas while trying to dodge danger. Referee Rosato made the proper call, a slip, and the melee ensued as Mansour caught Ochieng with a left uppercut that almost tore his head off the hinges sending him to the canvas. Rosato immediately called a halt to the carnage at 1:45, a technical knockout. The only consolation for Ochieng was that he walked out of the ring instead of being carried out on a stretcher. King Kong ain't got nothing on Mansour!
Besides the "Louisville Lip," Muhammad Ali, I have never heard another fighter with the "gift for gab" like WBC Caribbean Federation heavyweight champion Franklin "Yah Yah" Lawrence (14 wins – 2 losses – 2 draws – 9 kos) of Indianapolis, Indiana. In the post-fight interview after trouncing Jason "The Sensation" Gavern (20 wins – 7 losses – 4 draws – 9 kos) of Kissimmee, Florida, Lawrence turned it up a notch and delivered a soliloquy that rivaled any track that rapper Lil' Wayne laid down in the past two years. He was so entertaining that my fellow interviewer, Richie Quinones, was bursting at the seams with laughter. Articulate, humorous and entertaining, Lawrence has a future as a rapper or motivational speaker. He wasted no time in questioning the intestinal fortitude of Gavern, who refused to answer the bell for the eighth round of their scheduled 12-round title fight. Let me not try to hide behind the English language, Lawrence said, "Gavern had no heart and quit because he was getting his ass kicked!" Sitting at ringside, I would have to concur with that assessment because Lawrence dropped Gavern in the opening round with a straight right and pressured him for the entire fight, blanketing him like an overcoat, staying in his face and countering his every move.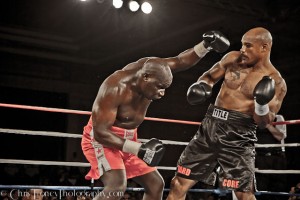 Lawrence (L.) sending Gavern to the canvas in the opening round.
Gavern was outworked round-after-round and tried to play possum by working off the ropes in the sixth round and talking to the audience and cameraman perched on the ring apron. However, these tactics only caused Lawrence to continue hammering away at his core with hard shots in an attempt to level him while breaking his spirit. Losing every round on my scorecard, Gavern with nowhere to hide and Lawrence on top of him like jockey Calvin Borel on Mine That Bird at the Kentucky Derby, decided to take a respite in Round 7 by dropping to one knee, claiming that he was poked in the eye. Believe that and I have a dog in my basement that can tap dance and sing show tunes! Referee Esteves gave him the obligatory eight-count and the match resumed as Gavern made it to the bell. No surprise when he remained on the stool at the start of Round 8. Lawrence was declared the winner by technical knockout at 3:00 of Round 7, retaining his title.
Three-time New York Golden Gloves champion and undefeated junior-lightweight prospect "Queen" Ronica Jeffrey (6 wins – 0 losses – 0 draws – 1 ko) of Brooklyn by way of Trinidad performed regally, capturing a unanimous four-round decision, 40-36 on all three judges' scorecards over tough previously undefeated Elizabeth Sherman (3 wins – 0 losses – 0 draws – 1 ko) of Philadelphia. Showing her sartorial elegance, Jeffrey's boxing outfit rivaled those that once adorned former world champion, Hector "Macho" Camacho. Not only did she look the part of a champion, she boxed with the skills and confidence that belies her six-fight career. Jeffrey came out at the opening bell boxing behind a stiff jab and attacked the body of Sherman who didn't retreat, standing her ground and returning fire. However, Jeffrey's offense was as Mike Tyson would say, "impetuous" and her defense was "impregnable" as she slipped Sherman's jabs, dipping to the left, countering with left hooks turning them into uppercuts à la Johnny Tapia to complete the two-punch combination.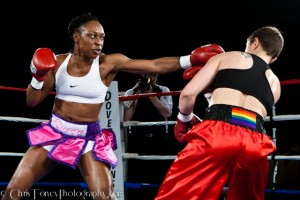 Jeffrey (L.) keeping Sherman on the end of her jab.
Jeffrey seemed to be a step ahead of Sherman as she worked her magic and was able to anticipate her opponent's counters evading danger by slipping on the inside or rolling with the punches. Not to be dissuaded, Sherman finally caught Jeffrey with some good shots in Round 3 and appeared to have captured the round. But not wanting to abdicate her throne, Queen Jeffrey roared back in the final round by going back to her jab and body attack and winning a unanimous decision in an entertaining match. I can't recall ever being disappointed by a boxing match where the participants were women.
Smyrna, Delaware's favorite son, super-middleweight "Mighty" Mike Tiberi (17 wins – 1 loss – 0 draws – 7 kos) squared off against Timothy "The Boss" Hall (6 wins – 10 losses – 0 draws – 4 kos) of Athens, Georgia in a scheduled eight-rounder. In the opening round it appeared as though an upset was in the making as Hall dictated the pace and out-boxed Tiberi going to the body, befuddling him by switching intermittently from orthodox to southpaw. Hall's performance was impressive and despite a losing record it was evident that he didn't come to Dover Downs just for a payday, he wanted to win. You could read Tiberi's trainer's lips as he implored him to "Get with the program!" and get back to the fight plan. The speech didn't fall on deaf ears as Tiberi came out for the second round working behind a stiff jab and going downstairs to Hall's ribcage and midsection, outworking the man from Georgia. By the middle of the third round it was becoming apparent that the constant hammering away at Hall's body was paying dividends as he started to slow down and his punches didn't have the same level of potency as was the case in the opening stanza. The body blows were literally sucking the life out of Hall as he seemed like a man drowning in quick sand with Tiberi jumping up and down on his head trying to immerse him fully. In the fifth round a left hook to the body had Hall wincing, but his pride and temerity forced him to shoulder roll to escape the salvo from Tiberi's cannon, while unloading his own bombs in hope of turning the tide. The sixth round was close as they stood toe-to- toe trading shots much to the delight of the crowd. This was to be Hall's last hurrah as Tiberi captured the remaining two rounds by raking his body with hard shots that had Hall feeling the effect for the rest of the weekend. No surprise when Tiberi was awarded a unanimous decision, 79-73 on all three scorecards.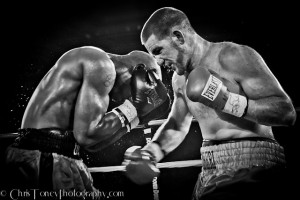 Tiberi (R.) working Hall's body.
Other Results: In the opening bout of the evening, cruiserweight Dan "Bada Bing" Biddle (6 wins – 1 loss – 0 draws – 4 kos) of Hockessin, Delaware scored a technical knockout at 1:21 of the third round in a scheduled four-rounder with Maurice "Static" Amaro (1 win – 3 losses – 0 draws – 0 kos) of Philadelphia. Amaro jumped out to an early lead, capturing the first two rounds by jabbing and connecting with left hooks and straight rights on Biddle who seemed to be confused by the Philadelphian who delivered from awkward angles. In the third stanza Biddle connected with a right hand that had Amaro "balling up," head down, both hands covering his face. Biddle threw a five-punch combination with none of the punches doing much damage. Yet, Referee Rosato jumped in and waived off the action. Debuting amateur lightweight sensation Omar Douglass of Philadelphia won his scheduled four-rounder after Referee Esteves disqualified his opponent Eric Hall (0 wins – 2 losses – 0 draws) from Philadelphia at 2:02 of Round 3 for excessive holding. Hall, who was making a comeback after an almost eight-year hiatus, must have thought he was in the honeymoon suite at the Wynn Hotel in Vegas because he clutched and held Douglass, who was relentless in his attack, like they were newlyweds. Undefeated light-heavyweight Anthony "Caputo" Smith (9 wins – 0 losses – 0 draws – 8 kos) of Kennett Square, Pennsylvania needed only 58 seconds to dispose of Dannon "The Cannon" Svab (6 wins – 5 losses – 1 draw – 4 kos) of Akron, Ohio. The round was in its embryonic stage when Smith blasted Svab with a lethal overhand right that drove him to the canvas. Svab got up on unsteady legs and was saved from further punishment by Referee Esteves who mercifully stopped the fight.
It was another titillating night of boxing as the near capacity crowd enjoyed the action before venturing out to the casino for a night of gambling to begin the Memorial Day weekend. It is ironic that Earnie Shavers, the man who destroyed the hopes and dreams of so many fighters by knocking them cold in the squared circle, is now an ordained Christian Minister who is now saving lost souls. We can only pray that Amir Mansour doesn't hit his opponents so hard that they will need formaldehyde (embalming fluid) instead of ammonium carbonate (smelling salt).
Continue to support the sweet science, and remember, always carry your mouthpiece!
Related Articles: