By Michael Amakor | March 14, 2014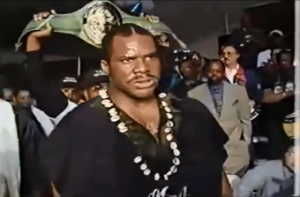 Reports indicate that former heavyweight boxing contender Ike Ibeabuchi was released from prison in February.
The Nevada Board of Corrections confirmed his release in a phone call, but all efforts to track him or his mother who has spent the past couple of years trying to stir up support for his release down were unsuccessful at the time of filling this report.
Originally from Nigeria, Ike Ibeabuchi 41, nicknamed "The President", was an exciting fighter in the nineties who amassed a stellar professional record of 20 wins, including 15 knockouts with no losses. He also captured the WBC International heavyweight title in 1997 and seemed destined for a title shot before getting convicted for attempted sexual assault and battery with intent to commit a crime stemming from an incident in 1999.
It has been they fervent hope in boxing that he would resume his career when released, but those hopes have faded over the years as the Nevada State Parole Board repeatedly denied him parole. With his release those wishes may come to fruition, but he most likely faces deportation.
There are also unconfirmed reports that his family has just recently suffered a painful tragedy.
Our thoughts are with the President.
More reports are to follow.
Related Articles: