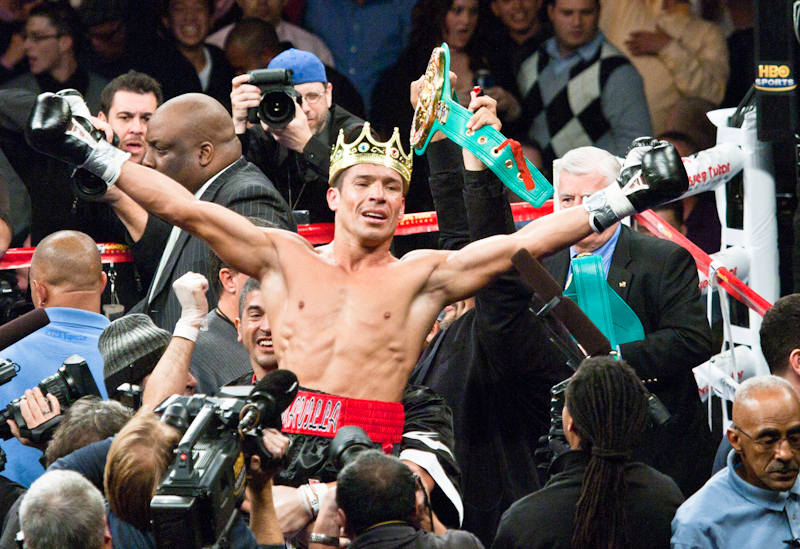 1) Fighter of the Year: Sergio "Maravilla" Martinez
While Manny Pacquiao continued his winning ways, Sergio Martinez gets the nod this year for his scintillating high stakes UD over Kelly Pavlik and his blow out KO win over Paul Williams. The classy middleweight from Argentina (46-2-2) now holds the WBC and WBO middleweight titles.
2) Fight of the Year: Giovani "Guerrero Azteca" Segura vs. Ivan "Iron Boy" Calderon
Segura (26-1-1) handed Calderon (34-1-1) his first loss and claimed the lineal light flyweight championship in a savage encounter ending when the pressuring Mexican forced a halt to the action late in the fight with non-stop punching. The fight was held in the hostile environment of the Coliseo Mario 'Quijote' Morales, in Guaynabo, Puerto Rico which added to the excitement.
Humberto Soto's UD over Urbano Antillon was also a wonderful fight that featured back and forth, give and take, uppercut and hook, upstairs and downstairs action. Other fights high on this list were Micky Roman vs. Antonio Escalante; Daniel Estrada vs. Angel Alirio Rivero; Michael Katsidis vs. Juan Manuel Marquez; and Ramsey Luna vs. Rene Luna.
3) Round of the Year: Nobuo Nashiro vs. Hugo Fidel "El Incredible"Cazares, Round 12
This crunching encounter won by Cazares was reminiscent of Round 5 of the Somsak Sithchatchawal vs. Mahyar "Little Tyson" Monshipour in 2006; it was great stuff and defined give and take.
A very close second was round four of the Segura-Calderon fight.
4) KO of the Year: Martinez over Williams
Sergio's waxing of Paul "The Punisher" Williams came suddenly and decisively. Given what was at stake, the KO was remarkable.
Alexander Frenkel KO-7 over Enzo Maccarinelli was noteworthy as well, particularly for its viciousness.
4) Most Exciting Fighter of the Year: Manny Pacquiao
Not as easy as in past years given the presence of Juan Manuel Lopez, Juan Manuel Marquez, Michael Katsidis, Carl Froch, Marcos Maidana, and Sergio Martinez. But when Manny fights, people rush to buy PPVs, fill up stadiums, and plan parties around the fight. The fact is, he is an event fighter. Heck, he is a phenomenon the likes of which have not been seen since Oscar De La Hoya and Sugar Ray Leonard. Manny is special. When he fights, it's always an event.
5) Trainer of the Year: Freddie Roach
Wild Card Gym has become THE place for boxers. Freddie now has Manny, Amir Kahn, Julio César Chávez Jr., and Jose Benavidez, among others, and is building for the future. The "Roach Factor" has become a real positive for Freddie's charges.
6) Upset of the Year: Garth Wood knocking out Anthony Mundine
In a major upset, hand-picked patsy Garth Wood knocked out Australian fighter Anthony Mundine in the fifth round of their bout on December 8. Wood was a 7-1 underdog. Whatever bubble Mundine enjoyed was burst by Wood.
Jason Litzau's win over Celestino Caballero was also a major upset and exposed Caballero's "invincibility."
7) Comeback Fighter of the Year: Daniel Ponce de Leon
This heavy-handed Mexican featherweight has won 7 in a row since being knocked out in one by Juan Manual Lopez. More to the point, he won four in 2010, three by stoppages against solid opposition. De Leon has shortened his punches and has acquired a decent defense to work his way back into top contendership.
8) Worst Decision of the Year: Mike Jones over Jesus Soto Karass
Levi Martinez 94-95; Sergio Caiz 93-97; and Gale Van Hoy 94-94. Only Van Hoy came close to getting it right.
9) Most Shocking Boxing Story of the Year: The murder/suicide involving Edwin Valero
It was simply horrifying from all perspectives. Enough said.
10) Most Uplifting Boxing Story of the Year: The release of the movie The Fighter to rave reviews.
This can only help the sport of boxing.
11) Top Young Prospect of the Year: Jose Benavidez
Jose Benavidez (9-0 with 9 KO's) has charisma and star quality written all over him. He now fights out of Las Angeles and is just 18 years old. He has duked in Texas, Nevada (several times), Illinois, and Mexico, getting great exposure. His next fight with Justo Sanchez (17-25) in California hopefully will get him some badly needed rounds. More importantly, he is trained by none other than Freddie Roach. Jose, also somewhat of a stylist, may just be the next big Mexican American fighter in a long line of such greats.
12) Top Fast-Tracked Fighter of the Year: James "Chunky" DeGale
Having won the British super middleweight title in only his ninth professional fight, the brash De Gale has stepped up his opposition in each of his four 2010 fights. He is closing in on the world stage, but first he must take the European title from Brian Magee.
13) Break-though Stars of the Year: Saul "Canelo" Álvarez and David Lemieux
Charisma, connection with their fans, and ability–these two guys seem to have it have it all. Canelo is 20; David is 21.
14) Closet Classic of the Year: Gumersindo Carrasco MD over Juan Bonanni
This thrilling November fight in Mendoza, Argentina featured everything, including multiple knockdowns, ebb and flow, great sportsmanship between the fighters, and a Hall of Shame, albeit spirited brawl between the corners. Carrasco was floored in the 1st and 8th rounds and received a standing count in the 6th round. Bonanni was decked in the 2nd stanza.
15) Good Guy of the Year Award: Coach Barry Hunter
Hunter trains and mentors the Peterson brothers, Lamont and Anthony, and many other young fighters in the Washington, D.C. area. Boxing and society need more like Barry Hunter who believes in giving back.
16) Best New Boxing Announcer: Antonio Tarver
Showtime's Tarver adds a boxer's perspective to the fights, and he does it in an articulate and candid manner.
Related Articles: