Posted by George Hanson., Jr Esq. on Mar 4, 2012

Categories:
Featured Article
|
Comments Off

on The Cat Tried to Kill Itself!—Cruz Survives Conyers
By: George Hanson Jr., Esq.
Date: Saturday, February 25, 2012
Venue: Bally's, Atlantic City, New Jersey
Promoter: Peltz Boxing Promotions
Matchmaker: J. Russell Peltz
Coverage: www.gofightlive.com
Ring Announcer: Dean Stone
Referees: Earl Morton & David Fields
Photos: www.christoneyphotography.com & www.keyartphoto.com
Lewis Black is one of my favorite comedians. The mercurial, insightful and explosive performer is renowned for his philosophical tirades—almost to the point of a stroke—his methodology for imparting life lessons through a thick smoke of profanity and ranting. The man is a genius. In his 2006 HBO special Red, White, and Screwed Black tells the story of a drunken Washington, DC politician who while driving under the influence veered his automobile onto his next door neighbors' lawn hitting their cat. The politician, worried about this getting out in the media, called his press secretary or "Spin Doctor" and next day in the Washington Post there was no mention of the politician being drunk or the collision with the neighbors' cat. The headline read —The Cat Tried to Kill Itself!
After watching welterweight Ronald Cruz (15 wins – 0 losses – 0 draws – 12 kos) of Bethlehem, Pennsylvania survive a fifth round scare against thirty-five-year old journeyman Allen "Dream Shatterer" Conyers en route to winning a unanimous ten-round decision I invited Dr. Spin, my alter ego and media guru to contribute his wisdom to this article. But first allow me to lay the groundwork for our discussion. Conyers will turn 36 in April and has fought only five times in as many years, winning twice and getting stopped on three occasions. His last fight was April 29, 2011 in which he lost by technical knockout to Carlos Molina. Thus, it was expected that the aging warhorse would be rusty and easy pickings for Cruz who rumbled on November 19th with Anges Adjaho—a fight in which Adjaho out-boxed and befuddled Cruz before a lack of concentration caused Cruz to seize the moment, land a few blows and with the aid of a complacent referee win by a much too early fifth round technical knockout. It's ironic the same referee was on duty tonight!! "Bad" Bennie Briscoe had his "own" referee. Why not Cruz?
I was somewhat surprised that Conyers (12 wins – 5 losses – 0 draws – 9 kos) of Bronx, New York was competitive for the entire match, landing his feared right hand on numerous occasions. Uncle Russell—Promoter J. Russell Peltz— and the audience held their collective breath in the fifth round when Conyers hurt Cruz badly with a right hand and wailed away for almost thirty seconds until the bell. Cruz was hurt and Peltz made his way over to his fighter's corner. The man from Bethlehem showed incredible recuperative power and took the sixth round. However, it was a heated battle until the final bell as he continued to fight from the southpaw stance eating a few more right hands. Yes, he earned the unanimous decision but, the scores of 99-90, 98-89 and 99-90 once again made a compelling argument for mandatory drug testing and eye examinations for judges.
Me: Dr. Spin welcome to The Mouthpiece. Help my audience to understand your background, work and involvement in the sport of boxing.
Dr. Spin: Hanson feel free to call me Spin. I received my PHD in Marketing and Managing Perception from your alma-mater—Harvard University. Over my tenure I have worked with politicians, Hollywood stars and sports figures in offering a different view of the facts. Yes, I assisted that Washington politician, who will remain nameless, to navigate a tenuous situation. How was he to know that his neighbors' cat was suicidal? Had I not been called, the media and animal rights activist would have had a field day.
Me: Who are your boxing clients?
Dr. Spin: For the past five years I have been working with Emmanuel Dapidran Pacquiao in positioning him for the biggest payday in boxing history. After tonight, I believe Cruz's handlers will hire me in an advisory capacity. I understand that boxing is more than talent, hard work and dedication. Oftentimes you have to help the fans see the "unseeable" and believe what they can neither understand nor articulate. Enough about me – can we talk about Cruz?
Me: Spin, it appears that Cruz has plateaued. He struggled and was getting out boxed by Adjaho and tonight Conyers had him in dire straits in the fifth round to the point where Referee Morton looked like he was about to stop the contest.
Dr. Spin: Hanson, are you drinking Hater-Aid? Cruz's style is impetuous, his defense is impregnable. He wasn't hurt in the fifth round – he merely backed into the ropes to work on his shoulder roll and defense. Morton didn't stop it because I believe that they were talking, having a conversation, Cruz giving Morton stock tips while he picked off Conyers' wild punches! I think that Ronald told Morton to buy shares of LabCorp stock.
Me: Why did Uncle Russell rush over to Cruz's corner after the fifth round? I believe he was worried.
Dr. Spin: Hanson, it is amazing how two people can witness the same set of facts but reach different conclusions. Is there something wrong with the promoter being swept up in the gale-force winds of Hurricane Cruz so much that in a moment of excitement, he made his way over to the corner to let the fighter know how much he appreciated his shoulder roll and defense?
Me: Spin come on – Conyers landed the straight right all night. For the life of me, I have no idea which genius came up with the strategy that had Cruz fighting southpaw for the majority of the fight. He was walking into Conyers' right hand!
Dr. Spin: Hold your horses Hanson. It doesn't matter what paw Cruz fights with—north paw, south paw, east paw, west paw—the kid is terrific from any stance. He just wanted to give his fans a new look while making sure the fight went the distance. Why end it early? There was plenty of www.gofightlive.com airtime to fill because that hotdog Garrett Wilson went out and stopped Pedro Martinez in the second round instead of taking his time and going the distance. Cruz had to find a way to satisfy the sponsors
Me: I was impressed that Cruz was able to stop once-beaten hot prospect Jeremy Bryan in October 2010 and Doel Carrasquillo last year. But it doesn't seem as though he is improving. How in God's name did he allow Conyers to make it to the final bell in a match in which most at ringside had the journeyman winning four rounds and was in the fight tooth and nail!?
Dr. Spin: Hanson, I know you are Jamaican and I don't want to insert stereotypes. Are you smoking ganja? Cruz did what former USBA junior-middleweight champion Derek Ennis couldn't do. He toyed with Conyers. You failed to mention that Conyers stopped Ennis in the second round back in 2007. The fight should have been over in the first round when Cruz dropped Conyers two seconds before the bell. You are right on one account – he did allow Conyers to make it to the final bell because he wanted to fill airtime and keep the sponsors happy!!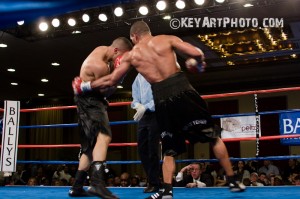 Me: I think Uncle Russell has done a great job of matchmaking but Adjaho and now Conyers have proven that Cruz is skating on thin ice in the middle of spring. Would a young athletic fighter like Shawn Porter run circles around him?
Dr. Spin: Let me switch to my Floyd Mayweather voice: Here we go again, Hanson! Here we go again! Cole Porter, Shawn Porter, Porterhouse steak—Cruz will eat them all up. Hanson – I don't mean to insult you but are you in the early stages of dementia from your boxing career or are you just intentionally overlooking that Shawn Porter struggled with Adjaho for ten rounds, winning a unanimous decision while Cruz knocked his socks off in five rounds? Bring on Shawn Porter!! If he wants it, he can get it! Team Cruz baby!!!
Me: So you give no credence to my observations. Cruz and his fans can't see that the Titanic is steering into the iceberg. I knew that you would be dismissive of me calling his performance "the cat tried to kill itself."
Dr. Spin: Here we go again Hanson! Now you are a comedian trying to discredit arguably the #2 Pound for Pound best fighter alive—Ronald Cruz. At least we can agree that Mayweather is the best pugilist on the planet. Ronald Cruz is #2!
Me: I saw where some of Cruz's fans posted on Facebook that he would beat Victor Ortiz. Are they crazy?
Dr. Spin: Carlos Ortiz, David Ortiz, Victor Ortiz—it doesn't make a difference—Ronald will handle his business. If Ortiz wants some we still have a case of "Whup-Ass" left over from the Conyers fight.
Me: What about Mike Jones?
Dr. Spin: Right now Ronald is a better rapper than Roy Jones! In due time, he will surpass Mike Jones. In fact I heard that Ronald spent a month last summer in Fajardo—too many groupies in San Juan rushing to hug and kiss him, telling him how much they miss—doing a remix of A Milli with Lil' Wayne:
I'm a young pugilist, future millionaire—tougher than Nigerian hair.
My criteria compared to your career just ain't fair….
Me: Spin, Spin!! I meant Mike Jones the welterweight contender!!
Dr. Spin: Hanson don't you ever interrupt my flow. I was about to get to the second verse and the hook. Who is Mike Jones? James Earl Jones, Too Tall Jones, Grace Jones, Mike Jones, it doesn't matter! Ronald will knock them all out!! Who has Mike Jones beaten besides a bunch of little Mexican lightweights? Only thing he and Ronald have in common is their promoter—Russell Peltz. Cruz is the superior boxer. Besides he's fought the better competition, beating welterweight and junior-middleweights.
Me: Spin, thank you for sharing your perspective which it can be reasonably assumed mirrors the sentiments of Cruz's fans. It is time for me to get back to the rest of the evening.
Dr. Spin: Hanson thanks for having me and remember—we are "cruz-ing" all the way to the championship baby!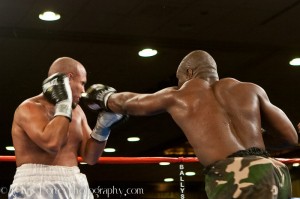 Garrett "The Ultimate Warrior" Wilson (11 wins – 5 losses – 1 draw – 5 kos) is a throwback pugilist. His meteoric rise has been attributed to his willingness to fight whomever and wherever. He doesn't mind fighting in his opponent's backyard. He ventured to Ohio in 2010 and shocked the boxing world when he knocked out hot cruiserweight prospect and contender Aaron Williams in the seventh round.
Last April he avenged a 2010 technical knockout loss to perennial contender Omar Sheika by besting him over twelve rounds and capturing the vacant USBA cruiserweight belt.
Wilson (R.) springing into action.
In November he defended the title by roaring from behind and doing what had to be done—score a last round knockout over Chuck "The Professor" Mussachio—in order to hold on to his coveted belt. Since the victory over Williams all the contenders, inclusive of Lateef Kayode and BJ Flores, have been avoiding Wilson as though he has leprosy. Nobody, with the exception of Philadelphia fighters, wants to step in the squared circle and face him—5 feet 9 inches of compact dynamite and legalized violence. I fear that one day Wilson is going to land a punch with such horrific force that his opponent won't move and will not be able to resist the white light that is calling him to the world beyond. Yes, it is that scary when he throws with bad intentions. I have to give credit to fellow Philadelphian, Pedro "El Toro" Martinez (6 wins – 4 losses – 0 draws – 3 kos) who welcomed the opportunity to face Wilson in a scheduled eight-rounder.
In Philadelphia fighters always fight each other hard. Derek "Pooh" Ennis and "King" Gabriel Rosado tore the ring down in the "2010 Philadelphia Fight of The Year." Thus, I was expecting fireworks between Wilson and Martinez. Like Ennis and Rosado, they are friends and have swapped punches over the years in sparring or what the boxing world calls "Philly Gym Wars."
With Dave Price, inventor of the Cov-Glove, and cutman Billy "The Old Master" Briscoe added to his corner alongside trainer Rodney "Rice-Futch" Rice, Wilson came out calmly and had a traditional "feeling out" first round before landing some power punches in the second stanza. He staggered Martinez with a right uppercut then capped it off with a vicious left hook. However, Martinez took it as they fought chest to chest on the inside. In the blink of an eye, Wilson like a big cat on the plains of the Serengeti crept out for the third round and blasted Martinez with an overhand right followed by a left hook that crashed him to the canvas. Up at the count of four and his nose leaking blood, Referee Fields called a halt at 36 seconds of the round. The plot thickens as Wilson is clamoring for a showdown with IBF cruiserweight champion Joan Pablo Hernandez. Maybe, Hernandez will show more intestinal fortitude than Kayode and Flores and accept the fight!
OTHER ACTION:
In probably the most shocking fight of the night little-known Rafael Montalvo (1 wins – 1 loss – 0 draws – 1 ko) of Utuado, Puerto Rico now fighting out of St. Clair, Pennsylvania boxed brilliantly, laying a trap, stopping hometown welterweight prospect DeCarlo Perez (6 wins – 1 loss – 0 draw – 2 kos) at 2:33 of the third round with a well-timed right uppercut and left hook. Perez, who entered the ring, speakers blaring Muhammad Ali reciting poetry, decked out in all white, a terry-cloth robe with Ali's name emblazoned on the back as part of his birthday tribute to the legendary champion never saw the punches. Montalvo who reportedly had 150 amateur fights in Puerto Rico fought like a seasoned professional.
Mixed Martial Arts fighter and debuting professional welterweight boxer Jeff "Relentless" Lenz of Lakona Harbor, New Jersey needed just 2:33 of the opening round to defeat Philadelphia's David Navarro (1 win – 4 losses – 0 draws – 0 kos). Lenz showed power in dropping Navarro twice forcing Referee Morton to call a halt to this one-sided affair.
The grandson of former heavyweight champion Jersey Joe Walcott, the reckless and relentless welterweight Luis Cream (2 wins – 0 losses – 0 draw – 0 kos) entertained fans with a rugged display of the sweet science goading fellow Camden, New Jersey native Miguel Corcino (3 wins – 1 loss – 0 draws – 2 kos) into a slugfest dropping him at the bell in the second round, winning a unanimous four-round decision 40-35 twice and 39-36. Corcino, the more polished boxer fought on Cream's terms by trying to outslug him at close range. Cream threw punches from all angles with reckless abandon. He is a powerful fighter who "creamed" many of his opponents as an amateur, knocking them senseless with his powerful right hand and left hooks.
In a rematch, undefeated super-middleweight prospect Antowyan "The Iceman" Aikens (3 wins – 0 losses – 0 draws – 1 ko) of Atlantic City, New Jersey boxed brilliantly and again captured a unanimous decision over Charles Kirby (1 wins – 5 losses – 0 draws – 0 kos) of Philadelphia. Aikens, who bears an uncanny resemblance to former heavyweight champion Larry "The Easton Assassin" Holmes, has great boxing skills, good lateral movement and a terrific jab. This young 22-year-old prospect is the real deal and should be a contender in a couple years. The scores were 40-36 twice and 39-37 as Aikens, barely sweating, grabbed the microphone called his girlfriend, Tara Robinson, into the ring and did what he told me he would do in the pre-fight interview—got down on one knee and proposed—placing a nice-size diamond ring on her finger, much to her surprise.
In the opening bout, another rematch—featuring two Philly fighters—Korey Pritchett (1 win – 1 loss – 0 draws – 0 kos) again bested Korey Sloane (2 wins – 2 losses – 0 draw – 0 kos) winning a majority decision 39-37 twice with the other judges scoring it similar but for Sloane. It was a closely contested affair that easily could have been scored a draw.
It was another exciting night of boxing with a packed house that filtered into the casino to enjoy the atmosphere. I made it back to Philadelphia riding shot-gun with my trainer and friend Charles "Cornbread" Ramey. I couldn't wait to reach home to watch one of my favorite movies—Pyscho—the 1960 thriller starring Anthony Perkins and directed by Alfred Hitchcock. Watching that movie for probably the fiftieth time, I couldn't noticing the similarities between my friend Spin and the main character, Norman Bates. Maybe Spin suffers from multiple personalities or even dissociative identity disorder. How else can you explain his insight on Ronald Cruz?
Continue to support the sweet science, and remember, always carry your mouthpiece!
Related Articles: