Posted by George Hanson., Jr Esq. on Feb 2, 2011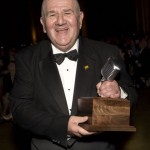 The Mouthpiece
Can't Stop the Music! "The Incomparable" Harold Lederman
By: George Hanson Jr., Esq.
Harold Lederman is a rock star! He doesn't play a musical instrument; have tattoos or body piercings, sport long hair or strut around on stage wearing leather pants gyrating to the beat of the rhythm section, driving female groupies into frenzy. Nevertheless, he performs in some of the largest arenas because the world of professional boxing is his stage. Like rapper Mike Jones, whenever, Lederman arrives early to an appointed venue, throngs of adoring fans "rush to hug and kiss him telling him how much they miss him" seeking autographs and the opportunity to capture his likeness digitally. I have been guilty of the photo-op on numerous occasions, since our first meeting at the Miguel Cotto versus Joshua Clottey bout on June 13, 2009 at Madison Square Garden in New York City. Lederman is a rock star, baby!
When I met Lederman, it was my second time covering fights at the legendary Garden, the 2008 bout between Roy Jones Jr. and Joe Calzaghe being the first. Thus, I arrived early and camped out a few doors from the pressroom hoping to "run into" Lederman. As fate would have it, he appeared and I remembered the advice of my trainer, Charles Ramey, "When you meet Harold Lederman, talk about Bennie Briscoe. He loves Briscoe." I levitated over to Lederman, introduced myself and shared that I had made the trip from Philadelphia and would be chronicling the bout for my column, The Mouthpiece. Not giving him an opportunity to process what was said; I immediately segued with, "How about Bennie Briscoe – what a great fighter!" Had this been a movie, they would have keyed up the background music and the skies would have parted as Lederman's face lit up like a Christmas tree as we stood there discussing Briscoe and other Philadelphia fighters, becoming fast friends. Fifteen minutes must have expired before I signaled my photographer, Merrick Foster, to take our picture. Since Harold Lederman is a rock star, I wanted proof that I met him.
Like his predecessors Lorenzo Music— actor, writer, producer, musician and the voice of Carlton the Doorman on Rhoda, the hit CBS sitcom that ran for five seasons (1974-1978) and actor John Forsythe, who played Charlie on the ABC runaway hit Charlie's Angels (1976 – 1981)—Lederman is heard but never seen during the broadcast of HBO's World Championship Boxing. As the unofficial ringside scorer since 1986, Lederman's voice is recognizable to a worldwide television audience as he captivates them with his insight, wit and nearly flawless scoring. At the opening of each broadcast Jim Lampley, host and lead commentator, introduces Lederman with, "And now the rules with our unofficial ringside scorer, Harold Lederman." On cue and without missing a beat the raspy voice chimes, "Ok, Jim…" and proceeds to explain the rules governing the imminent boxing match. During the bout, like millions of viewers, I sit anxiously like a racehorse in the starting gates after the 3rd, 6th, 9th and completion of the bout for Lampley to utter those magical words, "Harold, how do you have it?" Lights, camera, action! The engaging voice enthralls us with some anecdotes or intricate observations explaining the fight and the rationale for his score—brilliant, necessary, absolutely intoxicating. Like kids anxiously waiting to be served dessert, viewers perk up to hear whether or not they and the sage are in agreement. Congruence with Lederman is a sweet treat.
Today it was gratifying to interview Lederman and swap boxing stories on his 71st birthday. Born and raised in the Bronx, Lederman began working in the family business at the tender age of four—his father Samuel owned and ran a pharmacy. During the summers the family, which included his mother and younger sister, would vacation on Long Island at Rockaway, a resort town. This was during the 1940s and 1950s and boxing was in its heyday as there were Friday night shows in the adjacent town of Long Beach. Thus, Samuel, a boxing aficionado, would take young Harold to these outdoor boxing matches at Long Beach Stadium promoted by legendary matchmaker Teddy Brenner. Lederman fell in love with the sweet science—a passionate and intimate relationship that cannot be extinguished.
"My grandfather, father and three uncles were pharmacists," he says. Maybe it was destiny, fate, or luck, but like the men in his family Lederman "fell into" pharmacy as he jokingly reminisced. Columbia University's College of Pharmacy (which no longer exists) was his school of choice and his training ground. Upon graduation in 1962, in compliance with the mandatory draft, he joined the Army Reserves spending six months at Fort Dix before returning to work at his father's drug store.  Only this time, he was now a full-fledged pharmacist just like his father. Lederman would serve another eight years in the Army Reserves, doing weekend duties while maintaining his responsibilities at work.
Married in 1963, Lederman and his beautiful wife, Eileen, became regulars at the boxing shows at Madison Square Garden. Driven by his love and need to entrench himself further in the sweet science, in 1965 he applied for a judge's license at the New York State Athletic Commission. It was no surprise when he was told to gain some experience by serving at the amateur level. This had been the traditional road and Lederman spent two years judging amateur bouts before his application as a professional judge was approved by then New York State Athletic Chairman, Edwin B. Dooley, in 1967.
The rest is history, as Lederman has traveled the globe judging fights on every continent. On many occasions his daughter, Julie, who shares his love for the science of pugilism, was his sidekick and traveling partner. I knew it would eventually happen, and sure enough during the interview Lederman and I locked into a discussion on Philadelphia and its rich boxing history. Boxing aficionados seem to view Philadelphia as the boxing world's Harvard—collegial, yet fiercely competitive, producing some of the very best. "The first time I went to Philadelphia in the 70s it was unlike anything I had ever seen. Every fight was a war, people standing and screaming. This was beyond belief, incredible!" recalls Lederman. He was hooked and found himself returning to the City of Brotherly love where he watched legendary middleweight contender "Bad" Bennie Briscoe. 
"There was nothing like the excitement at a Briscoe fight," as he took me on a ride down memory lane. He recalls Briscoe surviving two knockdowns in the opening round of his 1971 epic battle with Rafael Gutierrez. "Bennie didn't have a clue where he was after each knockdown, but almost at the bell Briscoe planted a hard left hook, an intentional low blow, to Gutierrez's cup and I knew the fight would be over soon. Briscoe stopped Gutierrez in the next round and the place went bananas! Bennie could have run for President in Philadelphia and won!" Lederman was able to place me in a seat at the Spectrum on that memorable night, November 15, 1971 and we shared a laugh because Briscoe was notorious for hitting low, placing kidney shots and using his bald head as a third glove.
What the world discovered is that Lederman, with his wit and humor, is like a chess grandmaster that looks at a board and doesn't just see individual pieces, but is able to recall every detail and foresee impending moves. In early 1986 Ross Greenburg, HBO's Executive Producer, hired Lederman as an analyst for the network's boxing series, World Championship Boxing. His first assignment on March 22nd —undefeated WBC heavyweight champion Pinklon Thomas against an overwhelming underdog, Trevor Berbick my fellow countryman. Once again I boarded the train for another insightful, fun ride down memory lane as Lederman firmly in the conductor's seat quipped, "It was the only fight that Berbick ever hired Eddie Futch to train him, and knowing this, I picked Berbick to win and stated such." The rest is history as Berbick dealt the odds-makers a losing hand, upsetting Thomas by scoring a unanimous 12-round decision as people rejoiced in the streets of Kingston, Jamaica. Eddie Futch by helping to deliver on Lederman's prediction was later told – "I owe my HBO career to you."
It has been almost 12 years since Lederman retired from judging. The torch has been passed to daughter Julie, who is an active ringside judge. In nearly two months, Lederman will be celebrating his 25th year as a fixture on World Championship Boxing. He continues to work full-time as a pharmacist—Lederman is employed at Duane Reade Inc., a chain of drug and convenience stores primarily located in New York. There is no sign of him slowing down. Being able to recall fights with such detail and color speaks to his brilliance and deep-rooted love for the sweet science, which I share. Boxing is both our oxygen and without it we are unable to breathe.
Like 67-year-old Mick Jagger who is still lighting up the stage and strutting his stuff, Lederman loves his work and has no concept of the term "retirement." Tomorrow, he is off to Pontiac Michigan for HBO's World Championship Boxing's much-anticipated junior-welterweight showdown between undefeated titleholders—WBC champion Devon Alexander and WBO champion Timothy Bradley at the Pontiac Silverdome. Since Harold Lederman is a rock star, maybe one day someone will convince him to get a tattoo. Can't stop the music!
Continue to support the sweet science, and remember, always carry your mouthpiece!
Related Articles: