Posted by George Hanson., Jr Esq. on Mar 24, 2016

Categories:
Featured Article
|
Comments Off

on The Jesse Hart Experience, Jackson Upsets Ortiz
The Mouthpiece
By: George H. Hanson Jr., Esq.
Date:                         Friday, March 18, 2016
Venue:                      2300 Arena – Philadelphia, PA
Promoters:                Top Rank, Peltz Boxing, BAM Boxing & Joe Hand Promotions
Coverage:                  Gofightlive.com
Ring Announcer:         Steve Mittman
Referee:                    Shawn Clark, Blair Talmadge & Ernie Sharif
Photos:                      www.christoneyphotography.com
"If a bullfrog had a stereo in his backside there would be music in the swamps!" It is an exercise in futility to entertain hypotheticals instead of documenting what happened. Thus, I will begin by telling you that in front of a sold-out crowd—standing room only—the building packed tighter than the last Mandeville bound min-bus on a Friday afternoon leaving downtown Kingston—undefeated super-middleweight and hometown hero Jesse "Hard Work" Hart (19 wins – 0 losses – 0 draws – 16 kos) got off the deck with ten-second remaining in the final round to win a unanimous 10-round decision over cast-iron chin Dashon Johnson (19 wins – 18 losses – 6 draws – 9 kos) of Escondido, California—the front-runner for "2016 Fight of the Year."
Hart and his father – Philly Legend – Eugene "Cyclone" Hart.
Already, I have heard a few revisionist historians proclaiming that had there been more time remaining in the last round after getting dropped by two overhand rights, Hart would not have been able to survive Johnson's onslaught when the action resumed. Then again, one can argue that Johnson would have been comatose on the canvas had there been an additional twenty-seconds in the eighth round. About a half minute before the round ended, Hart pinned him on the ropes and commenced to unloading every conceivable punch from his arsenal bouncing left hooks and right hands off his dome—the bell saving the Californian from his inevitable demise as he was clutching for survival.
The arena sold out two weeks in advance and people still showed up on fight night in hope of getting in. With Philly legend Stanley "Kitten" Hayward, former IBF junior-middleweight champion Robert "Bam Bam" Hines, future Hall of Famer – Bernard "The Alien" Hopkins, Harold Lederman – HBO Unofficial scorekeeper who will be inducted into the International Boxing Hall of Fame this summer and three-division world champion Iran "The Blade" Barkley perched at ringside—Hart entered the ring to the raucous cheers of his fans. Leading the way were his father Eugene "Cyclone" Hart, trainer Fred Jenkins Sr. and cut man Danny Davis. The shorter Johnson waited patiently; his faced a mask of confidence and grim determination.
Jesse Hart is from the Tommy Hearns School of Pugilism and as a graduate he has no concept of the traditional "feeling out" round. When the bell rang he worked behind his long jab and immediately went to the uppercut, left hook then the right hook to the body which he immediately converted into an uppercut to the head in hoping to separate Johnson from his senses. Hart was trying to end the fight early and Johnson tucked his chin and kept coming forward like a mini Sherman Tank. The fight continued at the same tempo in round two with the savvy Johnson using his shoulder whenever they were in close causing Hart to voice his concerns to referee Sharif.
In the third stanza they traded toe-to-toe with Hart outworking Johnson who found his inner Evander Holyfield using his head as a third glove. The action resumed at a frenetic pace in the next three rounds with Hart boxing and bombing away at Johnson who fired back with overhand rights breathing fire as he came forward. While complaining to referee Sharif at the end of the sixth round, Johnson landed a left hook immediately followed by a right that connected after the bell sounded sending the Philadelphian sideways to the canvas. He was visibly shaken as he got to his feet and made it back to his corner. Fortunately, Johnson wasn't disqualified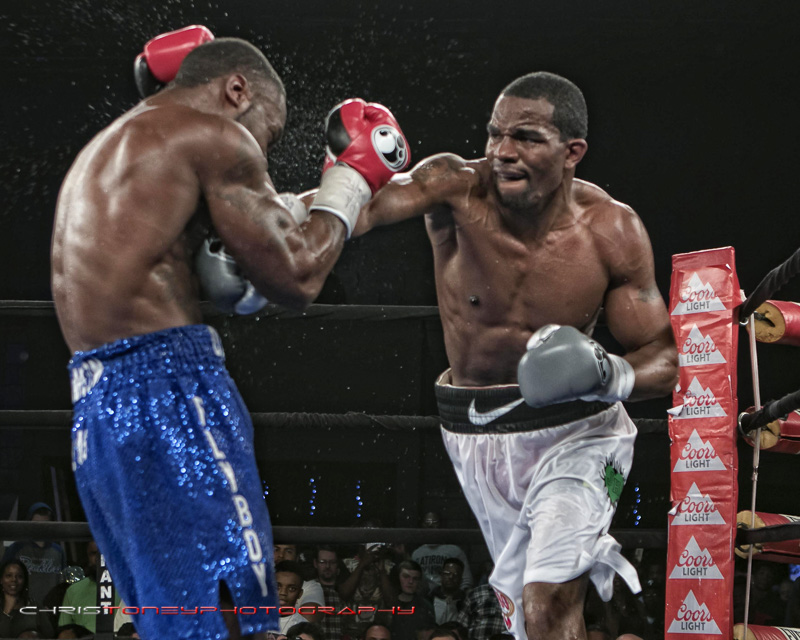 Hart (R.) landing the straight right.
There comes a time in a fight when a fighter hits his opponent with everything including the kitchen sink but he keeps coming. So he has to go down to the basement detach the house heater, the water heater and a few pipes—regroup—and start going to work again—"going upside" his head like he slapped his mama. Thus, midway through the seventh round Hart bit down on his mouthpiece found his inner Tommy Hearns and threw everything at Johnson in an attempt to introduce him to the Grim Reaper! He continued bombing away toe-to-toe smiling and shaking his head every time Johnson countered. Johnson was persistent, hell-bent on catching Hart with one of his bombs. They fought at close quarters for most of the seventh, eighth and ninth rounds.
Hart came out for the tenth round on his bicycle with a cut over his left eye which I later discovered was caused by an illegal and intentional head-butt for which Johnson was never penalized. Hart boxed beautifully with the indefatigable Johnson in hot pursuit. As fate would have it, Hart while taking a short respite on the ropes with little time remaining in the round was struck by two overhand rights that landed on the top of his head sending him to the canvas. Immediately I heard a Johnson supporter who had been cheering for his fighter exclaim "he knocked him out!"
I watched as Hart looked to his corner and I am convinced that they told him to get up at the count of eight. Because as soon as referee Sharif tolled eight—Hart reached his feet and the bell rang ending the fight starting a whirlwind of speculation and hypotheticals of what could have or would have happened with more time on the clock. There was no disputing the decision as the judges had it 98-91, 97-92 and 95-94 all for Hart who earned a hard-fought unanimous decision gaining invaluable experience which will serve him well in future fights especially when he contest for a world title.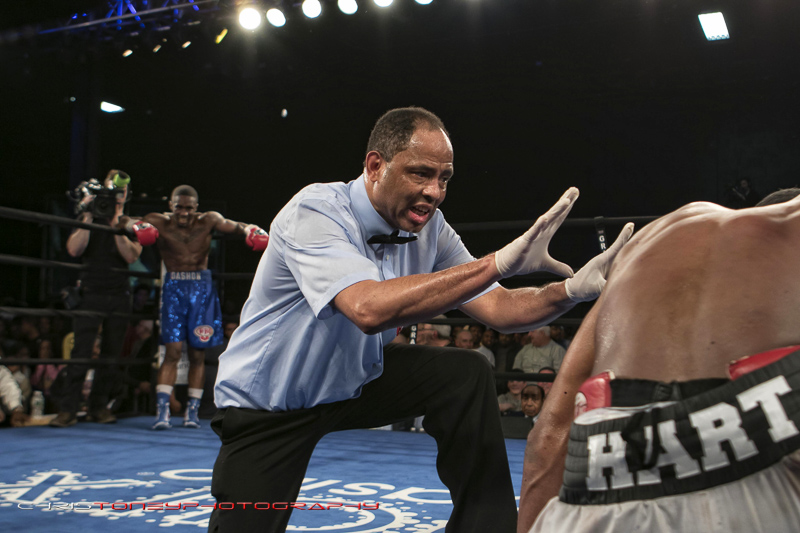 Hart taking the count as Johnson waits in the neutral corner.
Philadelphia welterweight Greg Jackson (5 wins – 2 losses – 1 draw – 2 kos) is a high-wire act with no safety net—an action-packed fighter who is adept at tethering on the edge of the cliff of defeat only to plant his feet firmly on the grounds of victory. And last night he almost stole the show in a four-rounder against undefeated prospect Gledwin Ortiz (3 wins – 0 losses – 0 draws – 3 kos) of Bronx, New York. Ortiz who stopped undefeated prospect Nick DeLomba in the first round – handing him his first defeat in nine fights last September—jumped out to an early lead capturing the opening round by outworking Jackson to the body landing the better shots when they went toe-to-toe. Ortiz took the second stanza staggering Jackson with a left hook that sent him backwards momentarily short-circuiting his forward progress.
At the behest of his trainer Bozy Ennis, Jackson knew he had to turn the tide in order to leave the ring victorious. Thus, he began the third round fighting from the southpaw stance. However, he abandoned this strategy after Ortiz connected with a straight right. Realizing that he couldn't outbox his taller opponent, Jackson threw caution to the wind and hopped in Ortiz's chest and transformed the tactical fight into a good old fashion Philly brawl connecting with a few vicious uppercuts and an overhand right that sent his adversary to the canvas. Somewhat hurt, Ortiz was able to get up as referee Clark reached the count of two and dusted off his gloves, checked his vitals and motioned for the fight to continue. Jackson was relentless, wailing away for almost a minute attempting to terminate the fight before the gong sounded ending the round. Jackson was now even on the scorecards with a 10-8 round.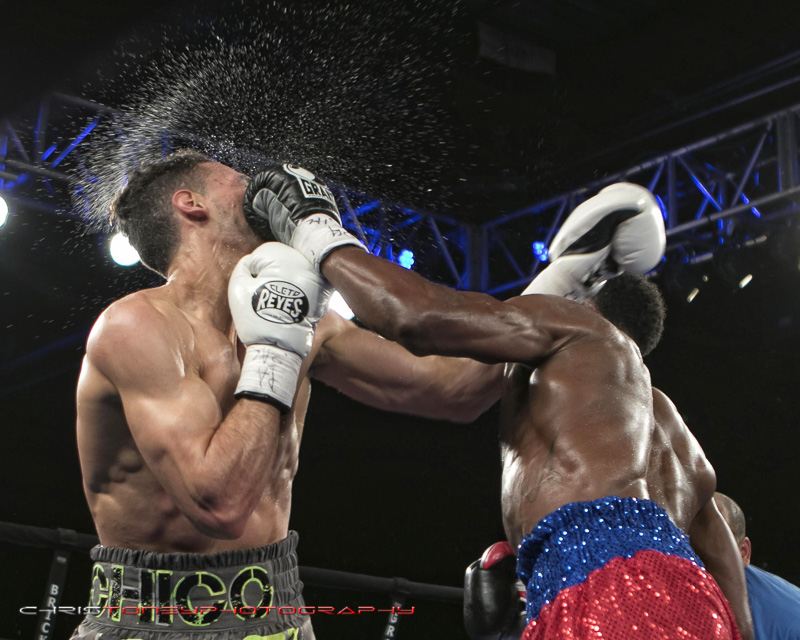 Jackson (R.) lands a hard left.
Jackson sedulous in his pursuit of a knockout continued the blitzkrieg pressing the action engaging in a war of attrition toe-to-toe in the fourth and final round. The audience reveled in the action as the two warriors fought tooth and nail for three memorably minutes with Jackson throwing every shot with bad intentions and Ortiz returning fire being slightly out-gunned. When it was over the crowd cheered wildly showing its appreciation for the highly entertaining bout. Two judges scored it 38-37 for Jackson with the third having the same score for Ortiz. Jackson earned a well-deserved victory by split-decision.
In the opening bout, a four-rounder featuring two debuting Philadelphia junior-middleweights— Kareem Gladney, protégé of Bobby "Boogaloo" Watts – legendary middleweight contender and the first man to defeat the great Marvelous Marvin Hagler, used his jab and right hand counters to capture three consecutive rounds against his shorter opponent—Isaiah Wise. Gladney peppered his opponent with his long jab, occasionally snapping his head backwards with a laser right. At the beginning of the final round, with his right eye grotesquely swollen and almost shut it was safe to assume that Wise needed a knockout to secure victory. And he was able to catch Gladney as he was on his bicycle with a blistering right that had him reeling on the ropes searching for cover.
Gladney was hurt and a rejuvenated Wise attacked with every ounce of energy he could muster unloading everything from his arsenal landing a series of shots including a hard right that sent the lanky fighter flat on his back his head bouncing off the canvas with an eerie thud leaving him unconscious. Referee Talmadge called a halt to the contest ushering in the ringside doctor and emergency medical technician to assist the fallen fighter. Wise was declared the winner by knockout at 1:42. After approximately five minutes Gladney regained consciousness and left the ring on a stretcher straight to the hospital for further observation.
In the pre-fight interview 6 feet 1 inch junior-welterweight Scott "Irish Thunder" Kelleher (3 wins – 0 losses – 0 draws – 1 ko) mentioned the lessons learned from watching films of five-division world champion Tommy "The Hitman" Hearns. Thus, there was no surprise when Kelleher decked out in his green trunks blanketed Josue Rivera (2 wins – 6 losses – 0 draws – 2 kos) like a hungry mongoose cornering a startled chicken in the all-Philly match-up. Similar to Hearns, Kelleher doesn't prescribe to the philosophy of a "feeling out" round and swooped down on his opponent landing every punch in his repertoire driving a vicious left hook to the body forcing Rivera to seek refuge on the canvas rising when referee Clark reached the count of five. The action resumed and Kelleher determined to head back to the dressing room early pounced on Rivera throwing a hailstorm of hooks and right hands compelling the referee to rescue the hapless and helpless fighter ending the fight at 59 seconds of the opening round. Kelleher was declared the winner by technical knockout.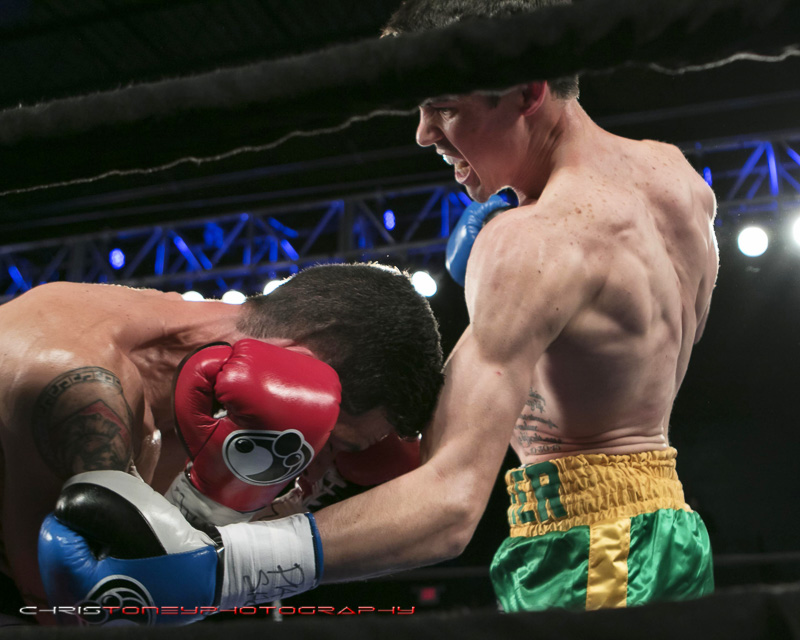 Kelleher (R.) digging to the body of Rivera.
Undefeated Vineland, New Jersey junior-middleweight Ismael "Tito" Garcia (9 wins – 0 losses – 1 draw – 4 kos) and Carlos Garcia (10 wins – 14 losses – 1 draw – 8 kos) of Aguado, Puerto Rico engaged in a six-round strategical bout with little distinguishing the performance of both combatants. The opening stanza was the traditional "feeling out" round with nothing of consequence landing as they probed looking for openings. There was little action and no drama. Ismael Garcia landed a few counter rights in the third round. The rounds were close and it appears that a draw was going to be the most likely assessment of the four rounder. Two judges had it 58-56 for Ismael Garcia and the third had the same score for Carlos Garcia. The Vineland junior-middleweight gained his tenth victory by split-decision in an encounter which gives more credence to the overused cliché—"styles make fights."
Debuting two-time USA Boxing National Champion and 2016 Olympic alternate "Sugar" LeShawn Rodriguez was impressive in his four-round middleweight bout against Jose Cortes (1 win – 0 losses – 0 draws – 0 kos) of West Palm Beach, Florida by way of Colombia. Rodriguez came out of his corner for the opening stanza supremely confident and extremely relaxed with an air of humble superiority stalking the Colombian like he was walking through Central Park on a balmy spring day instead of facing an opponent in gloved combat. Working behind his jab to Cortes' head and midsection Rodriguez took a three-step drop like Carolina Panther's quarterback Cam Newton every time Cortes attacked to evade punishment and counter. Rodriguez took the opening stanza with his jab and counter hooks.
In the second round Rodriguez jabbed and continued taking three steps backwards every time Cortes attacked—stopping on a dime pushing off his back leg—countering, moving forward with a left hook. Midway through the round Cortes landed a straight right as Rodriguez was stepping backwards. However, Rodriguez countered with a blistering left hook that crashed off Cortes' jaw sending him to the canvas flat on his back sunbathing under the ring lights. Cortes was discombobulated and was on his way up from the canvas when referee Ernie Sharif reached the ten-count and declared Rodriguez the winner by knockout at 1:54 of the second round.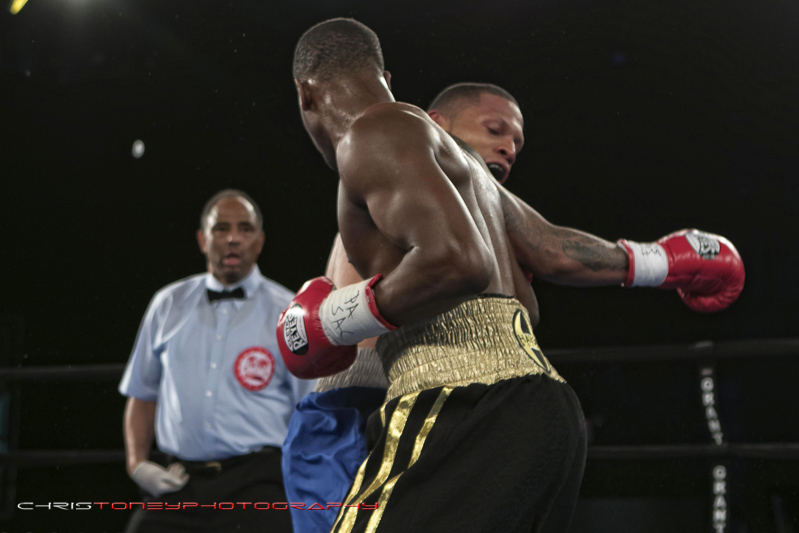 Rodriguez (foreground) on the attack.
Box office draw and fan-favorite lightweight Victor "The Fighting Barber" Vasquez (19 wins – 10 losses – 1 draws – 9 kos) returned to action since losing to Tyrell Samuel on October 2nd in the same ring against the battle-tested Dominican—Ramesis Gil (9 wins – 14 losses – 5 draws – 6 kos) in a scheduled six-rounder. Like Vasquez, Gil also suffered a technical knockout loss in his last fight on December 5th against Manuel Perez. With his fans on their feet swept up in the pageantry Vasquez strolled briskly out of the dressing room to the ring as the political conscious Hip Hop legends Public Enemy blared over the house speakers on their 1988 hit single Rebel Without a Pause.
Yes, the rhythm, the rebel
Without a pause, I'm lowering my level
The hard rhymer, where you never been I'm in
You want stylin', you know it's time again
D the enemy, tellin' you to hear it
They praised the music, this time they play the lyrics
Some say no to the album, the show
Bum rush the sound I made a year ago
I guess you know, you guess I'm just a radical
Not a sabbatical, yes to make it critical
The only part your body should be parting to
Panther power on the hour from the rebel to you
Radio, suckers never play me
On the mix, just O.K. me
Now known and grown when they're clocking my zone it's known
Snakin' and takin' everything that a brother owns
Hard, my calling card
Recorded and orderd, supporter of Chesimard
I doubt if anyone in Philly makes better ring walks than Vasquez who knows how to get the fans amped up for his fights simply by his choice of music and sense of urgency in entering the squared circle.
The gong sounded and Vasquez attacked in a strategic round with both fighters jabbing, looking to counter getting a feel for timing and tempo. Vasquez went to the body with a few shots as Gil parried and responded likewise. Vasquez was winning the round but with less than thirty seconds remaining Gil landed a blistering right that had his opponent on spaghetti legs sending him to the canvas. Referee Talmadge tolled three and Vasquez was up and the action resumed. Gil attacked and a sweeping left hook re-introduced Vasquez to the canvas. Again the fearless fighter was up before Talmadge could reach the count of two and the bell rang.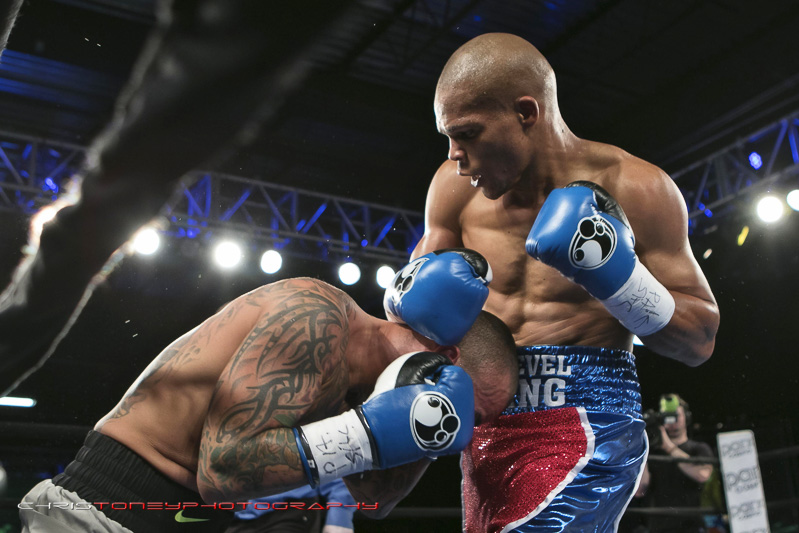 Gil (R.) controlling the action.
Showing tremendous recuperative powers, Vasquez reestablished his jab and boxed beautifully as Gil came forward looking to repeat his success from the previous round. It was shaping up as a gloved chess match until Gil trapped Vasquez on the ropes and they traded toe-to-toe exchanging right and left hooks. Gil was landing the harder shots but Vasquez was fighting back as referee Talmadge intervened and called a halt to the fight declaring Gil the winner by technical knockout at 2:01 as a cacophony of boos filled the air. It is safe to assume that the first round was a contributing factor in the referee's decision. Vasquez, a proud warrior with a reputation for taking on all-comers did not respond well whenever he was struck. Maybe, it is time for him to retire.
North Philadelphia lightweight Jerome "The Conqueror" Conquest (4 wins – 1 loss – 0 draws – 1 ko) got married last Saturday and was back in the ring tonight against Jules Blackwell (8 wins – 4 losses – 2 draws – 3 kos) of Phoenixville, Pennsylvania in a scheduled six-round bout featuring southpaws. Taking a page from the great Bernard Hopkins—Conquest entered the ring with a black mask covering his face reminiscent of "The Executioner."
There was a time when the 35 year-old Blackwell was a featherweight prospect climbing the ladder showcasing his talent at The Legendary Blue Horizon where he went 7 wins – 0 losses—including his professional debut on July 7, 2007. However, two consecutive draws and a knockout loss to Eric "The Outlaw" Hunter followed by a win then two more knockout losses and Blackwell took a three and a half year hiatus in September 2009. He returned to action on April 26, 2013 losing a four-round unanimous decision to Frank Trader. This was Blackwell first fight in in almost three years and he reminded me in our pre-fight interview that I had predicted that Conquest would win by knockout. Given the totality of the circumstances I made no apologies for my prognostication. Besides, deep down I knew that Blackwell was never short on courage and wanted to prove me wrong and piss off Father Time.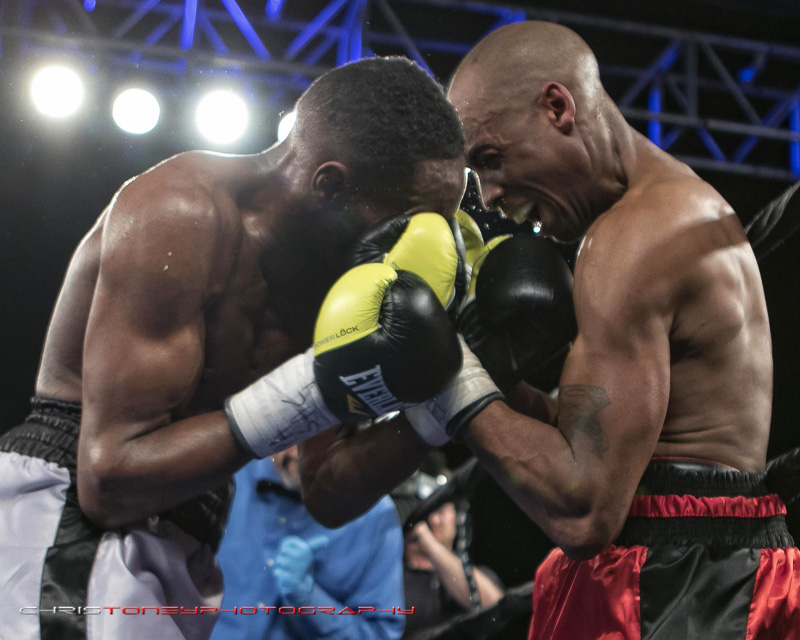 Conquest (L.) and Blackwell mixing it up.
The opening round was close with both fighters jabbing and circling—Conquest pressing the action. Blackwell fought on even terms and didn't appear to suffer from ring rust. Conquest switched his attack to the body during the next round attacking with left hooks with Blackwell on his toes returning fire. The taller, rangy more experienced Blackwell was a boxing conundrum that Conquest was unable to solve. However, Conquest was the aggressor and his body attack made the difference in garnering the rounds on the judges' scorecards. Two judges scored it 60-54 and the other had it 59-55 all for Conquest.
Undefeated junior-welterweight prospect Mike "Yes Indeed" Reed (17 wins – 0 losses – 0 draws – 10 kos) of Waldorf, Maryland found it extremely difficult to look good in a scheduled six-rounder with the well-traveled Samuel Amoako (21 wins – 8 losses – 0 draws – 15 kos) of Ghana. After building his resume in his homeland, Amoako is riding a four-fight losing streak in which he has been matched against prospects and contenders. He isn't short on talent but having witnessed three of those losses it is easy to conclude that Amoako is primarily focused on surviving instead of winning. Thus, for six rounds Reed pursued, trying to engage the Ghanaian who motored around the ring and tied him up whenever he was cornered. No surprise that Reed won a unanimous decision 60-54 on all three judges' scorecard.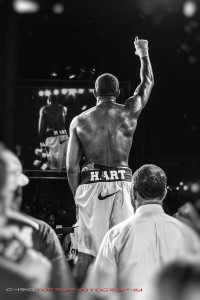 In his eighteenth fight on April 3, 1979 Tommy "The Hitman" Hearns (17 wins – 0 losses – 0 draws – 17 kos) was forced to go the distance for the first time in his career against Philly welterweight Alphonso Hayman (20 wins – 14 losses – 4 draws – 11 kos). Hearns won a unanimous 10-round decision but learned several valuable lessons that propelled him into the first ever four-division world champion and the International Boxing Hall of Fame. In subsequent fights it was evident that Hearns' balance and leverage had improved and that he was bending his legs with his uppercuts and doing a much better job of turning his hand over with the left hook. Had he corrected these deficiencies prior to entering the squared circle with Hayman—I doubt if the fight would have gone five rounds.
Like Hearns, Hart has a huge upside and similar imperfections at almost the same stage of his career. Johnson is Hart's Alphonso Hayman—the best lesson on his way to a world title.
It was an exciting night of boxing. Kudos to promoter J. Russell Peltz, his protégé Brittany Rogers, Michelle Rosado, Jolene Mizzone and their staff for a job well done. Enjoying the action were many from the boxing community including Mark "Too Sharp" Johnson, "King Gabriel Rosado who flew in from Los Angeles, Issouf "The Volcano" Kinda who made the trip from New York City along with his manager Ann Daryl and his trainer, Hammerin' Hank Lundy and his trainer Charles "Cornbread" Ramey, Keenan "Killa" Smith, Christopher "Ice Cold" Brooker, Christian "The Ice Man" Carto, Bryant "By By" Jennings, Kymmberli Stowe and Jaron "Boots" Ennis. In addition the regular Philadelphia boxing aficionados—Steve Fleisher, Jeff Rutizer, Kenny Ludwig, James Gibbs and Luther Chiles were in the building.
Continue to support the sweet science, and remember, always carry your mouthpiece!
Related Articles: