Posted by George Hanson., Jr Esq. on Oct 11, 2014

Categories:
Featured Article
|
Comments Off

on The Size of the Fight!
The Mouthpiece
The Size of the Fight!
By: George H. Hanson Jr., Esq.
Photos: Darryl Cobb Jr. (www.dcobbjr.com)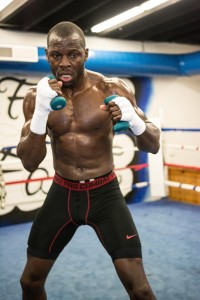 I woke up early and watched Cunningham's epic battle with Amir "Hardcore" Mansour on April 4th before making my way to his 11am media day workout. I was ringside on that memorable night as Cunningham rose from the canvas twice in the fifth round to box brilliantly capturing a unanimous 10-round decision and the USBA heavyweight title.
Cunningham and the great Larry "The Easton Assassin" Holmes are the two heavyweights who were able to get off the canvas after being placed there by murderous punchers. On September 28, 1979 WBC heavyweight champion Holmes was blasted by a right hand by Earnie "The Acorn" Shavers that sent him to the canvas like a sack of potatoes in the seventh round. To the amazement of the worldwide audience, Holmes got up and went on to stop Shavers in the 11th round. Mansour is a modern-day version of Shavers.
On Saturday, October 18th at the 2300 Arena in Philadelphia Cunningham—a two-time world cruiserweight champion—continues his quest to become heavyweight champion on NBC Sports Network. His opponent Natu "The Truth" Visinia (10 wins – 0 losses – 0 draws – 8 kos) is a big, hard punching heavyweight who will probably outweigh the 205 lbs. Philadelphian by at least 70 pounds. Visinia tipped the scales at 279 lbs. in his last fight on June 17th.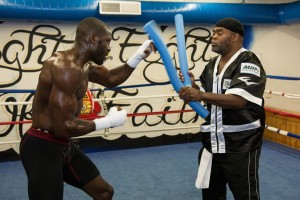 I watched as Cunningham shadowed boxed with a ten-pound weight ensconced in each mitt with trainer Brother Nazim Richardson providing commentary. "Little faster, the big guys are coming! Strong can only get you so far in boxing." Richardson, a master strategist, will have an air-tight plan to finalize Visinia's demise. He knows that size is only one factor that isn't necessarily outcome determinant.
In the modern days of behemoth heavyweight boxers the sleek athletically built Cunningham who stands 6 feet 3 inches will always be at a severe weight disadvantage. However, his athleticism, boxing abilities, intestinal fortitude and conditioning makes him the favorite in every fight. There are very few boxers who are able to stay focused under pressure— adverse conditions—and execute their game plan. Nothing bothers Cunningham in the squared circle.
There is an old adage by the great author Mark Twain "it's not the size of dog in the fight it's the size of the fight in the dog." I am by no means trying to compare Cunningham to a canine but I just couldn't find a better saying that captures his heart, courage and willingness to impose his will on much bigger adversaries on the way to victory. If you were going off to war and you had to choose between taking an M-16 and Cunningham—you would take Cunningham!!!!
See you at ringside on October 18th.
Continue to support the sweet science, and remember, always carry your mouthpiece!
Related Articles: