Posted by George Hanson., Jr Esq. on Sep 28, 2015

Categories:
Featured Article
|
Comments Off

on The Tiger and Major Pain!—Dubose Defeats Lule, Folly Dominates Najera
 The Mouthpiece
 By: George Hanson Jr., Esq                                 
 Date:                           Saturday, September 19, 2015
Venue:                         Harrah's Chester Casino & Racetrack, Chester, Pennsylvania
Promoters:                 King's Promotion
Ring Announcer:         Nino Del Buono
Referees:                    Shawn Clarke & Hurley McCall
Matchmaker:               Marshall Kauffman
Coverage:                   www.gofightlive.com
Photos:                        www.christoneyphotography.com
Muhammad Ali had Ken Norton—the one fighter who was a stylistic conundrum—a pugilistic Rubik's cube that the champion couldn't solve who beat him in their first encounter and made the remaining two a toss-up despite losing on the scorecards.
Philadelphia undefeated featherweight Antonio "The Tiger" Dubose (7 wins – 0 losses – 1 draw – 2 kos) found his Norton in Jesus Lule (7 wins – 13 losses – 1 draw – 1 ko) of Fort Myers, Florida.
In his last fight on June 27th, Dubose and Lule fought to a unanimous four round draw—all three judges scored it 38-38. Tonight, they commenced where they concluded in their last encounter and met in the center of the same ring for their scheduled six-rounder. Lule attacked with reckless abandon and Dubose was more than willing to engage in a heated battle returning fire to his opponent's body. Midway through the round, Lule walked into a well-timed left hook that landed squarely on the right side of his jaw depositing him to the canvas with referee Clark reaching the count of two before he was upright. Unabashed, Lule resumed, blanketing Dubose fighting relentlessly to the bell.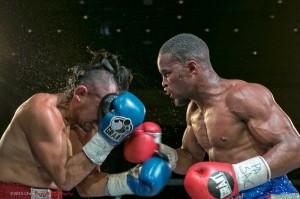 Dubose (R.) landing an uppercut.
The next three rounds were close as they fought toe-to-toe at a frenetic pace working the head and body making it difficult to score. The ability to make adjustments and change strategy is hallmark of a good boxer. Following the instructions of his corner, Dubose kept Lule on the end of his jab, sticking and moving, perpetual motion befuddling his opponent winning the remaining two rounds—removing the possibility of another draw. The scorecards read 59-54, 58-55 and 57-56 all for Dubose.
Police officer by day, professional pugilist by night—junior-featherweight Emmanuel "Major Pain" Folly (5 wins – 0 losses – 0 draws – 4 kos) is arguably the best professional prospect in the fifty states of this country. The Philadelphian who recently graduated from the police academy is a rare combination of speed, power and boxing acumen—an orthodox version of junior-featherweight world champion Guillermo "El Chacal" Rigondeaux.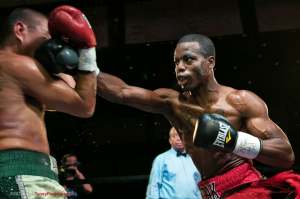 Folly (R.) connecting with a straight right.
Tonight, Folly displayed his wares as he gave featherweight southpaw Sergio Najera (10 wins – 20 losses – 2 draws – 4 kos) of Tijuana, Mexico a four-round boxing lesson—hitting him with every conceivable punch in his arsenal dropping him with a body shot in the final round. The bigger Najera was totally outclassed and was always one step behind. Folly anticipated his every move and was always in position to counter and disappear before Najera could return fire. It was a titillating demonstration of the sweet science as Folly pitched a shut-out winning 40-35 on all three scorecards.
There is an old adage that "you shouldn't write checks that your ass can't cash." Someone forgot to remind the handlers of undefeated middleweight Nick Valliere (5 wins – 0 losses – 0 draws – 2 kos) who sold some wolf tickets to Hassan Hameed-El—trainer of Alshamar "TNT" Johnson (0 wins – 1 loss – 0 draws) of Vineland, New Jersey. After all, the southpaw Valliere who hails from Fork River, New Jersey was undefeated and more experienced than Johnson who prior to his one professional bout had been in the squared circle as a combatant in three amateur fights.
The bell sounded and the combatants locked horns in the middle of the squared circle going toe-to-toe in the opening round of the scheduled four-rounder. Sporting a tire around his midsection, Vallieri will never be accused of living a Spartan lifestyle and has no business in the middleweight division. His strategy of engaging a full-fledged middleweight in close quarters would ultimately lead to his demise.
In the second round Johnson hurt Vallieri with a combination backing him into the ropes. While attempting to shoulder-roll a straight right pierced Vallieri's defense and dropped him to the canvas for a short count. The bout resumed and Johnson jumped on his opponent like a thirsty wino on a bottle of Courvoisier cognac attacking the body. Vallieri retreated to Johnson's corner where he was bombarded with heavy artillery, turning his back attempting to escape the barrage forcing referee McCall to come to his rescue—stopping the fight at 2:19. Johnson upstaged the undefeated prospect. Hopefully, Vallieri will consider moving down at least two weight classes.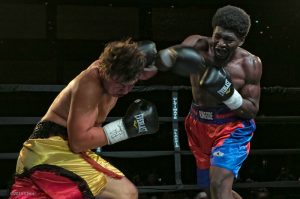 Johnson (R.) landing a right-cross on Valliere.
In the barnburner of the night lightweights Korey "Lightning Rod" Sloan (2 wins – 7 losses – 2 draws – 0 kos) of Philadelphia and Carlos Rosario (2 wins – 1 loss – 0 draws – 1 ko) of Pennsauken, New Jersey tore the ring down and had the fans on the edges of their seats as they waged war for three rounds of their scheduled four-rounder.
Sloan found pay-dirt first landing his long right hand on Rosario's chin early in the opening stanza—wobbling him forcing one of his gloves to touch the canvas in a successful attempt to stay upright—compelling referee McCall to register a knockdown. The shorter Rosario would return the favor toward the end of the round sending Sloan to the canvas with a straight right that smacked the Philadelphian in the face dropping him momentarily. Shaken, Sloan rose at the count of two and was able to survive Rosario's attack and close out the round.
Rosario continued pursuing Sloan in the second round as the taller fighter stayed on his bicycle using his long jab and lateral movement to avoid anything of consequence. Sloan was able to weather the storm and finish the second stanza on his terms.
However, in the third round Sloan walked into a perfectly delivered straight right from Rosario that took him off his feet. Tough and resilient, Sloan was able to rise before the referee could toll the count of two. But, he was hurt and was fighting on instincts. Rosario seized the moment and pursued like a piranha sensing blood in the water. He wasn't going to allow his opponent to survive the round. Another right hand dislodged Sloan's mouthpiece sending it flying across the ring as Rosario landed more punches with bad intentions making Pennsylvania State Athletic Commission's Executive Director Greg Sirb hop on the ring apron signaling referee McCall to call a halt to the festivities. Rosario was declared the winner by technical knockout at 2:28
In a one-sided affair Philadelphia super-middleweight Christopher "Ice Cold" Brooker (3 wins – 1 loss – 0 draws – 3 kos) was all over Juan Fernando Raya (2 wins – 2 losses – 0 draws – 1 ko) of Bolivia like a bad tailor-made suit at the opening bell of their scheduled four-rounder. Booker lived up to his moniker, as he was ice-cold like a pimp doling out punishment—slapping the harlots in his harem with talcum powder ensconced in his right palm. Every time he landed a combination, my mind wandered and I imagined him yelling to Raya, "Who's your daddy!"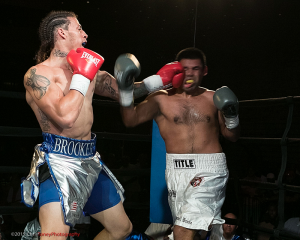 Brooker (L.) landing the left hook.
The rounds were identical as Booker stormed through Raya's defense raking his body with punishing shots. It is without question that the Bolivian can absorb punishment because he was hit with everything except the referee and the turnbuckle. The audience was relieved after referee Clark in an act of compassion decided to protect Raya from himself and refused to allow him out for the fourth and final round. Booker was declared the winner at 3:00 of the third round.
Other Action: In an upset Rafael Vasquez (1 win – 3 losses – 0 draws – 0 ko) of Bayamon, Puerto Rico was able to out-hustle and out-land undefeated featherweight Robert Irizarry (3 wins – 0 losses – 1 draw – 0 kos) of Cherry Hill, New Jersey pressuring him round after round winning a unanimous decision 40-36 and 39-37 twice. Middleweight Santario "Too Handsome" Martin (0 wins – 1 loss – 0 draws) of Gainesville, Florida dropped Fitzgerald "Nasty Boy" Johnson (3 wins – 7 losses – 0 draws – 1 ko) of Newark, New Jersey in the third round of their scheduled four-rounder securing the nod winning a unanimous decision 38-37 on all three scorecards. Johnson, the sharper boxer, won the opening and the final round but didn't capitalize on his experience, retreating when he should have imposed his will. In the snoozer of the night that consisted of more posing than punching debuting cruiserweight Dominic Walton of Philadelphia and Lamont "Too Smooth" Capers (5 wins – 7 losses – 1 draw – 0 kos) of Hawley, Pennsylvania fought to a four-round draw. There wasn't much action as both fighters threw an occasional jab fighting as thought they were related. One judge scored it 40-36 for Walton, the other had it 39-37 for Capers with the third scoring it 38-38 even.
It was another exciting night of boxing by King's Promotions. Promoter Marshall Kauffman stands atop the promotional pyramid from Bethlehem, Pennsylvania to Washington, D.C. Kauffman has cornered the market and there are no signs of him ever slowing down. He is merely gaining momentum.
See you on Friday, October 2nd at 2300 Arena in South, Philadelphia for "The Puerto Rican Boxing Classic" featuring rapidly rising junior-lightweight Jason Sosa.
Continue to support the sweet science, and remember, always carry your mouthpiece!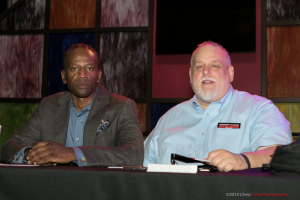 Related Articles: