Posted by George Hanson., Jr Esq. on May 22, 2014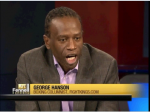 The Mouthpiece
This Is How We Roll!—Dawejko Outboxes Rideout, Nelson Decisions Rodriguez
By: George Hanson Jr., Esq.
Date: Friday, May 16, 2014
Venue: 2300 Arena—Philadelphia, Pennsylvania
Promoters: Peltz Boxing & BAM Boxing in Assoc. with SugarHouse Casino
Ring Announcer: Larry Tornambe
Referees: Steve Smoger & Shawn Clark
Matchmaker: J. Russell Peltz & Brittany Rogers
Coverage: www.gofightlive.com
Ringcard Ladies: Sumo Steaks (www.sumosteaks.com)
Photos: www.christoneyphotography.com
What did the mouse say when the cat jumped on him? You have no idea? Let me give you the answer—this pussy is killing me! Greg "Houdini" Hackett isn't the only comedian in the Philadelphia boxing community. Now that I have your attention, allow me to tell you that this is how we roll in the City of Brotherly Love! On a rainy Friday afternoon fight fans packed the newly renovated and renamed venue for another epic night of the sweet science. Never in the history of mankind has one city been synonymous with pugilism as Philadelphia. A rough, tough blue-collar town the sport is undeniable our fifth sports franchise next to the Eagles, Phillies, Sixers and our beloved Flyers—the Broad Street Bullies! And Uncle Russell—promoter J. Russell Peltz—is our longest tenured sports franchise owner! He has been rolling since 1969 and despite his own admission that he was ready to "hang it up" I am confident that those utterances were more marketing than a statement of fact. Ageless, energized and focused, Peltz is training protégé Brittany Rogers (BAM Boxing) and has reloaded his promotional pistol shooting for new heights—brokering promotional and sponsorship deals—packing them in reminiscent of his glory days. This is how Uncle Russell rolls!!
Joey "Polish Thunder" Dawejko (9 wins – 3 losses – 2 draws – 3 kos) was an outstanding amateur who captured the 2008 Under 19 National Champion and AIBA Youth World Champion before joining the professional ranks on September 29, 2009—three months after his19th birthday. Standing 5 feet 10 inches and tipping the Toledos at 241 lbs.—Dawejko is short by today's heavyweight standards. What he lacks in stature is more than compensated by his boxing acumen because he is a highly skilled boxer who relishes in his ability to replicate moves used by his hero—future Hall of Famer and three-division world champion James "Lights Out" Toney. Dawejko has a high boxing IQ and it was the primary reason that the Philly fighter recently served as a sparring partner for WBA, WBO and IBF heavyweight champion Wladimir Klitschko for his successful April 26th title defense against Alex Leapai that ended in the fifth round. Dawejko who shuns a Spartan lifestyle could easily shed the excess weight and win a world cruiserweight title. But, the pay scale is more lucrative in the heavyweight division and his talent allows him to override any size disparity.
Tonight, in the eight-round main-event Dawejko squared off against undefeated Mark Rideout (4 wins – 0 losses – 2 draws – 1 ko) of West Philadelphia who he bested as an amateur. The twenty-four year old Rideout three inches taller and three pounds heavier is a slick boxer with fast hands and quick feet but lacks the amateur pedigree and experience of his adversary. His game plan was predicated on working the body hoping to slow down Dawejko and capitalize on his lack of stamina in the later rounds. However, in our prefight interview Dawejko shared that he had learned much from Klitschko and was in shape and had better all-around training with Billy Briscoe who was now at the helm as his new trainer.
Dawejko was first to exit the dressing room strolling into the squared circle as Jay-Z, Rihanna and Kanye West blared over the track Run This Town which garnered Best Rap Song and Best Rap/Sung Collaboration at the 52nd Grammy Awards in 2010. The song was ominous as Dawejko controlled the action at the opening bell using his jab, feinting, shoulder rolling, countering demonstrating the disparity in pedigree appearing to befuddle Rideout who kept his distance. It was masterful boxing which flowed for the next two rounds as Dawejko went to the body with left hooks connecting with his overhand right giving angles and disappearing whenever his opponent countered. Needless to say, James Toney would have been proud.
The fourth round was close as Rideout had a slight edge working his jab using his speed as it was apparent that Dawejko was slowing down. Dawejko slow-walked his way through the last half of the fight using his experience to mask his diminished stamina. He stayed close to his opponent and grabbed every time he landed a one-two combination forcing Rideout to fight at his pace removing any competitive advantage. It was brilliant boxing as the inexperienced West Philadelphian never tried to gain separation and box from a distance using the ring forcing Dawejko to exert himself instead of a respite after each combination. There were no knockdowns and Rideout was never hurt. However, he was out-boxed and out-foxed by Dawejko whose experience and acumen led him to a unanimous decision by scores of 79-73 twice and 78-74.
The co-main event featured undefeated junior-welterweights—Naim "The Dream" Nelson (11 win – 0 losses – 0 draws – 1 ko) of Philadelphia against Allentown, Pennsylvania's southpaw Jerome "The Messenger" Rodriguez (6 wins – 0 losses – 3 draws – 2 kos) in a scheduled eight-rounder. Allow me to repeat the timeless cliché by stating that "someone's 0 had to go!" It was an intriguing match-up because Nelson struggled in his last bout against Christian Steele in January after being sidelined for 10½ months due to an injury. Rodriguez had fared no better having registered two consecutive draws in his last outings. But it was Rodriguez who separated hot undefeated prospect Treysean "Trigger" Wiggins from his senses, stopping him in the second round of their June 14, 2013 show-down. I was ringside at that fight in Bethlehem in which Rodriguez and Wiggins both tasted the canvas in the opening stanza with Rodriguez closing the show by putting his opponent down for the count in the second round. The fight proved that Rodriguez had explosive power and could weather the storm in the face of adversity. Nelson had scored his sole knockout two years ago and five fights aback. Despite a well-muscled stature punching power was far from his forte.
The fight wasn't aesthetically pleasing as both combatants were bouncing in the opening round reminiscent of their amateur days before settling down to pick their shots. The rounds were close and there wasn't much to distinguish the combatants. However, Nelson was busier, bringing the fight to Rodriguez mixing it up. The Philly pugilist waded in with his right hand as Rodriguez stood stoic as though he were a deer in the headlights on I-95. Styles makes fights is just not an adage, it is a reality because what peaked our interest on paper never materialized. Nelson suffered a cut over his left eye in the final round which appeared to have been the result of a clash of heads. He captured a unanimous decision by scores of 80-72, 79-73 and 77-75.
Washington State and Colorado are the only states that have legalized marijuana. However, tonight there was moratorium on weed in the City of Brotherly Love as undefeated lightweight Anthony "Bad Boy" Burgin (6 wins – 0 losses – 0 draws – ko) entered the ring to face Ray "Little Weed" Ellis (4 wins – 10 losses – 2 draws – 2 kos) in an all-Philadelphia match-up. The writing nuances are endless when the monikers are juxtaposed—too much weed could leave anyone comatose on the canvas. Their scheduled six-rounder was an eagerly anticipated barnburner with everyone wondering if a Little Weed was harmful to Bad Boy's health.
Burgin came out the gate boxing brilliantly in the opening stanza—sharpshooting, jabbing and moving landing to the head and body—with Ellis bearing down on him like Smokin' Joe Frazier. Ellis finally countered with a sharp left hook that rocked Burgin early in the second round that momentarily turned his legs to spaghetti. Pouring it on Ellis pinned Burgin to the ropes and unleashed every conceivable punch with the undefeated prospect slipping and blocking most of the onslaught. Burgin got back to the center of the ring and used lateral movement, speed and precision to finish the round. He continued boxing in the subsequent rounds switching from orthodox to southpaw throughout the fight displaying his versatility always being one step ahead of the dangerous and resilient Ellis.
In the fifth round Burgin hurt Ellis with a vicious left uppercut to the kidney that doubled him over bobbing and weaving with his back to the ropes to evade further punishment. Ellis finally grabbed Burgin and was visited by referee Smoger in his corner at the end of the round. Again Burgin hurt Ellis in the sixth and final round with the same shot. But Ellis was able to absorb the punch and finished the round on good footing. All three judges scored it 59-55 for Burgin who remains undefeated by unanimous decision over a tough, relentless fighter who brought constant pressure.
When most 17-year-olds were preparing and planning for their junior proms, undefeated Philadelphia junior-welterweight prospect Milton "El Santo" Santiago (4 win – 0 losses – 0 draws – 3 kos) was training for his fifth professional bout. Since joining the punch-for-pay ranks on February 7th, he has been on a meteoric rise having recently signed with arguably the most powerful man in boxing—Al Haymon—advisor to five-division world champion Floyd "Money" Mayweather and countless other champions. The teenager is a humble, insightful young man who becomes a heat-seeking missile in the squared circle hell-bent on mayhem and destruction. A baby-faced assassin many are comparing him to the great Wilfredo Benitez who at the age of 17 became the youngest world champion in history and was a three-division world champion by the time he was 23. The comparisons are lofty but are nevertheless warranted because this kid is special.
Decked out in a silver, blue and black outfit with matching colorful mask Santiago had onlookers believing that it was time for Lucha libre instead of pugilism as he entered the ring to face Josh "Steamin" Beeman (5 win – 16 losses – 4 draws – 2 kos) of Providence, Rhode Island. Santiago was in the first grade when Beeman joined the professional ranks on January 11, 2003. The wily and well-traveled 32-year-old has swapped punches with many top prospects including Hammerin' Hank Lundy, Emmanuel Taylor and Jose Benavidez. Thus, it was safe to assume that this fight was more for pedagogical purposes instead of padding the youngster's record.
The gong sounded and Santiago began his attack on Beeman's body landing at will as the man from Providence kept his hands high looking for the youngster to make a critical mistake. But, the teenage phenom is well schooled and kept his composure attacking cognizant of space, timing and retribution. Round after round he displayed his pugilistic prowess switching intermittently from orthodox to southpaw drilling to the body and head keeping the cagey Beeman under constant fire. The art of body punching is now in vogue as Santiago never stopped digging and drilling to his opponent's ribcage and midsection. One judge scored it 60-54 while the remaining two saw it exactly the same at 59-55 all for Santiago who fought like a fighter well beyond his years.
Other results: In the opening bout Philadelphia heavyweight Aaron Leonard (1 win – 2 losses – 1 draw – 1 ko) and Pleasantville, New Jersey's Hector Perez (1 win – 0 losses – 0 draws – 0 kos) exploded at the opening bell of their scheduled four-rounder. They stood toe-to-toe trying with all of their energy to end their fistic affair with one punch. The war raged for two rounds and into the third stanza when Perez launched a horrific overhand right that crashed off the side of Leonard's cranium disrupting his equilibrium and sending him into the rope momentarily disoriented. Perez seized the moment and went ballistic landing several more rights and several hooks forcing referee Shawn Clark to rescue Leonard from serious damage and call a halt at 23 seconds of the round. Perez recorded his first technical knockout in explosive fashion.
The action continued in the second bout of the evening as welterweight Nathaniel Rivas (3 win – 0 losses – 0 draws – 1 ko) of Lindenwold, New Jersey and Jovan Sosa (2 wins – 0 losses – 0 draws – 0 ko) of Bronx, New York tore the ring down in their scheduled four-rounder. The tall, rangy Rivas dropped Sosa twice in the opening stanza but was unable to finish the fearless fighter who fought back toe-to-toe on even term when the bell sounded ending the round. In the second round, Sosa revisited the canvas compliments of a sweeping left hook from his nemesis. Undaunted and relentless, Sosa brought the fight to Rivas and again completed the round on good terms. Rivas got on his bicycle in the last two rounds as Sosa came forward banging away with reckless abandon capturing both rounds on my scorecard. All three judges saw it 38-35 for Rivas who won the first round 10-7 and the second round 10-8 due to the knockdowns. Had he not scored the three knockdowns the fight would have ended in a draw.
If there was a correlation between showmanship and pugilistic prowess debuting middleweight and mixed martial arts fighter Sharif "The Black Irishman" Jones of North Philadelphia would have rendered his cross-town rival South Philadelphia's Vincent Floyd (0 wins – 0 losses – 1 draw) hapless and comatose at the opening bell. Jones decked out in a green outfit with top hat and matching jacket—firmly in the role of a leprechaun—was first to enter the ring to the cheers of his adoring fans. But this is fight night and not a St. Patrick's Day parade, as Floyd strolled out at the opening bell of the scheduled four-rounder and dropped Jones with a well-timed right hook. Jones was up before referee Smoger could reach the count of two and survived by getting on his bicycle, jabbing and moving. Jones couldn't outbox the tall and lanky Floyd who worked behind a long jab. Thus, the muscular and compact Jones turned it into an ugly dog fight by blanketing his opponent and using every trick in the book to pin him to the ropes and whack away with his gloves, elbow and head. He didn't land anything of consequence but it prevented Floyd from connecting with a potential fight-ending blow. It was a spirited bout with Floyd winning a unanimous decision by scores of 40-35 and 39-36 twice.
Philadelphia junior-welterweight David Gonzales (4 win – 0 losses – 0 draws – 1 ko) and Omar Brito (2 win – 1 loss – 0 draws – 1 ko) of Vineland, New Jersey engaged in an entertaining action-packed four-round bout with many bombs being launched. Several times the hard-punching Gonzales missed Brito by a centimeter with a hard right hand counter. Brito oblivious to his near demised pressed the action and took the second round. However, Gonzales landed a few hard rights in the third round that hurt Brito who fought back. The Philly fighter closed out the fight by winning the last round with his vaunted right hand and uppercut winning a unanimous decision 40-36 on all three scorecards. The spoils of—Gonzales had his picture taken with Sumo Steaks' ring card ladies Terry Bardaji and Samantha Brooke. Winning has its perks!
This is how we roll in Philadelphia—the capital of professional boxing. It was another sensational night of the sweet science with the outstanding, gorgeous ring card ladies of Sumo Steaks adding to the entertainment value forcing me to question my commitment to vegetarianism. I am confident that when boxing expands to other galaxies, Peltz Boxing will be at the forefront. Russell Peltz retiring from the sweet science is tantamount to a Rastafarian abstaining from the herb and supporting a ban on marijuana! Enjoying the night were many notable members of the boxing community including Bryant "By By" Jennings, Garrett "The Ultimate Warrior" Wilson, Greg "Houdini" Hackett, Victor "The Fighting Barber" Vasquez, Anthony Dubose, Dante "Mr. Snuggly Time" Selby, Eric "Outlaw" Hunter, Yusaf "Mack Attack" Mack, Dhafir "No Fear' Smith, Rashad "Strictly Business" Brown, Simon "One Punch" Carr, Brian McGinley, Jimmy Deoria, Fred Jenkins Jr., Sharron Baker and Steve "USS"
Cunningham who joined commentator Marc Abrams to provide narrative for the Gofightlive broadcast. See you on July 15th as welterweight contender Mike Jones returns after a two-year hiatus.
Continue to support the sweet science, and remember, always carry your mouthpiece!
Related Articles: