Categories:
Featured Article
|
Comments Off

on Tony Jeter Defeats Lange, Captures NABA Title; Tori Nelson Makes fifth Title Defense!!!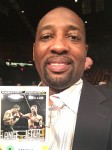 By Michael Amakor | Ringside November 15, 2014
Venue: Patriot Center, George Mason University, Fairfax Virginia
Promoters: Jimmy Lange Boxing & JD Brown & Associates
Presented by Jeff Valcourt and Valcourt Building Services
Announcer: Henry "Discombobulating" Jones
Matchmaker: JD Brown
Cover Picture: Juan Marshall
Coverage: FightKingsTV
Blow by Commentary: Michael Amakor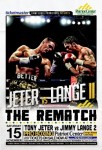 In a battle between two of the most popular boxers in Virginia Tony "More Better" Jeter defeated the more favored Jimmy Lange by unanimous decision scores of 95-95, 97-93 and 99-91 to capture the North America Boxing Association's (NABA) USA Middleweight belt in front of thousands of loyal fans.
In their first fight back on October 27, 2012, Jeter upset Lange by pressuring and roughing Jimmy up every chance he got to win by majority decision after ten rounds. For the rematch however most polled fans were of the opinion that Lange would avenge that defeat.
Jimmy's fans made those predictions despite the fact that Lange had to undergo and recuperate from surgery and had been inactive since that loss. Picking him to win was easy to understand as Jimmy a former, Contender TV series star, NABA, WBC United States (USNBC), WBC Continental Americas, WBO NABO & WBE Light Middleweight Champion has always comes to box in every fight and has impressed fans with his blood and guts on display in every fight at the Patriot center over the years.
Jeter on the other hand had four fights during that period including capturing, losing and regaining the WBC FECARBOX middleweight and winning the Virginia State middleweight title, but that did not really factor into the minds of many of these loyal Jimmy fans, except boxing aficionados who asked
Why take on the challenge of fighting an active fighter like Jeter instead of taking a tune up to shake off any ring rust first before such a hard fight.
"I won't fight nobody but Jeter," a stubborn Jimmy reportedly told event organizers including matchmaker JD Brown.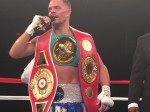 This led to Jeter having many advantages coming into the rematch, which showed in the very first round, as he was able to connect with more hooks that were more accurate and body shots. In round two, Jeter started fast landing some jabs and clubbing uppercuts, Lange returned fire with some body shots, but Jeter began crowding and ripping him to the body against the ropes. In round three Lange was more effective with his jabs to slow down the pace, but Jeter followed him and got in some good hooks and combinations.
In the fourth round the fighters traded shots in close in the first minute, in the 2nd minute Jeter body shots and occasional jabs crowd Lange into the corner in the final minute, Jeter begins to flail away against Lange on the ropes, Lange returned fire and the fight gets heated with the fans cheering on. More toe to toe in the fifth with Lange, winning the war of the jabs, but Jeter is still coming and lands many body shots of his own.
Somewhere in the sixth or seventh round, a head butt opens up a cut over Lange's let eye but he remained in the fight. There was more toe-to-toe action in the eighth and ninth rounds.
In round 10, both fighters dug deep, but Jeter repeatedly backed Lange into the corner and kept the fight as close as possible. Jimmy occasionally chased him away with a couple of jabs that missed but was countered by a bobbing and weaving Jeter focused on banging and ripping away at his body to close out the round and win the fight.
Both fighters were gracious, especially Jeter who variously indicated how hard the fight had been.
Do you see my face, shit, I felt his (Lange's) power, he brings out the best in me, and I bring out the best in him.
It is unclear what the future holds for Jimmy Lange and he characteristically hinted at going back to the drawing board to review his options.
With this victory, Jeter is expected to climb higher up the World Boxing Council's (WBC) ranking. He is currently its 19th ranked fighter and he is probably less than three fights away from a title shot.
In the Co-main event Virginia based Tori "Sho Nuff" Nelson defended her Women's International Boxing Association's Welterweight WIBA title for the 5th time against the tenacious but under-skilled Victoria " La Reina De Guerra" Cisneros in an exciting 10 round fight.
Cisneros was game and attacked throughout the fight allowing Nelson to pick her apart and counter effectively with some snapping upper cuts, hooks and body shots. However, Nelson lacked the power to dispatch the bigger Cisneros encouraging her to press her attack despite being wobbled repeatedly.
Cisneros got lucky in a few rounds and rocked Nelson occasionally but she dropped her guard frequently, soaked up a lot of punishment and eventually got frustrated of chasing Nelson and beckoned Nelson too common and fight.
In the 12th round a desperate Cisneros went for broke trying to finish of Nelson who countered and was close to stopping her to win the fight on by unanimous decision scores of 100-90 | 100-90 | 100-90 according to the judges.
It has been a great year for Nelson who also captured the vacant Universal Boxing Federation (UBF) World female welterweight title for her efforts tonight. This was her fifth fight this year and she is steadily climbing up the rankings, she remains undefeated in 16 fights with a 13-0-3, 1KO record.
Cisneros fell to 11-16-2, four KO's and her future remains uncertain.
Both fighters perhaps too bruised from their encounter did not attend the post fight press conference.
IN UNDER CARD ACTION
Seth Billups (5-0, 4 KOs) from Ashburn, VA, defeated Sean Lockhart (5-25-2, 2 KOs) from by TKO at 2:04 in round three of a four Rounds Jr. Welterweight fight.
Ray Terry (2-0, 2 KOs) from Lynchburg, VA, defeated Kevin Bartlett (0-5) by TK0 at 2:10 in the first round in the Super Middleweight division.
Middleweight Devar Ferhadi (4-0, 3 KOs) from Frederick, MD, defeated Jess Noriega (3-12, 4 KOs) from Roanoke, VA, when Noriega's corner stopped the fight after the third round.
In quick and lightening action Heavyweight Mike Balogun (2-0, 2 KO) from Upper Marlboro, MD, dispatched pro debuting Percy Womack (0-1) from Danville, VA, by KO at 1:20 in the 1st round. Zeke Thompson trains him at the D Block boxing gym in District Heights Md.
In an interesting super middleweight fight Thomas Brown (16-4-2, 10 KOs) defeated Contender series Jonathan Reid (35-16, 9 KOs) by using a flurry of punches and accurate counter punching to out point the flat footed Jonathan Reid who followed Brown throughout the fight only to get caught repeatedly. The judges scored it 60-51, 60-54, 60-54 in favor of Thomas. Reid once had a promising career before the contender series but he lost on the show and has now compiled 16 losses on his record. You may call him a journeyman but he goes to the final bell in most of his fights. Maybe with better management, but that's a big maybe.
POST FIGHT NOTES
World-renowned matchmaker who has also managed the careers of William Joppy, DeMarcus Corley, and Sugar Ray Leonard was critical of boxer's today.
"They are all interested in maintaining the O's on their records instead of fighting" he exclaimed, para-phrased here while congratulating Lange and Jeter for their performance during the post-fight press conference.
He and Lange Snr both confirmed that many fighters pulled out of this card and that they were on the phone all night trying to save some of the fights accounting for the less than usual turnout compared to their last featured fight card.
WATCH FIGHT HIGHLIGHTS AND WRAP UP
_______________________________________
WATCH THE JIMMY LANGE VS TONY JETER FIGHT AND POST FIGHT COMMENTARY WITH GARY WILLIAM, JEROME SPEARS AND MICHAEL AMAKOR
________________________________________
WATCH MIKE BALOGUN SCORE KO AND POST FIGHT INTERVIEW WITH MICHAEL AMAKOR
____________________________________________________
WATCH TORI NELSON VS CISNEROS AND POST FIGHT WRAP-UP WITH GARY WILLIAMS, JEROME SPEARS AND MICHAEL AMAKOR
_____________________________________________
EVENT GALLERY
LISTEN TO BLOW BY BLOW COMMENTARY
Related Articles: