Categories:
Featured Article
|
Comments Off

on Tourney Wrap, Benavidez Brothers, Battle Royale
Arizona Boxing News & Notes with Don Smith
Tourney Wrap, Benavidez Brothers, Battle Royale
Boxing Fans,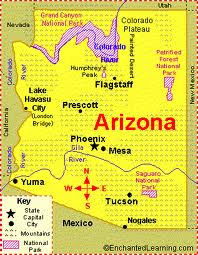 Arizona Golden Glove boxers Adrian Servin (Knockout Boxing in Phoenix) and Alfonso Olvera (Neutral Corner Gym in Tucson) advanced to the National Golden Glove Tournament after winning Regional Titles in Vegas. Servin, a highly touted 108 lb. prospect, bested Nevada's Blake Fazio to win his 1st place trophy while Olvera out boxed Oregon's Efraim Estrada to win his piece of boxing history. The Nationals will be held May 12-17 in Las Vegas. Both young pugilists are considered prime professional prospects. Olvera won the Regional last year, but lost in 2013Nationals box off.
Four other Arizona boxers made it to the finals, but settled for runner-up. William Northern 111 (Rodriguez Gym)lost to Oregon's Jose Mena in the 178 lb. division and heavyweights Dante Stone (Stone Hard Gym) and Albert Alvarez (Red Nation Warriors Boxing)lost bouts that drew criticism from Arizona officials and team members. The fourth member from the Arizona delegation that ended competition with a runner-up trophy was 114 lb. Francisco Chavez (Rodriguez Gym) who lost to Edward Rojas from Washington. Overall, Team Arizona performed well but expected to do better.
Arizona Golden Gloves Director Kelly Fenn told me the Stone loss was especially upsetting for her ; in her opinion, the young Phoenix super heavyweight was the clear winner. She wasn't alone in commenting about tournament officiating.
Arizona Head Coach Seferino Rodriguez issued the following statement concerning the officiating: "There were questionable decisions (Arizona had no representation (judges) I believe this was one factor." What a smooth guy.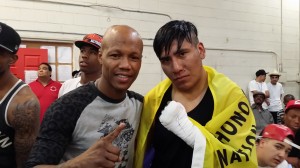 I talked to Red Nation Warriors Coach John Colmenero after he returned to Tucson from the regional finals tournament and he was still upset over the loss of his fighter (Albert Alvarez) to Hasim Rahman Jr. in the lighter heavyweight division clash (under 201 lbs.). Coach Colmenero concedes Albert lost the 1st round after the referee administered a standing 8 count to Albert. Las Vegas Review-Journal wrote up the standing 8 count as a knockdown which infuriated the coach and he wanted to call the reporter and correct him. Coach C went on say that 19 year old Alvarez won the next 2 rounds convincing and should have earned the victory nod. John is a very intense boxing coach and loyal to the core , so he made his feelings known; that's his style!
In this year's Arizona State Golden Gloves tournament, held at the Arizona Event Center in Mesa, one of his fighters (Ariel Lopez) was paired to fight Daniel Salazar (Southwest Boxing) until officials noticed Lopez is 15 and Salazar is 18. The error in pairing was attributed to a volunteer who didn't catch the discrepancy earlier which caused a bit of tension and understandably so.
John lobbied hard for some type of compensation package for the young fighter's family who drove up from Tucson and stayed 2 days away from home.
Tournament officials agreed with the hardship created by the error and rewarded both boys a trophy and other benefits. Character is one of the virtues that make a good coach and John will always go to battle for the sake of his team. Kelly Fenn and Jacob Magallanez should also take a bow for their decision to do the right thing.
Albert didn't win his final bout, but he did win the good sportsmanship award and he truly deserves it. The young heavyweight is a class act. Always smiling, polite and respectful; he has the soul and demeanor of a person far beyond his tender age. When I called his reservation to ask the number of miles from Sells to Tucson. She told me 60 miles South of Tucson. The lady who answered the executive office phone, said she saw Albert almost every day, but he never mentioned winning such a prestigious award. In total, he has 24 trophies and he didn't take up amateur boxing until he was 17
Credit his parents (Candice & Duane Alvarez) for keeping him on the right side of humble. Albert, (birth name Alberto) was born and raised in Sell, Arizona which is located on the Tohono O'odham Reservation , 60 miles south of Tucson Arizona. He will celebrate his 20th birthday in September.
During his successful amateur career, he has had Kodak several moments with the likes of boxing champions Jab Judah and Cris Arreola, but he is a overtly shy young man who sometimes blushes and gushes when something complimentary is said about him.
Albert took up boxing at the age of twelve to keep himself out of trouble. His peers on te reservation were telling him he would never grow up to amount to anything or anybody. There isn't a lot to do on his reservation, so boxing was a simple but powerful tool to learn discipline and character from. He has quietly proved the naysayers wrong.
Candice Alvarez says her son is an ordinary teenager; enjoys playing with his little brothers, enjoys eating pizza and listening to rock music. As for his future, Albert would like to fight professionally , but he may join the US Marines. Whatever direction he goes, he will have the wind at his back.
Berlin the Man? Boxing Guru Teddy Atlas is backing Attorney Dave Berlin to become the new head of the New York Athletic Commission. Berlin is a bright barrister and a passionate supporter of boxing. If he is indeed the ultimate choice, he walks into an office surrounded by controversy after the ring injury (brain damage) to Russian Heavyweight Magomed Abdusalamov during his 10 round bouts with fellow heavyweight Mike Perez at MSG in November, 2013. Perez has returned to boxing since the tragedy.
Lawyers, representing the boxer's family, are preparing a lawsuit against the state and the NYSAC over the treatment and care of the severely injured fighter. This unfortunate incident could trigger a public outcry and motivate state legislators to add measures to protect boxers. Boxing fans; have your phone handy!
Comment: It's time for boxing to follow the NFL, NHL, NBA and select a strong commissioner , so the sport can put its' house in order. I agree with Promoter Dan Goossen who thinks the sport of boxing needs uniformity in rules and regulations. It won't happen if the status quo continues.
Boxing Noise: Boxing brothers David and Jose Benavidez Jr. will be working in April and May. David 3-0-3 knockouts fights in Mexico, April 11 while his older sibling ha a May 17 date with a to be determined opponent. Jose(19-0-14 knockouts) fresh from a UD win over Prince Doku Jr. at Texas Station n Casino in Vegas (3/29) is probably a win or two away from boxing for a minor title, NABF, NABO, etc. At 21, he should be very patient with his career path and you can rest assured, Top Rank will be very careful in handling their prized boxing protégé. Both young men seem to be mature beyond their years. David is a mere 17. Rumors about either of the Benavidez brothers fighting on a Ralph Velez generating boxing card evaporated when Mr. Velez left his volunteer position with Fan Base Promotions.
Jose Benavidez Sr., striker coach of MMA Middleweight C.B. "The Doberman" Dollaway was happier than a litter of new born puppies after his guy knocked out Cezar Ferreira in the 1st round on 3/23 in Brazil. Dollaway was a finalist on Spike TV's "The Ultimate Fighter 7" series. The 30 year old Tempe resident trains at Power MMA in Gilbert, Arizona.
Battle Royale: Controversial "Rage In The Cage Owner / Operator Ronald Sarria thinks he is being targeted by USA Boxing Arizona and for a New York minute or two, he thought I was aligned with person(s) bent on jeopardizing his Arizona State approved promoter's license. For more than a decade, Mr. Sarria has promoted
Boxer Relief: The California Professional Boxer's Pension Fund, administered by the California State Athletic Commission is holding thousands of dollars for certain eligible boxers. Applicants must meet the following requirements:
• Be at least 50 years old.
• Fought in at least 10 rounds a year for 4 years in California with no more than a 3 year break.
• Fought in at least 75 scheduled rounds in California with no more than a 3 year break.
The Professional Boxer's Pension Fund is the only pension fund for boxers in the world; so be leery of other "pension" offers and if you sense a scam, report it to proper authorities.
Currently the fund totals more than $5.3 at last report. The pension fund money is generated from a percentage of boxing show gate receipts.
Here is Promoter Dan Goossen take on the California Professional Plan: "I believe handled properly, anything that helps a fighter who gave his blood, sweat and tears in the ring, I'm for"!
Free At Last: The contract dispute between Phoenix boxer Mario Esparza and Fan Base Promotions is over. According to FBP spokesperson Henri Westcott, Mario was given his release in light of Fan Base's decision to concentrate on European and Canadian boxing promotional opportunities. It was the fair thing to do. As to the question of what official represented Fan Base in the signing of Mario Esparza, it is yet to be determined. A copy of the contract was sent to me, but there is no printed name registered under the penned signature of someone representing Fan Base. Very strange and Mario doesn't know who the representative was even though the process is normally witnessed by both parties and completed at the same setting. The mystery continues.
Winnipeg Special: A boxing show in Winnipeg, Canada is tentatively planned for this summer (July) and FBP will play a role in the make-up of the card. Canadian light heavyweight Champion Junior Moar (10-3) will headline and Junior middleweight Janks Trotter (7-1-1) is penciled in as the co-main. Its' Trotter's first bout since he was knocked out by Adam Trupish almost two years ago. It is definitely a crossroads fight for the 30 year old who appeared headed for a possible world title before the devastating Knockout loss to Trupish. This could be his last hurrah.
There is some talk about pairing Mora with Phoenix favorite Andrew "Hurricane" Hernandez assuming Andrew isn't prevented from travel outside the Continental United States as a result of his failed drug test in Nevada, last year. Hernandez is very popular in Canada after beating Dustin Sutley and fighting to a majority draw with Steve Franjic in Calgary, Alberta. Doubt seriously, if the colorful Hernandez will find his way on the card. Franjic has called out Hernandez for a rematch on several occasions.
Esparza is expected to sign with Goossen Promotions and if the rumor becomes fact, the Phoenix lightweight could be added to the May 10th WBC heavyweight title tiff between Cris Arreola & Bermane Stiverne in Los Angeles. With proper management and discipline, Mario has a shot at becoming a very good fighter. So far, his ride has been pimped by the wrong people. Thank goodness he is back with Tom Garcia.
Return to Action: Light welterweight Arlo "Encino Man" Argueta (5-0) has signed an exclusive Arizona promotional contract with Iron Boy Promotions and he will box on the April 26 Iron Boy 12 Show at the Celebrity Theater in Phoenix. Arlo last fought in January, 2013 in Mesa, Arizona; so it's time to work off the ring rust.
New Gig: It's official, former ring announcer and short film maker Ralph Velez is now associated with Nelson Faisal and his organization. In his email, Mr. Faisal stated that Ralph is "affiliated" with the professional pension fund in their PPF Sports & PPF Boxing division. Mr. Faisal didn't specify Ralph's role in his organization, but Ralph can be reached through Face Book & Twitter. It looks like another career step for the ambitious Phoenix resident who is always turning the page to a new adventure.
A one on one interview with Ralph Velez is featured inside the current edition of AZ Front Row Magazine, a freely distributed publication circulated in Phoenix. Front Row Editor and Velez media pal Albert Alvarez conducted and transcribed the interview which hit newsstands on March 31.
In the Q&A styled article, Ralph talks openly about his surprise departure from Fan Base Promotions and the gregarious part time talk show host reflects upon his his past, present and future endeavors all in one article. Whew!
I sent a copy of the printed story to Henri Westcott, FBP's Marketing Director and he thought the story served Mr. Velez well and he wishes the former FBP volunteer the best in his new line of work.
Boxer Released: Heavyweight boxer Ike "The President" Ibeabuchi was released from a Nevada State Prison after spending almost 15 years for rape and sexual assault. His whereabouts is unknown, but it is believed that the 41 year old former contender is awaiting deportation to Nigeria. His mother and some of Ike's ardent supporters tried mightily to free through the parole system, but each time he faced the parole board , his plea was denied. Ike had a history of weird brushes with the law including a child imprisonment charge in Texas. Unfortunately, he never received mental health treatment until he was sent to prison in 1999.
Boxing Writer Brian Fogg attempted to conduct an interview with "The President" before his 2013 parole hearing but the request was denied. Ike was trained by former World Welterweight Champion Curtis Cokes. Ike compiled a 20-0 record with 15 knockouts before his imprisonment. Some of his most devout fans think he was railroaded despite evidence to the contrary.
Serious Kid: I dropped in at Central United Gym on Van Buren & 17th Avenue in Phoenix to watch 15 year old high school student Samuel Lucero work out on the heavy and speed bag. He is an intensely focused young man. Veteran trainer Tom Garcia thinks Lucero could be something special if he keeps his eye on the prize. Samuel hopes to make his amateur debut soon and the hard hitting boxing pupil has thoughts of competing in local smokers and tournaments before the advent of summer. Lucero weighs 160 lbs., but he could easily fight at 147-154 with the proper diet and training regimen . What I saw was a self-motivated kid with drive and ambition. Doesn't mean he will be the next Roberto Duran! He is a kid to watch.
A Call to Remember: Rage in the Cage owner and operator Roland Sarria called my home recently to ask why I called one of his associates (Tommy) and asked about an April 5 scheduled MMA show (Kick Ass Fight Night) at the GO AZ Motorcycle Dealership in North Scottsdale, Arizona. I wasn't home, so he left a message. A very loud threatening message that began with these chilling words: "Don't you ever call my facility and ask my employee questions"! He was screaming at an ear piercing level. For the record, asking questions is what a good reporter does. And Roland should know that after working for more than a decade as a MMA promoter.
In another recorded call he went on to threaten me with legal action if didn't leave him and his professional livelihood alone. Rather bizarre telephone etiquette from a man I don't really know although I did see him at a Fort McDowell Casino show years ago, but we never spoke to each other. Let me say I know him a lot better after his deposited messages and subsequent chats.
After leaving his inappropriate message, he made 22 unsuccessful attempts to speak to me directly. When I arrived home after celebrating by Birthday at a local restaurant, I retrieved his phone number from one of the messages and called him back with a bit of reluctance. As I dialed his number, I thought briefly about film director's Alfred Hitchcock's classic thriller "Psycho" and the chilling images from the memorable shower scene. Hmm, wonder if he knows where I live. A friend sent me his address and I told 10 trusted friends about the threat left on my answering machine. I also sent an email to Matthew Valenzuela at the boxing & MMA Commission. I was told to call the police, but I didn't think Roland was the evil guy he was trying to portray. I wanted to give him the benefit of the doubt. Alas, I reached him on from my phone. He lives in Scottsdale, I live in Phoenix, good distance.
He began our conversation by yelling and screaming and I told him I was ending the call if he continued his verbal haranguing and I did. Roland called again with the same attitude and I told him: "there you go again" and I hung up.
When he called back again, Roland was calmer, but still convinced that I was a bad guy. He accused me of teaming up with USA Boxing Arizona in a conspiracy effort to mess with his MMA business. An assertion denied by USA Boxing Arizona President Jacob Magellan who told the angry complainant that I was a respected writer and was never affiliated with USA Boxing Arizona. A true statement.
Magallanez, in his President of USA Boxing Arizona, is waging a crusade against what he describes as an enormous number of "unsanctioned" boxing and MMA events.
The feisty high school principal has taken aim at several fitness clubs, night clubs and promoters including Gary Diaz and Roland Sarria. He has solicited help from Arizona State Boxing and MMA Commissioner Matthew Valenzuela whose office has legal jurisdiction over amateur and professional Boxing/MMA events through Title X legislation. I am not his team mate nor were dswe class mates.
His critics claim "Jake" is a showboat who wants to bully club and gym owners into joining USA Boxing Arizona and plunk down mega dollars to join an organization that is ripe with good old boy nepotism and is incapable of meaningful change. Sarria describes the organization as an LLC with illusions of grandeur and he warns them to stay out of the MMA business or else he might consider legal action. Roland claims to know the law better than most lawyers and he reminded me that although he looks white, his true bloodline is Cuban.
In recent months, Roland Sarria has become the unofficial poster child for USA Boxing Arizona's campaign against unsanctioned boxing and MMA shows. I can understand why he snapped when routinely inquired about his "Kick Ass Fight Night" Show on Saturday April 5 and the specifics kept changing. I first heard it was to be a MMA/Boxing show then it was changed to a karate show. I also heard it would be a free admission show. It wasn't posted on the Boxing & MMA Commission website.
So, I called the GO AZ Motorcycles in Scottsdale and talked to Melita,the receptionist, she didn't know anything about the price of tickets or who or what was being presented. She did tell me that the show, whatever it was to be, would run between 4-6 p.m. I thanked the woman and wished her good luck. Previously I had left show coordinator Mike Esker (GO AZ Motorcycle) a message to call me, but he never did.
There are always at least two sides to every story, so I talked to former Arizona State Boxing & MMA Commissioner John Montano and he told me that he never had any problems with Sarria during his tenure as commissioner.
Dennis O'Connell succeeded Montano and Magallanez was hoping the lawyer from Michigan would appoint a special task force and track down club owners, gym owners and promoters who exploited amateur and professional athletes by hosting for profit shows that failed to provide a level playing field and adequate medical attention for injured fighters . He was disappointed in McConnell but he expected a lot.
Passing legislation to protect athletes is one thing, but having the personnel to enforce laws is a horse of another color. Bottom line; the Arizona State Boxing d& MMA Commission doesn't have the tools or the personnel to stop every nickel and dime operator who wants to set up shop and promote shady shows without permits, insurance and medical supervision. If the Arizona legislature wants
According to Wayne Craig, managing partner of the Arizona Event Center in Mesa, Roland told him during a phone conversation on the same day that he was going to "expletive" me up for getting into his business. I asked the prolific promoter about the alleged remark and he denied it, saying " I could never beat up someone the same age as my father." That is comforting to know.
It should be pointed out that Craig and Sarria don't break bread together. When Mr. Sarria told me he knew the law better than most attorneys, Craig's name came up, so I called the Arizona Events Center Executive and he told of an arbitration hearing involving a dispute over a Sarria promoted show held at the Event Center. Craig has also intimated to me that he knows someone that has evidence of wrongdoing by Mr. Sarria.
After all the drama was over, I offered Roland Sarria a question & Answer in my Column. And he accepted. I don't know if he is guilty any wrongdoing, but he sure has a strange way of winning friends and influencing opinion. Please, easy on the corn Cobb. Until Next Time
Related Articles: