Posted by George Hanson., Jr Esq. on Mar 7, 2014

Categories:
Featured Article
|
Comments Off

on Under the Naseberry Tree—Cus, Robin, Don, Iceberg, Mike and Me!
March 5, 2014
The Mouthpiece
Under the Naseberry Tree—Cus, Robin, Don, Iceberg, Mike and Me!
By: George H. Hanson Jr., Esq.
Book Review
Title: Undisputed Truth
Authors: Mike Tyson with Larry Sloman
Published: November 2013
Publisher: Blue Rider Press (Penguin Group USA)
Length: 580 pages
Price: $30 hardcover
Website: www.amazon.com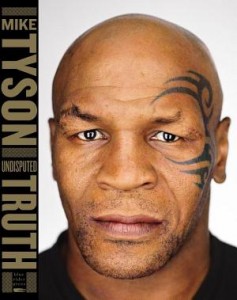 Mike Tyson remains one of the most intriguing people to ever walk this plane. Despite having long retired from wreaking havoc and mayhem in the squared circle the public's belly continues to rumble as its insatiable appetite for him can never be satisfied. Tyson's shadow is as huge as it was at the height of his pugilistic prowess when grown men wilted like week-old lilies at the sight of him pacing on the other side of the ring like a Bengal tiger ready to hunt.
On Tuesday, December 24th —Christmas Eve—I headed home to Jamaica for a two-week respite with my copy of Undisputed Truth tucked away in my laptop bag – hell-bent on devouring as many pages before the three-hour flight from Philadelphia landed in Montego Bay. Unfortunately, all the tourists decided to escape the cold climate, filled up the plane—negating my customary US Airways First Class upgrade—relegating me to coach with the "peons" and "commoners" upsetting my karma—dissipating my voracity for the written word. To add insult to injury, I was seated close enough to the curtain that separated the classes and watched as the aristocrats ate their scrumptious meals while enjoying bottles of "tiny wine." Fortunately, before boarding I bought a tuna fish sandwich and bottle of water that was so expensive that I didn't know whether to eat it or have it framed. I hope you can appreciate my humor. Now, let's get to the book.
There were many lachrymal moments cut short by mirth as I sat under a naseberry tree— a cup of coffee nearby— the sun massaging my face—wiping tears laughing while "listening" to Mike narrate his childhood and amazing journey from street urchin to the "Baddest Man on the Planet." On November 22, 1986 at the age of 20 years and 4 months he became the youngest heavyweight champion in history stopping WBC titlist Trevor Berbick in the second round. Tyson is an extremist with unabashed brutal honesty making the roller-coaster ride from poverty to prominence more captivating than the few minutes in which he customarily and summarily destroyed and demolished grown men—grinding them into hapless heaps on the canvas counting sheep—as he preened around the squared circle like a gloved peacock palms skywards gesticulating to the paid audience.
Cus D'Amato, the one-eyed iconoclastic septuagenarian trainer and surrogate father who forged a thirteen-year-old chubby kid into the gloved personification of destruction, maelstrom and melee was nothing short of brilliant. D'Amato whose father was murdered when he was a young man scratched and clawed his way through life learning the intricacies of human psychology. "He was a Roman warrior two thousand years too late. Warriors like war, need war, that's the atmosphere in which they feel most at home. Cus, like Patton, felt alive when there was confusion, intrigue, a sense of impending battle." Tyson further added, "It gave him a high. He was an activist, he needed action. Cus was the general and I was his soldier. And we were ready to go to war."
I laughed so hard that I almost fell out of my seat under the tree when Tyson revealed his trainer's talent as a psychologist. Cus once stated to a young Tyson, "Mike if you were sitting with a psychiatrist and they asked you, 'Are you hearing voices?' You're going to say no, but the voices are telling you to say no, aren't they?"
A young Tyson understood that "Cus wanted the meanest fighter that God ever created, someone who scared the life out of people before they entered the ring." But the old man was more than his trainer and legal guardian. Mike says, "He was like some guru, always saying things that would make me think." Tyson continues, "He gave me purpose. I had never had that feeling in my life before except when I was thinking about stealing." Unfortunately on November 4, 1985 D'Amato went to the big boxing arena in the sky—or the upper room— a year before Tyson's ascension to the heavyweight throne.
The images of actress Robin Givens wearing a hard hat with a light perched on the front have been cemented in my mind since her and Tyson tied the knot on February 7, 1988. Mike was the gold mine and Givens and her mother, Ruth, commenced digging immediately after she met the heavyweight champion of the world—11 months before their nuptials. "They had nothing until I came on the scene. They were two broke charlatans. They didn't own anything. They were just one big illusion." The marriage lasted a year and one week ending on February 14, 1989. Today, Tyson says, "I really don't like to talk bad about people, and for all I know they could have changed now, but back then they were the lowest serpent bitches in the galaxy."
Mike Tyson's tumultuous, catastrophic relationship with promoter Don "Only in America" King is well-documented and oftentimes the stories emanating from their association are so colorful and unbelievable it gives new meaning to dysfunctional. What was interesting was Tyson saying, "If Cus had been alive, he would have gone with King to promote me. Cus hated Bob Arum. Cus told me, 'Nobody could have been worse than Arum'." I guess it was only natural that he gravitated towards the coiffed-one with the electrifying hair and personality. "Don is a wretched, slimy reptilian motherfucker. He was going to mentor me, but all he wanted was money. I thought I could handle somebody like King, but he outsmarted me."
King might have out-guiled Tyson, but it came with a price as the fighter grew out of control atop of the boxing world. "I remember kicking Don King in the head so hard that dust came out of his afro." During a meeting at King's Las Vegas residence in the presence of Muhammad Ali and Larry Holmes, Tyson recalled, "I would say deplorable things about him in front of everyone just to prove how worthless he was. I don't know if that was the real motivation for me whipping his ass. I was a young immature kid then and I just felt like doing it."
The heavyweight champion of the world travels or touches all circles from prince to pauper. But, I was still mildly surprised that Tyson spent time with author Robert Beck—Iceberg Slim—renowned pimp—the purveyor of women, vices and urban folklore. A college drop-out who attended Tuskegee University, Beck became an eighteen-year-old pimp in 1936, reigning for 24 years before deciding to write about his exploits. I discovered Slim as a college student and was mesmerized by his ability to place readers in the moment or time of inconceivable human conditions. His autobiographical cult-classic Pimp had one riding in his Cadillac as he collected or extracted every crumpled bill from his streetwalkers or ladies of the night. Maybe it is only natural that Tyson crossed paths with Iceberg—one came from the gutter, while the other made a king's ransom dealing with its residents.
"I wish I had met him before I married Robin, he would have set my ass straight" stated Tyson. "Berg was an extremely interesting character. You never could have thought you were talking to someone so steeped in the world of vice." Tyson wanted to understand the world around him, particularly women. Iceberg gave him some fatherly advice. "Mike, you're a dangerous kind of guy. You're going to leave here and have women problems all your life, because you'll just fuck anything." Iceberg was dying and preparing for the inevitable and told Tyson that he wanted a coffin that goes in the wall. "Now listen, Mike, I don't want to be in the ground, I want to be in the wall. I don't want the roaches and bugs eating me up. I'm beautiful Mike." "So, I gave him twenty-five thousand dollars in cash from my bag." Iceberg died in 1992 at the age of 74 from diabetic complications.
It was an unbridled, titillating, and exhilarating ride with Tyson as he led me through 580 pages of his remarkable life. Besides Iceberg, I spent time with Muhammad Ali, Rick James, Tupac, John F. Kennedy Jr., Oprah Winfrey and countless other celebrities. Riding through the paragraphs I bear witness to his rape trial, grasping the gravity of the situation reasonably concluding that he was rail-roaded by the state of Indiana and another gold digger. I watched as Tyson emerged from prison to regain the heavyweight championship and begin another adventurous voyage filled with money, women, drugs and horrendous decisions spiraling to his inevitable demise and retirement from the squared circle.
If you have reached this far reading the review—you must go and purchase your copy from www.amazon.com. The book is a must read! Michael Gerard Tyson is a survivor. His style was impetuous and his defense was impregnable, but it is his will to live and reinvent himself that is truly astonishing. Tyson, the author, thespian and boxing promoter is just as popular today as when he paced the length of the squared circle causing grown men to shiver in their boxing boots like they had hypothermia.
"I realize that nothing is more important than life. There's no trophy, no belt, no glory more important than life and the people you love."
I made my way back to the United States on January 8th having completed my excursion with Tyson—ensconced in First Class sipping "tiny wine" while being served pasta—with Jah Bouks blaring Angola through my Beats headphones. Yes, I was spared the indignity of being cramped in coach drinking water and munching pretzels.
Continue to support the sweet science, and remember, always carry your mouthpiece!
Related Articles: