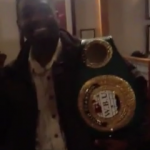 By Michael Amakor | January 6, 2014
In all sports, particularly in the combat blood sport of boxing, boxers are expected to fight each other with the winner going on to defeat a successive line of progressively elite opponents to become the ranked contender that challenges and defeats the reigning titlist to become the universally recognized champion of his division.
The problem in boxing is that you might have a new champion but whether he is recognized by the public as the champion or whether his claim to supremacy of his division is accepted without dispute by fans or the sport in general is another matter altogether.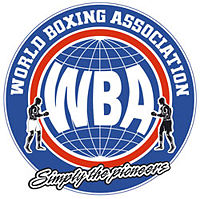 From time immemorial, boxing recognized its champions by public acclamation until about 1910 when various organizations began awarding world championship titles. In 1921 the World Boxing Association (WBA) was created and the various organizations folded somewhat into it and boxing generally had a champion in each division until 1963 when the World Boxing Council (WBC) was formed. Twenty years later the International Boxing Federation (IBF) made it a threesome. The now respectable World Boxing Organization (WBO) and International Boxing Organization (IBO) made it a crowd in 1988 and the fringe IBA, IBC, IBU, UBO, WBF, WBU and a host of regional organizations turned these title awarding bodies into a mob of complicated interests over time making it impossible for a single champion to emerge in each division at any given time.
The concept of a unified and undisputed world champion first entered boxing's lexicon after Mike Tyson's manic destruction of Trevor Berbeck, James "Bone Crusher" Smith, and Tony Tucker the respective champions of the WBA, WBC and the IBF in one fell swoop that ended in 1987 with Tyson becoming the first Unified and Undisputed heavyweight champion of the world.
It was such a menacing awe inspiring moniker repeated and amplified in significance alongside highlights of his brutal knockouts on TV, and quips about Tyson on Classic Sports that it got hardwired into the minds of boxing fans, even after the exit of Tyson from the championship ranks in 1990. Presently fans cannot discuss boxing without coming to the sometimes faulty conclusion that there is a vacuum in boxing's various divisions because no awe inspiring champion has emerged to unify the divisions particularly in the heavyweight division in a tysonistic fashion. Even when there is a dominant champion in a division this yearning for a  unified and undisputed champion still lingers on which has subconsciously started to filter down to the lower weight division as boxing fans and even its aficionados are getting confused as to who the true champion really is as their numbers have grown exponentially as these organizations now have designated super, regular and interim champions in each division.
As is to be expected, it is a herculean task trying to keep up with all the champions of the various divisions just as it has become equally difficult for unification contests to be arranged due to an array of contractual obligations to TV networks and affiliations to certain promoters and managers, combined with sanctioning fee disputes and the requirement for new champions to face mandatory challengers within their organizations and also because there is no federal commission to mandate and monitor such an event.
Even when a champion unifies together a few titles the champion might be forced to relinquish these newly captured titles due to the complications we previously talked about, most times unification does not happen as fighting they other champion makes no monetary sense.
Presently, Unification tournaments mostly come about through concerted efforts by cable networks like HBO or Showtime in consort with promoters and managers like Don King who have contractual rights over certain champions to make money and to boost ratings. When these forces are properly aligned the whole sport benefits tremendously with increased subscriptions and windfalls for the network and promoter as the Middleweight (2001), bantamweight (2011) and long drawn out Super Six World Boxing tournaments (2009-2011) have all shown. But these tournaments are few and far in between and do not happen as regularly as is needed to produce unified and undisputed champions in each and every division.
Some eminent domains like the Empire of Japan who have a seeming stranglehold on the weight classes south of 122 pounds have for a second year in a row sponsored year-end tournaments in the divisions featuring their native champions in contests not televised outside Japan. Eventually and hopefully such tournaments will become a tradition to produce dominant champions and we hope that other boxing crazed enclaves like Mexico, Puerto Rico and South Africa might join the fray to clear up divisional "Que es mas macho".
Typical of football with its fantasy leagues, we shall go ahead and fantasize about the prospect of Unified and undisputed champions emerging in 2014 in each of boxing's seventeen weight divisions.
WBA: Wladimir Klitschko
WBC: Vitali Klitschko
IBF: Wladimir Klitschko
WBO: Wladimir Klitschko
IBO: Wladimir Klitschko
From time immemorial, the heavyweight division has held the fascination of the public and is the barometer used to gauge the popularity of the sport after super stars like Jim Jeffries, Rocky Marciano, Mohammed Ali and Mike Tyson to name a few captured the fascination of the world.
As previously, mentioned, Mike Tyson was the first champion to unify all the titles in this division; he lost all his titles to Evander Holyfield who went on to lose them to Lennox Lewis in 1999. Lennox Lewis relinquished one of the title, the IBF, due to a dispute shortly thereafter and boxing has been without a unified and undisputed champion ever since.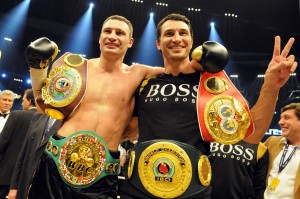 Presently and just as in 2012, the championship picture in the division remained unchanged in 2013 with the Klitschko brothers Vitali (45-2, 41KOs) and Wladimir (61-3, 51KOs) holding all the five premier belts in boxing between them both.
But because of a promise they made to their mother the will not fight each other, so boxing has been denied a unified and undisputed champion as a result. But they have between them both literally knocked out every challenger foolhardy enough to step into the ring against them, with Wladimir outpointing interim champion Povetkin for supremacy at the WBA and knocking out Pianata in 2013.
Vitali on the other hand has equally destroyed all challengers in a more brutal fashion in the past but along the way he became a politician. He lost the race to become Mayor of Kiev in 2006, but forged ahead to become the leader of a major political party in the Ukraine which has preoccupied his attentions and prevented him from defending his titles throughout 2013 despite various extensions granted him by the WBC.
However, that situation has recently changed as the board of the WBC recently appointed him Champion Emeritus basically allowing for his to title to become vacant this past December. This vacancy will finally allow Bermane Stiverne and Chris Arreola the number one and number two ranked contenders respectively to square off for the vacant title.
Wladimir Klitschko has already declared his intention to fight for Vitali's vacated title but is already set to face Alex Leapai on April 26, 2014 in Germany. Expect Wladimir to defeat Leapai just about the time that the winner of the rematch between Arreola and Stiverne emerges to challenge Wladimir for all the titles in a super fight in Germany.
Even if the WBC champion holds out he will eventually get drawn into a contest against Wladimir Klitschko as all the boxing forces are getting aligned for the coronation of Wladimir as the unified and undisputed heavyweight king in 2014 and because record paydays awaits the WBC challenger who might take the risk of the chance to win and unify the titles and to earn a king's ransom of a purse at the same time.
Even if the fight falls through, even curious boxing fans will recognize that Wladimir Klitschko is the champion of the Division and will continue to do so as long as he remains undefeated.
CRUISERWEIGHT
Weight Limit: 200 lbs
WBA: Denis Lebedev (Russia)
WBC: Krzysztof Wlodarczyk (Poland)
WBO: Marco Huck (Germany)
IBF: Yoan Hernandez (Germany)
IBO: Ola Afolabi (UK)
WBU: Roy Jones
Not too long ago many of the heavyweights were less than 200 pounds, but in 1979 the cruiserweight division was created with a 200lbs weight limit and it has over time served as a pit stop for fighters like Evander Holyfield and David Haye on their way up to the heavyweight division and its heavier purses. They last time this division had a unified and undisputed champion was back in 2006 when O'Neil Bell stopped Jean Marc Mormeck to unify all the belts in the Don King promoted undisputed cruiserweight world championship, but they division lost its focus shortly thereafter. Another unified cruiserweight king hopeful David Haye claimed the WBC and WBA titles from Mormeck (who partially regained the titles from O'neil Bell in a rematch) and annexed the WBO title bringing tremendous excitement to the division, but he stepped up to the heavyweight division derailing any unification hopes.
Currently, the division is at a standstill as all the champions from 2012, Huck (36-2-1, 25KOs), Wlodarczyk (49-2-1, 35KOs), Hernandez (28-1, 14KOs) have further entrenched themselves at their organizations by suppressing tough title challenges in 2013 but there is no buzz whatsoever for a unification contest between any of them. As it stands right now boxing is split about which champion is the number one ranked fighter in the division and it is presently a toss up between Marco Huck and Hernandez.
Former interim champion Dennis Lebedev (24-1-1, 18KOs) was recently reinstated as the WBA champion after Guillermo Jones was stripped for reportedly testing positive for duiretive furosemide after his brutal victory over Lebedev last October. Presently we are back to the drawing board at the WBA as the once again reinstated Jones as "champion in recess". Jones has vowed to punish Lebedev in a rematch still not past the purse bid stage yet. Only after the dust settles from that soon to scheduled encounter would the winner even think about challenging any of the other champions of the division.
We had hoped in 2013 that Hernandez and Huck would get to square off in an all-German super fight after they got past their mandatory challengers in 2013, and they both did get past them, with Hernandez knocking out Alekseev and Huck outpointing Afolabi in a trilogy. However there has been no hint at unification as Huck already has his sights set on a rematch with Firat Arslan and Hernandez has already announced a March 8, 2014 appointment against an unnamed opponent.
After the dust settles from those engagements, there might be a chance of a fourth fight between Huck and newly crowned IBO champ Afolabi to unify their titles, but that might be painfully unappealing to both of them after the damage they have inflicted on each other in their three previous engagements which included two wins and a disputed draw in favor of Huck in the past.
In December, we saw a flurry of activity in the Division with the sudden enthronement of Roy Jones, Jr as the WBU (German Version) champion after a hastily arranged fight, along with a failed attempt to crown another WBU (American Version) champion in the US. We can only pray that someone takes advantage of Roy Jones, Jr celebrity status and his penchant for fighting overseas these days and lures him into a unification tournament with a fistful of cash, otherwise we might not even see a partially unified champion emerge in 2014 in the cruiserweight division.
LIGHT HEAVYWEIGHT
Weight Limit: 175LBS
WBA: Beibut Shumenov (Kazakhstan)
Jergen Brahmer (Germany)
WBC: Adonis Stevenson (USA)
WBO: Sergie Kovalev (Russia)
IBA: Beibut Shumenov (Kazakhstan)
IBF: Bernard Hopkins (USA)
IBO: Blake Caparello (Australia)
They last universally recognized champion in this division was former champion Roy Jones, Jr who from 1997 through to 2004 completely dominated the Division by winning the WBC followed by the WBA, IBF, IBO, IBA and WBF titles in one straight fell swoop to become the unified champion of the division. He eventually stepped out of the division and his belts eventually got distributed to a new set of champions and the division has been unable to produce a unified and undisputed champion ever since.
In 2014 however, the division got a massive dose of insulin after Adonis Stevenson's second round destruction of Chad Dawson for the WBC title in early 2013, he followed that up with a seventh and sixth round destruction of Tavoris Cloud and Tony Bellow respectively in 2013. The applause at the entrance of a new star in the division had barely subsided before the sudden emergence of Russian transplant Sergie Kovalev and his shocking fourth round destruction of the seemingly invincible Nathan Cleverly. Kovalev followed that victory with another sensational knockout victory on the same HBO card featuring Stevenson's equally brutal destruction of Bellew.
Immediately after their respective victories talk began about a showdown between these two champions and Kovalez stated in the post fight interview and while granting interviews to various media outfits after the fight.
"I want to fight Adonis Stevenson"
"I don't have a problem (fighting Kovalev) if HBO puts the money up," responded a seemingly unenthusiastic Stevenson (23-1, 20KOs) who brought up Carl Froch and Bernard Hopkins as potential opponents.
Another source of excitement in the division is Bernard Hopkins. Back in 2012 it looked like the division was finally going to be rid of Bernard Hopkins after he lost his title to Chad Dawson. But he resurrected his career by outpointing defending champion Tavoris Cloud for the IBF title and followed that up with a firefight victory over Kubrat Mirat in 2013 further cementing his legacy and signaling that he is still a force to be reckoned with at the geriatric (especially in boxing) age of 48 years old and still counting.
Things got even more exciting in the division after the perennially inactive but unified IBA & WBA champion Beibut Shumenov's (14-1, 9KOs) third round destruction of Tomas Kovacs on the undercard of the Broner vs. Maidana mega fight. After his victory, Bernard Hopkins, by virtue of being a Golden Boy Promotions representative ringside, was on hand to congratulate Shumenov in the ring.
Shumenov eventually was asked about a unification fight with Hopkins and he responded, "It would be an honor to fight him (Hopkins)
The quick-witted Hopkins (32-6-2-2, 32KOs) when asked about a fight with Shumenov comically and quickly responded, "It will be an honor to take away his belt"
The good news is that both fighters, Hopkins and Shumenov are both represented by Golden Boy Promotions, and Shumenov has already followed up by calling for a fight with Hopkins, the savvy Hopkins might seize the opportunity to further cement his legacy by taking up the challenge and becoming the unified champion, we can only wait with baited breath as it is a fight that can be easily promoted. Brahmer, the regular WBA champion is waiting in the wings for Shumenov if a fight between Hopkins does not materialize to complicate unification as is typical in boxing.
Newly crowned but the unknown IBO champion Blake Caparello appears to be the weakest link for any of the other champions considering unification. However, there is not enough money to be made fighting Caperello to interest even perennial spoiler Bernard Hopkins.
As we look forward to 2014 we are hopefully anticipating that there will be a fight between Kovalev and Stevenson with the winner possibly facing the winner of a fight between Hopkins and Shumenov. If Hopkins beats Shumenov, expect that he will be the driving force for unification so he can close out his career with a fistful of dollars, but then again the winner of Kovalez vs Stevenson might be the one to march towards a unification tournament with full support. We can only wait and see how it plays out.
SUPER MIDDLEWEIGHT
Weight Limit: 168LBS
WBA: Andre Ward (USA)
WBC: Sakio Bika (Australia)
WBO: Robert Stieglietz (Germany)
IBF: Carl Frock (UK)
IBO: Thomas Oosthuizen (South Africa)
At the beginning of 2013 we had anticipated that the inactive Andre Ward the top rated fighter in this division by virtue of beating all the other champions besides Oosthuizen in Showtimes Super Six Boxing Classic Tournament would get ambushed by old foes looking to avenge their losses, surprisingly none of those fights came to fruition.
Instead, and as anticipated Ward victims Kessler and Froch squared off in their long awaited rematch and after a thoroughly entertaining fight Froch (32-2, 23KOs) avenged his defeat to unify both the WBA and IBF titles. Despite Carl Froch's stated mission to avenge his loss to Ward, he has also hinted that Ward's style makes it a difficult fight for him to win and after his hotly disputed stoppage win over George Groves, he might find himself embroiled in a rematch that he has to win before he will be really allowed to switch his attention to Ward.
Another Ward victim WBO Champion Arthur Abraham lost his crown to Robert Stiegliez (46-3, 26KOs) derailing any hope of a unification rematch with Ward.
Andre Ward (27-0, 14KOs) on the other hand has indicated he will take on all comers and just showed off just how good he still is by thoroughly outclassing Delvin Rodriquez in his only comeback fight of 2013 signaling to all that he had not missed a beat due to inactivity.
Nobody has heard of IBO champ Thomas Oossthuizen (21-0-1, 13KOs) except some boar hunters in South Africa.
The crude head hunting slugger Sakio Bika, another Ward victim, defeated Marco Antonio Pariban in a 2013 fight of the year candidate to become the WBC champion. Bika (32-5-3, 21KOs) went on to make the mandatory defense of his title in 2013, but none of the other champions has indicated any interest in fighting him.
However it plays out all these champions are all on a collision course with Ward in a battle for supremacy of the super middleweight division and Ward might not necessarily be the last man standing if he engages any of these old or new foes in 2014.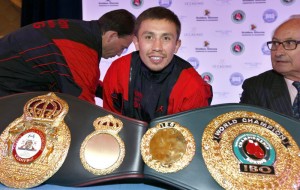 MIDDLEWEIGHT
Weight Limit: 160 LBS
WBA: Gennady Golovkin (Kazakhstan)
WBC: Sergio Martinez (Spain)
WBO: Peter Quillin (USA)
IBF: Felix Sturm (Germany)
IBO: Gennady Golovkin (Germany)
The last time this division crowned a unified champion was after the Don King promoted undisputed middleweight tournament in 2001 where Bernard Hopkins emerged as the undisputed champion after stopping the Felix Trinidad express train in the 12th and final round. He made several defenses as the unified champion before losing his titles to Jermaine Taylor who vacated the IBF title shortly thereafter and this division that once featured Marvelous Marvin Haggler in its ranks has not had a unified and undisputed champion since.
Except for Daniel Geale who got dethroned by Darren Barker who went on to lose to former champion Felix Sturm, the champions from 2012 held unto their titles in 2013. However, there is a growing consensus that HBO promoted Golovkin is the future of the division after aging and injury prone Martinez retires or is taken out of commission. There have been rumbles about a unification fight between Golovkin and Martinez, but it remains to be seen if a fight between the two could be arranged as Martinez appears to be getting drawn into a fight with Miguel Cotto.
A fight between Golovkin and Martinez should be not be too difficult to arrange as they have both fought on HBO before and there is a lot of money to made by both fighters. If that fight happens, and it just could in 2014 the winner could take on dynamite fisted Peter Quillen in a unification bout in the United States.
The unification match could be lit from another angle if newly crowned Felix Sturm is defeated by Sam Soliman in a rematch that looks sure to be made in 2014. You can expect the hungry Soliman who will fight everybody including the proverbial kitchen sink to issue challenges to the other champions and one of them might just take the bait. However, if the fight between Sturm and Soliman falls through, or if Sturm wins, expect for him to revert to fighting exclusively in Germany against select opponents.
But there is the distinct possibility that after recently venturing out to the UK to seize the title from Barker and a previous encounter back in 2005 against Oscar De La Hoya in Las Vegas in the past Sturm might be brave enough to come to the United states for a unification fight so he can cash out before his career flames out.
Let's keep dreaming downwards, shall we.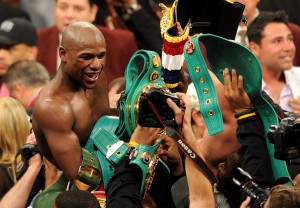 LIGHT MIDDLEWEIGHT
Weight Limit: 154LBS
WBA: Floyd Mayweather (USA)
WBC: Floyd Mayweather (USA)
WBO: Demetrius Andrade (USA)
IBF: Carlos Molina (USA)
Signifying how competitively dangerous this division is, none of the champions from 2012 including the explosive Saul Alvarez (WBC) the disciplined Austin Trout (WBA) the raw and hungry Cornelius Bundrage (IBF) or the unknown Baysungarov(WBO) survived the fury of challenges in 2013.
The Division however made tremendous strides in providing clarity as to who the real champion of the division really is, as Saul Alvarez outpointed Austin Trout to become the WBA and WBC champion only to get outpointed by perennial spoiler Floyd Mayweather in a record breaking super fight in 2013.
Mayweather without question is the recognized champion of the division but it is unclear whether he plans to unify the division as he seems to be drawing closer to a fight with Britain's Amir Khan instead of cleaning out his division by taking on Demetrious Andrade or Carlos Molina (22-5-2, 6KOs) in fights he would be the betting odds favorite to win instead. This situation clearly beggars the presence of a federal boxing commission to mandate such an event.
But another impediment to such an event is the unknown Chris Van Heerden, and the newly minted champions Andrade or Molina who might not be considered marketable enough to recoup the enormous profits ShowTime must now make from its six fight deal with Mayweather. But you never know as any of Mayweathers future opponents might fall through forcing Mayweather to fight one of these hungry champions to unify the division.
Whether or not these fights happens is irrelevant because Mayweather is recognized as the champion of the division, we just wish it would be through a knockout victory in the ring and not by acclamation.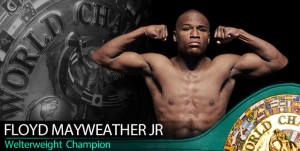 WELTERWEIGHT
Weight Limit: 147 LBS
WBC: Floyd Mayweather (USA)
WBA: Marcus Maidana (Argentina)
WBO: Timothy Bradley (USA)
IBF: Shawn Porter (USA)
Another violent division, that saw two of its 2012 champions Paulie Malignaggi and Devon Alexander get dethroned by Adrien Broner and Shawn Porter respectively in 2013, with the former later getting manhandled by Marcus Maidana. The hardened Timothy Bradley defended his title from the firestorm of Provadnikov in a fight of the year candidate and cemented his ranking by also defeating Juan Manual Marquez in a super fight. Floyd Mayweather on the other hand has stepped up to the light middleweight division while still retaining his WBC welterweight belt.
The only person that could make unification happen in this division is Floyd Mayweather and you would think he would be interested in such a venture as he would be the betting favorite to win those fights. Back in 2013 the boxing world waited in expectation of a possible mega fight between Mayweather and Timothy Bradley, but that fight did not happen, possibly because they are house fighters for Showtime and HBO respectively, but the division is bubbling with new exciting faces that creates possibilities for a unification tournament.
Another thing that could happen is that one of Mayweather future opponent might fall through leaving him few options but to fight one of these champions who most likely would be acceptable to Showtime who expect to make money from the fights still left on Mayweather's contract with them.
Right now there is talk of a fight between Mayweather and Marcus Maidana so Mayweather can avenge the defeat suffered by his friend/protégé Adrien Broner, but Mayweather as usual has been non-committal so we just have to wait and see how this all plays out.
Despite the Mayweather factor, the division might just be saved if one of the cable networks sponsors a unification tournament for the division with or without Mayweather whose days might be numbered in the division, so stay tuned and dream on.
JUNIOR WELTERWEIGHT
Weight Limit: 140 LBS
WBA: Danny Garcia (USA)
Khabib Allakhverdiev (Russia)
WBC: Danny Garcia (USA)
WBO: Ruslan Provodnikov (Mexico)
IBF: Lamont Peterson (USA)
IBO: Khabib Allakhverdiev (Russia)
The last time we had an undisputed champion in the division was back in 2005 when Zab Judah stopped Cory Spinks to unify and seize the WBA, WBC, and IBF titles, but he lost those titles and that empire has gotten carved out by different champions in an almost yearly game of musical chairs.
Back in 2011, the division appeared headed towards unification when WBA champion Amir Khan and IBF champion Zab Judah squared off with Khan stopping Judah to emerge as the partially unified champion. However that momentum got lost after Lamont Peterson outpointed Khan to collect unify their titles in 2011 only to get suspended for testing positive for a banned substance after that fight. He was stripped of the WBA title, but managed to hold onto the IBF title and did not fight throughout 2012.
Presently Danny Garcia (27-0, 16KOs) who currently holds two belts is recognized champion of the division following his sensationally knockouts of both Amir Khan and Eric Morales in 2012, followed by a points win over Zab Judah and his shocking upset destruction of power punching slugger Lucas Mattysse in 2013.
Ruslan Provodnikov (23-2, 16KOs) just defeated Mike Alvarado to became the WBO champion in a move certain to breath fire into the division and Peterson (31-2-1, 16KOs) is already set to make his mandatory defense in DC. Both fighters might become future challengers to Garcia in 2014 in fights that can be easily promoted due to the marquee value of these fighters. The unknown but unbeaten Allkhverdiev (19-0, 9 KO's) is the IBO and WBA interim titlist so he is a force to be reckoned with in any unification contest to occur.
This division is ripe for a tournament if any of the cable networks decides to take a chance but unless such a unification tournament takes place, look for the division to remain partially splintered for the foreseeable future.
But not to worry, Danny Garcia is intent on remaining the dominant champion in the division and will not be letting go of the WBA or WBC titles anytime soon.
LIGHTWEIGHT
Weight Limit: 135 LBS
WBA: Richard Abril (CUB)
WBC: Adrien Broner (USA)
Omar Figueroa (USA)
WBO: Ricky Burns (UK)
IBF: Miguel Vazquez (Mexico)
IBO: Daud Yordan (Indonesia)
The championship picture remained unchanged in this division in 2013 with only Abril filling the vacancy at the WBA. Adrien Broner (27-1, 22KOs) who looked like the savior for the division instead stepped up to Welterweight, dethroned Malignaggi the WBA defending champion, only to get manhandled by true welterweight Marcus Maidana. It is unlikely he will step back down to defend his WBC title, but after such a disastrous outing against Maidana he might seek to redeem himself in a unification fight against Britain's WBO Champion Ricky Burns (36-2-1, 11KOs) if that fight can be arranged.
If Broner chooses to redeem himself via that route he can provide the spark for the division, but therein lies the unification dilemma of this division, as he might not be interested, derailing hopes of an even a partially unified champion emerging in 2014.
SUPER FEATHERWEIGHT
Weight Limit: 130 LBS
WBC: Takashi Miura (USA)
WBA: Takashi Uchiyama (Japan)
IBF: Rances Barthelemy (Mexico)
WBO: Mikey Garcia (Puerto Rico)
IBO: Will Tomlinson (Australia)
Back in the nineties there was a lot of excitement in the Super Featherweight division when fighters like Eric Morales, Acelino Frietas, Oscar De La Hoya, and even Manny Pacquiao ruled, partially unified and passed through this division. Presently we have an untested gang of champions enthroned at the various organizations.
Both Gamaliel Diaz (WBC) and Roman Martinez (WBO) got dethroned in 2013 by Takashi Miura and Mikey Garcia respectively and breathed a lot of excitement into the division. Takashi Uchiyama (21-0-1, 17kos) just survived a highly spirited challenge for his title by Daiki Kaneko and Takishi Miura punished his recent challenger to keep his title in 2013 in the tournament in Japan.
The good news is that both Uchiyama and Miura are based in Japan and might get embroiled in a unification battle. The winner from that contest we hope would make a reckless gamble and attack one of the other champions from across the seven seas in a lightning strike, but determining at which point at sea to pitch the battle might be too complicated to arrange in 2014.
But if Garcia and Mendez could settle the score in North America and the Takashi's can unify their Samarai clan who knows…
FEATHERWEIGHT
Weight Limit: 126 LBS
WBC: Jhonny Gonzalez (Mexico)
WBA: Simpiwe Vetyeka (RSA)
Nicholas Walters (Jamaica)
IBF:    Evgeny Gradovich (Russia)
WBO: Orlando Salido (Mexico)
IBO: Simpiwe Vetyeka (South Africa)
Another extremely violent division that saw its champions Daniel Ponce De leon (WBA) and Billy Dib (IBF) dethroned in 2013. Even Chris John, the long time reigning WBA champion who was collecting plaques about his longevity got summarily dispatched near the end of 2013 by South Africa's Simpiwe Vetyeka (26-2, 16KOs).
Ponce De Leon lost his WBC belt to former Bantamweight King Abner Mares after stopping former champ Jhonny Gonzalez (55-8, 47KOS) who rebounded back with a string of victories before scorching the same Abner Mares in 2013.
The situation at the WBA is confusing as Simpiwe is the Super Champion and Walters is the regular champion, and you would expect a house cleaning right away, but Vetyeka is already scheduled to defend his IBO and WBA titles.
The IBF's Gradovich might be they only champion who could launch an offensive as he has had two defenses including stopping former champ Billy Dib in a rematch, he has not stated his future intentions yet.
All we can hope for is a unification battle between Orlando Salido (40-12-2, 28kos) and Jhonny Gonzalez in Mexico, but it is far-fetched, as they both have already scheduled defenses in early 2014.
The debilitated champions that emerge might still need to put out more house fires before they would even dream of annexing more territory in 2014.
SUPER BANTAMWEIGHT
Weight Limit: 122 LBS
WBC: Leo Santa Cruz (Mexico)
WBA: Guillermo Rigondeaux (Cuba)
Scott Quigg (UK)
IBF: Kiko Martinez (Spain)
WBO: Guillermo Rigondeaux (Cuba)
IBO: Thabo Sonjica (South Africa)
At the beginning of 2013 both the IBO and IBF belts were vacant, but the division still had they exciting Abner Mares, two time Olympic gold medalist Rigondeaux and 2012 BWAA fighter of the year Nonito Donaire in its championship ranks.
The anticipated fight between Mares and Donaire never came to fruition despite calls by Mares to that effect. But to our delight a unification fight between Rigondeaux and Donaire took place and to our shock the Cuban put on a boxing clinic on the bewildered Donaire to unify the WBA and WBO titles providing more clarity in the division.
Rigondeaux (13-0, 8KOs) followed that performance by again outpointing King Kong Agbeko in another boxing clinic to remain the unified WBA and WBO champion. But sometimes be careful what you wish for as Rigondeaux clinical boxing style has not endeared him to fans except to the puritans few among them, so in spite of his technical brilliance it might become difficult for the networks to justify another tournament or even a unification fight with newly minted champions Kiko Martinez (29-4, 21KOs) or Leo Santa Cruz, (26-0-1, 15KOs).
However fights have to happen and partial unification is possible and we hope will happen before "too good for his own good Rigondeaux" soaks out the remaining enthusiasm in the Division in 2014.
BANTAMWEIGHT
Weight Limit: 118 LBS
WBA: Anselmo Moreno (Panama)
WBC: Shinsuke Yamanaka (Japan)
IBF: Stuart Hall (UK)
WBO: Tomoki Kameda (Thailand)
IBO: Alexander Bakhtin (Russia)
Typical of Bantamweight division, and once again highlighting how competitive the division really is, both IBF's Leo Santa Cruz and the WBO'S Singyu got dethroned by Stuart Hall and Tomoki Kameda respectively in 2013.
Moreno (34-2-1) appears to be staying put in the division after his disastrous climb to the super bantamweight division. The Empire of Japan's Yamanaka (20-0-2) made three defenses of his title against foreign invaders in 2013 and the WBO'S Kameda even ventured to neighboring Phillipines to successfully defend his title. We hope that the Empire of Japan with its long Samurai traditions of having supreme overlords would force a confrontation between these two combatants to provide more clarity in the division.
Besides that happening, look for each champion to mount impregnable defenses against foreign championship invaders only to get dethroned by the contenders within their ranks in 2014 just like it happened in 2013.
SUPER FLYWEIGHT
Weight Limit: 115 LBS
WBC: Srisaket Sor Rungvisai (Thailand)
WBA: VACANT
IBF: Daiki Kameda (Japan)
WBO: Omar Narvaez (Argentina)
IBO: Edrin Dapudong (Philippines)
An often repeated remark, but indicating how competitive and brutal this division south of 1222 pounds really is, neither Yota Soto (WBC), Kohei Kono (WBA) Juan Carlos Sanchez Jr (IBF) or even the IBO's Gideon Buthelezi survived the brutal year of 2013 as the all fell before the fistic swords of the current champions after a similar game of musical chairs back in 2012.
In 2013 we had hoped that Yota Sato and Kohei Kono were on a collision course as they were both based in Japan, but that fight did not happen. The WBC title is vacant and the new champions are still wet behind the ears and might have to face mandatory contenders within their ranks. After the smoke from all that has cleared we might be looking at a new class of champions to derail any real hope of a unified champion emerging in this Division in 2014, but in Japan the can easily recognize who their champions are at the end of the day.
FLYWEIGHT
Weight Limit: 112lbs
WBC: Akira Yaegashi (Japan)
WBA: Juan F. Estrada (Mex)
Juan Carlos Reveco (Arg)
IBF: Moruti Mthalene (South Africa)
WBO: Juan F. Estrada (Mex)
Mexico's Juan Estrada 25-2-0 18 KO's hold both the WBA unified title and the WBO title so he is the figurehead of the division, but that by no way means he is the legitimate king of the division as all the other champions are equally as violent.
Given the location of the various fighters and the fact that they may be promoted by different groups it is unlikely that there can be unification in this Division. But there are rumblings from down below as, WBA Junior Flyweight champion Roman Gonzalez is looking to fight Yaegashi.
But Yaegashi fresh off his win over Edgar Sosa appears not be interested and we hope he might convince his feudal lords to sponsor a tournament to bring what he considers the more worthier contemporary champions to Japan for him to steamroll over.
Keep on dreaming please, we are not done yet.
JUNIOR FLYWEIGHT
Weight Limit: 108 LBS
WBA: Kazuto Ioka (Japan)
WBA: Roman Gonzalez (Nicaragua)
WBC: Andrian Hernandez (Mexico)
WBO: Donnie Nietes (Phillipines)
IBF: John Riel Casimero (Philippines)
Bucking the trend of the other division is the Junior Flyweight division whose champions have valiantly defended their eminent domains against multiple challengers and two of the champions Nietes and Casimero are from the Philippines.
We can only hope that a miracle occurs so that the Nietes and Casimero can face each other to unify their titles in all Filipino affair, but that is as good as the story gets as the WBA's Ioka just retained his title in the Japanese tournament, but he still has to face Super champ Roman Gonzalez (37-0, 31kos) to assume supremacy of his division and the WBC'S Hernandez is in far away Mexico.
Since all the other champions are not based in Japan and under different promotional banners it would take more wrangling than usual to produce a unified and undisputed champion unless the Empire of Japan lays out a ton of cash for a tournament for Iota to conquer all the other champions in a super tournament in 2014.
Let's dream on.
STRAWWEIGHT
Weight Limit: 105 LBS
WBC: Xiong Zhao Zhong (China)
WBA: Ryo Miyazaki (Japan)
WBA: Hekke Budler (South Africa)
IBF: Katsunari Takayama (Japan)
WBO: Merlito Sabillo (Philippines)
IBO: Hekke Budler (South Africa)
In 2013 we had hoped that Fuentas (WBO) and Rodriguez (IBF) might seek to unify their titles in a Mexican Super fight, instead they both got dethroned in 2013. The only new entrant to the division, the WBO'S Sabilo, is an unknown variety and we do not anticipate any static for a unification fight involving him in 2013.
The Empire of Japan lost a belt when Xiong Zhong (20-4-1, 11KOs) picked up the WBC title vacated by Kazuto Iota in 2013, but Ryo Miyazaki (18-0-3, 10 KOs) is still holding on to the WBA despite suffering a third round loss recently and Katsunari Takayama just dethroned Mario Rodriguez for the IBF title, so Japan has two reigning champions, although the fate of Miyazaki is still in dispute
The vicious Hekke Budler is the rising star of the division after three successful defences of his IBO belt and annexing the WBA interim minimum weight title to his collection and looks set to be enthroned as the WBA king after Miyazaki's fate is determined, but he is based in South Africa and would need to venture out to the west so he can pick up more boxing fans. But given that all the champions are from different countries and organizations it is very unlikely that a unification tournament can be arranged.


We can only hope that the empire of Japan sponsors a tournament to bait one of the other champions to come to Japan to be feasted on by Katsunari Takayama so that the recognized Strawweight Champion is Japanese.
Well, all dreams come to an end and now the ball is in your court to make them happen. See you in 2015.
********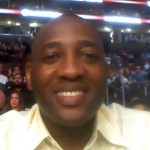 Please check out "United and Undisputed Championship Hopes for 2013" written by Michael Amakor the Chief Scribe of FightKings.Com. You can follow him at www.facebook.com/fightkings
Related Articles: