Posted by George Hanson., Jr Esq. on Nov 6, 2012

Categories:
Featured Article
|
Comments Off

on Walking in the Rain—Boyd Melson
The Mouthpiece
By: George H. Hanson Jr., Esq.| October 30, 2012
It was Grammy winning artist, Eve, who is one of my favorite rappers and a Philadelphia home-girl who profoundly stated that when you are a writer, "words are your paint and life is your canvas." It is my good fortune that boxing is my passion and that I live in arguably the greatest boxing town in the world—Philadelphia—the epicenter of the sweet science connected to everyone and everything relevant to the art of striking an opponent masterfully with gloved fists. Many of my stories derive from the boxing community. Almost everyone I meet— young prospects, retired fighters, trainers, managers, promoters, matchmakers, publicists—have suggested a plethora of topics—oftentimes themselves or some upcoming pugilist under their control. There are at least fifty "recommendations" annually, of which I usually complete five. Over the years I have used the brushstrokes of my pen to represent many notables including Joey Giardello, Harold Lederman, James "Black Gold" Shuler and Smokin' Joe Frazier. It is impossible to take on every project or I would never have time to sleep. But, there aren't too many opportunities to pen a piece on a West Point graduate turned professional boxer fighting for a cause more monumental than the venerated institution from which he earned his degree. Thus, I had to follow my instincts and publicist Matt Yanofsky's recommendation to interview his client—Boyd "Rainmaker" Melson.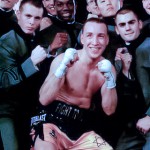 Melson and West Point cadets.
Melson appears simple, yet complex and intriguing. Thus, I felt like Michelangelo about to paint the ceiling of the Sistine Chapel—unwilling to paint with a broad brush, more concerned with using a linear method in adding detail and texture. I wanted to start this article by telling you that Melson is as we would say in colloquial terms a "baaad man!" And he is— grandson of Holocaust survivors, amateur boxing standout, West Point graduate, MBA, professional boxer and Brooklynite! But, I have to make a more profound statement that can encapsulate or capture the essence of this humble, driven crusader who is using boxing as his platform to bring an end to spinal cord injury ("SCI"). Allow me to steal or paraphrase the great Oprah Winfrey by saying "Boyd Melson is planting trees from which he will never sit under their shade." He donates every dollar he earns in the ring to research that is extraordinarily promising in curing SCI. As the Caped Crusader—Batman— storms Gotham City to eradicate crime, Melson joined the punch-for-pay ranks to knock out spinal cord injury.
We live in an era where money and accolades are predicated on perception as opposed to reality—Melson is the real McCoy—as authentic as the Mona Lisa on permanent display at the Musée du Louvre in Paris. In 1999 he became enamored with the sweet science via a mandatory gym class, during his freshman year at the United States Military Academy at West Point. Melson reveled in the battle of wills he faced in the squared circle and was hooked on what he considers the truest form of competition. He was selected for the US Army World Class Athlete Program, and sent to Fort Carson, Colorado. He never looked back becoming a four-time United States Army champion, winning the gold medal at the 48th World Military Boxing Championships in 2004. In 2005 the West Point grad made it to the welterweight quarterfinals of the World Amateur Boxing Championships where he lost to the supremely talented Cuban and eventual gold medalist Erislandy Lara.
It was during his senior year at West Point that Melson started dating Christian Zaccagnino, a young lady confined to a wheelchair. Zaccagnino had broken her neck at 10 years-old while diving into a pool. Despite missing three years of school (fifth – eighth grades) she not only graduated high school on time ,but she also went on to earn both a bachelors and masters. Melson embodied her mission to walk again and finding a cure for SCI became his mantra.
Melson had no desire to enter the squared circle as a professional pugilist. He qualified as an alternate on the 2008 US Olympic boxing team but didn't make the trip due to an injury. In 2010, after a three-year hiatus he realized that he had no stage to raise awareness in search of a cure for SCI and he missed the thing he loved the most—boxing. The sweet science would be his soapbox from which he would reach the masses and ultimately accomplish his goal. On November 20, 2010 he debuted in his hometown of Brooklyn at the Aviator Sports Complex winning a four-round unanimous decision over Andrew Jones. To date, Melson has compiled an impressive record of 10 wins – 1 loss – 1 draw – 4 kos. The two blemishes on his dossier—a hard fought draw in his last bout on October 20th on the undercard of his friend, junior-welterweight champion Danny Garcia's stunning knockout of Erik Morales at the Barclays Center in Brooklyn—and an eight-round controversial decision in which he had undefeated Delen Parsley on the canvas twice back in March.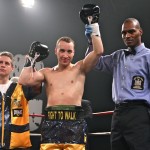 Professional boxing is Melson's third gig as he is a Captain in the US Army Reserve and a full-time Medical Sales Representative for the Ethicon Division of Johnson & Johnson. He donates all of his boxing purses to SCI research. According to Melson in the US there are over 300,000 people confined to wheelchairs and approximately 40,000 of them are veterans. Melson implores everyone to donate to www.justadollarplease.org, a non-profit organization that raises money for SCI research. Most important, in order to increase awareness in the boxing community, he created Team Fight to Walk which comprises professional fighters including— two-time IBF cruiserweight champion Steve "USS" Cunningham, Shawn Estrada, Demetrius Andrade, Deandre Latimore, Denis Douglin and former Rutgers University football player, Erick LeGrand, who became paralyzed while making a tackle on October 16, 2010, but has since regained movement in his shoulders and sensation throughout his body.
It is no surprise that Muhammad Ali is Melson's favorite boxer. It was the bold, brash and driven Ali who took a principled stance in not only keeping the issue of race at the forefront, but also the unjust war that was being waged in Vietnam. Like Ali, Melson is sedulous, unafraid and indefatigable in his mission. The Greatest shook up the world inside and outside the ring and his indelible mark on the fabric of humanity will never be erased. I am confident that SCI will soon be a thing of the past. And that my friends will be Melson's biggest victory—at least 300,000 more people—walking in the rain!
Continue to support the sweet science, and remember, always carry your mouthpiece!
Related Articles: