Posted by George Hanson., Jr Esq. on Jun 14, 2011

Categories:
Featured Article
|
Comments Off

on What the Froch! The Road Warrior Outhustled
The Mouthpiece
What the Froch! The Road Warrior Outhustled
By: George H. Hanson Jr., Esq.
Date: Saturday, June 4, 2011
Venue: Boardwalk Hall – Atlantic City, New Jersey
Promoters: DiBella Entertainment, Warrior Boxing and Carl Froch
Coverage: Showtime Championship Boxing – Super Six World Boxing Classic
Commentators: Gus Johnson, Al Bernstein, Antonio Tarver and Andre Ward
Ring Announcers: Jimmy Lennon Jr. & Joe Antonacci
Referees: Earl Brown, Eddie Cotton & Steve Smoger
Photos: Lou Babich Jr.
Glen "The Road Warrior" Johnson was decked out in an immaculate white cotton shirt flanked by his gorgeous wife, Jillian Hall-Johnson, as he entered the press room. Besides the ringlet of perspiration forming on his brow, there wasn't a mark on his face or any evidence that he had just battled relentlessly for 12 arduous rounds. Gracious, humble, articulate and introspective he thanked everyone including his trainers, manager and promoter, Lou DiBella. He reflected on the longevity of his team and their unwavering loyalty to each other and was crystal clear that he is not finished and will be back. Next up was the mercurial promoter who is a one-man show and should charge admission to his press conferences. I must confess that my presence was greatly influenced by the opportunity to witness DiBella's oratorical skills seasoned with some timely expletives. It is refreshing that despite a Harvard Law degree, my fellow alum, DiBella, can elicit fond memories of the late, great comedic genius Richard Pryor while "keeping it real." Veritas!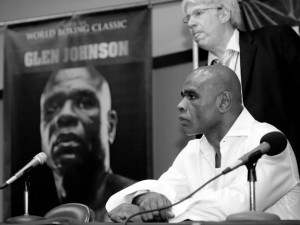 An introspective and unmarked Johnson at the post-fight press conference.
Taking his cue from Johnson, DiBella, known for his entertaining remarks laced with more "F-bombs" than Pryor on Sunset Strip, must have stopped off at the dry cleaners in the hotel and washed his diction because it was sparkling clean. Paying homage to the future Hall of Famer he quipped: "It has been said that if you don't love Glen Johnson, you don't love boxing. You never get less than 100% from Glen Johnson." Truer words could not have been spoken because earlier the 42-year-old grizzled veteran fought tooth and nail in a failed attempt to wrestle the WBC super-middleweight belt from defending champion Carl "The Cobra" Froch of Nottingham England in the semi-finals of the Super Six Tournament that began back in October 2009. Froch prognosticated that he would trounce Johnson and win every round. Naturally, I thought the Englishman was out of his "froching" mind because nobody pitches a shut-out against Glen "The Road Warrior" Johnson.
What the froch happened? Johnson (51 wins – 14 losses – 2 draws – 35 kos) of Miami, Florida by way of St. Catherine Jamaica was first to enter the ring decked out in a white construction hard-hat and a Miami Heat warm-up Jersey. There was an air of relaxation and supreme confidence as he jigged rhythmically to the reggae music that accompanied his ring walk. Froch (27 wins – 1 loss – 0 draws – 20 kos) made his way to the ring with Welcome to The Jungle by Guns N Roses blaring over the house speakers adorned in his traditional black outfit. Kudos to the Englishman for selecting a song that he knew would be descriptive of his scheduled 36 minutes of fighting with Johnson, who has a "kill or be killed" attitude while trying to decapitate his opponents.
Froch (L.) in a heated exchange with Johnson.
The gong sounded for the opening round and Johnson, true to form, went at Froch with a sledgehammer jab walking forward like a Sherman tank. With his hands at waist-length, Froch jabbed while retreating. Maybe he was rethinking his braggadocios prediction of winning all the rounds. Johnson turned up the intensity in the second round and caught Froch with a blistering right hand under the heart that momentarily short-circuited the champion who kept moving backwards while throwing combinations in his traditional Olympic-style fashion. Johnson just kept coming forward picking off most of Froch's arm-punches with his high-handed defense. After the first three rounds it appeared that there would be a celebration in Miami and Kingston, Jamaica as Froch seemed befuddled by Johnson's relentlessness while landing hard punches. However, he must have remembered Johnson's second fight with Chad Dawson and started asserting himself while staying on the outside not allowing Johnson to control the momentum. For every punch Johnson landed, Froch responded with a combination. There was nothing significant, since Froch rarely ever punches with leverage. Nevertheless, he impressed the audience and the ringside judges. Begrudgingly, I scored rounds four and five for Froch.
The fight became the bull versus the matador as Johnson came forward landing the harder punches while Froch wailed away with arm-punch combinations that would have endeared him to the boxing judges at the Olympics. However, this is professional boxing, the hurt business and not the point system. Thus, I scored the next three rounds for Johnson and most notably the eighth when he blasted Froch with an overhand right and two left hooks. They fought toe-to-toe with Froch refusing to let his adversary break his will. If there were ever any doubts about Froch's chin and heart, they were allayed as he proved his temerity and showed a beard made of granite. Froch has heart and can take a punch! He swept the last four rounds by out-boxing and outworking the cagey warrior who never took a step backwards and occasionally found a home for his overhand right on Froch's chin.
Froch retained his title by majority decision as one judge scored it a draw 114-114 with the remaining two favoring him 117-111 and 116-112. He moves on to face WBA champion Andre Ward in the finals of the Super Six World Boxing Classic.
I may raise the animus of Hungarians, but I believe in freedom of speech. I would rather be thrown in the gorilla habitat at the Philadelphia Zoo to face a Silverback with my pen and pad than watch another round involving Zsolt "Firebird" Erdei (32 wins – 0 losses – 0 draws – 17 kos) of Hungary. The former WBO light-heavyweight champion (2004 – 2009) and cruiserweight champion makes watching paint dry an entertaining proposition. I first saw Erdei, competing as a light-heavyweight, at this same venue on the undercard of the Paul William vs. Sergio Martinez rematch. He won a unanimous eight-round decision over Samson Onyango in a bout so boring I was praying for a modern day Fan Man, to swoop down from the ceiling into the ring to disrupt the doldrums.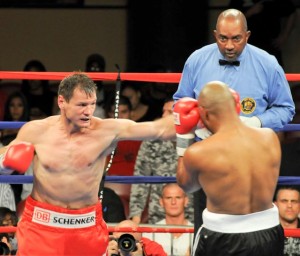 Erdei (L.) landing a jab on Mitchell.
Tonight in a scheduled 10-round light-heavyweight bout Erdei faced former WBA super-middleweight champion Byron "Gator" Mitchell (28 wins – 7 losses – 1 draw – 21kos) of Dothan, Alabama. Mitchell won the vacant WBA title on March 3, 2001 with a twelfth round technical knockout over Manny Siaca. He made two successful defenses before losing his belt via split-decision to Sven Ottke on March 15, 2003. Since that time he has won only three of his last eight outings, all five losses by stoppage. The 37-year-old Mitchell no longer has any gas left in the tank and should hang up his gloves. Despite being the same age as Erdei, from the opening bell it was obvious which fighter was battle-worn. Erdei danced around the ring tattooing the plodding Mitchell with rapid-fire combinations with little or no power.
They should have given the Hungarian the Olympic-style gloves with the white surface since he must have thought he had somehow transported himself to the 2012 Olympics in England as he tapped away at his opponent. Round after round Mitchell walked into combinations as raucous Erdei fans chanted his name like they were at a soccer match back home. Finally, a one-two combination dropped Mitchell in the sixth round. Slightly hurt, he quickly made it to his feet and took the eight-count. Shortly thereafter a right hand followed by a left hook deposited him on the canvas for the second time. Upon rising, Referee Cotton stopped this one-sided debacle at 1:58. I was relieved because I did not want to suffer through two more rounds of Erdei running around the ring like a fencer wearing boxing gloves.
The sojourn of Colombian pugilist Edison "Pantera" Miranda (33 wins – 5 losses – 0 draws – 29 kos) has been well-chronicled. Abandoned by his mother when he was only a month old, he survived a foster home and the tough streets of Colombian to meet his mother again when he was nine, only to be rejected and cast-off for the second time. Boxing literally saved his life, as he slept in the gym and became an amateur star before turning professional at the age of 19 in 2000. I was overjoyed to see him making a "comeback" after being stopped by IBF super-middleweight champion, Lucian Bute in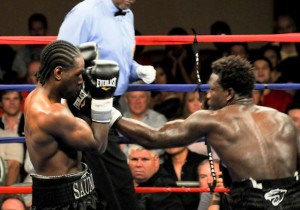 the third round on April 17th of last year. Despite losing five of his last twelve fights including a controversial decision loss in 2006 to then IBF middleweight champion "King" Arthur Abraham, Miranda is still a bankable fighter. The bout with Abraham should have been stopped by the ringside doctor since Miranda broke the champion's jaw in Round 4 with a right hand. To the behest of the viewing audience, Referee Randy Neumann allowed the fight to continue with Abraham's jaw swollen resembling a cartoon caricature. Neumann cost the Colombian a much-deserved title.
Miranda (R.) catching Saunders with a jab.
Fighting tonight as a light-heavyweight, Miranda showed much improved boxing skills as he toyed with Rayco Saunders (20 wins – 13 losses – 2 draws – 8 kos) of Pittsburgh, Pennsylvania for the entirety of their scheduled eight-rounder. Miranda worked behind a stiff jab, showed good lateral and head movement and landed at will. It was evident that Saunders was not on the same talent level as the Colombian who seemed comfortable just getting in some well-needed rounds. The bout turned into a sparring session and showcase of Miranda's vast array of skills. At one point he was so enamored with the ease with which he was executing his fistic maneuvers that he did the bunny hop. No, this isn't a typo—Miranda hopped right in front of Saunders who had a quizzical look on his face. No surprise at the conclusion of the match Miranda was awarded a unanimous decision 80-73 and 79-73 twice.
In an entertaining four-round middleweight bout, 23-year-old prospect J'Leon Love (6 wins – 0 losses – 0 draws – 5 kos) of Detroit, Michigan pitched a shut-out and captured a unanimous decision 40-35 on all three scorecards over tough once-promising Lamar "New Prince of Pain" Harris (6 wins – 7 losses – 3 draws – 4 kos) of St. Louis, Missouri. Love, a dead-ringer for former WBC & IBF junior-welterweight champion Devon Alexander, worked behind a stiff left jab, punching accurately with combinations to the head and body of Harris. In the opening round, he froze Harris in his tracks with a straight right hand that I thought would have leveled him on the canvas. However, the man from St. Louis ate it and kept coming forward. It was glowingly apparent that Love's hand speed was superior as he constantly beat Harris to the punch. In the third round, Love caught Harris with a short well-placed left hook on the side of the head that sent him to the canvas momentarily. Rising at the count of two, Harris traded shots with Love until the bell. The final round was spirited as Harris came forward with Love maintaining his dominance with speed and precision like a well-oiled machine. The Motor City has produced many great world champions including Joe Louis and Tommy "The Hitman" Hearns. Love should be on everyone's radar.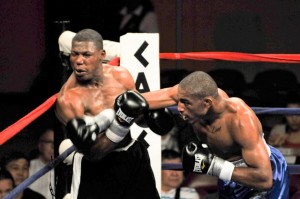 Love (R.) connects with a powerful right cross.
Other Results: 2008 Gambian Olympian Badou Jack (5 wins – 0 losses – 0 draws – 4 kos) of Sweden, now residing in Las Vegas was impressive, out-boxing and lambasting Hajro Sujak (6 wins – 1 loss – 0 draws – 2 kos) of the Bronx, New York for four rounds forcing Sujak's corner to wave the white towel of surrender at 1:30 of the fifth round of the scheduled six-round light-heavyweight bout. Jack who was born in Sweden of a Swedish mother and Gambian father is under the tutelage of former light-heavyweight champion Eddie Mustapha Muhammad who was in his corner. Ukrainian transplant, junior-welterweight southpaw Ivan Redkach (6 wins – 0 losses – 0 draws – 5 kos) now residing in Los Angeles won by technical knockout at 1:46 of the sixth and final round over gritty Alberto Amaro (6 wins – 5 losses – 0 draws – 2 kos) of Catano, Puerto Rico. The lanky Redkach who stands 5-feet-10-inches pressed the action from the onset and dropped his adversary with a whistling right hook in Round 5. However, Amaro was game and fought back every step of the way. Still standing after a barrage in the sixth round, Referee Smoger decided that he had seen enough and that Amaro had sustained too much punishment and called a halt.
Glen Johnson will be back after an amazing performance. As a Jamaican, I was hoping that Johnson could have landed the same devastating right hand that separated Allan Green from his senses in Round 8 of their November 6th fight—Johnson's first in the tournament as a replacement for an injured Mikkel Kessler. Green was in his second tournament fight having replaced Jermaine Taylor, who was sent into retirement by "King" Arthur Abraham who left him lifeless on the canvas in the twelfth round of their stage one bout. However, Froch proved his mettle and displayed a cast-iron chin while dazzling two of the judges with his Olympic-style boxing. They might as well take the trophy to the engraver and have Andre Ward's name etched into it in bold silver letters because Froch will not beat the American. There is a reason Ward is a 2004 Olympic Gold medalist, nobody is going to outbox or outscore him. He will beat Froch at his own game. Call me Nostradamus because I know what the froch is going to happen!
Continue to support the sweet science, and remember, always carry your mouthpiece!
Related Articles: