Posted by George Hanson., Jr Esq. on Sep 26, 2012

Categories:
Featured Article
|
Comments Off

on When Darkness Comes—Nelson Decisions Vasquez
The Mouthpiece
When Darkness Comes—Nelson Decisions Vasquez
By: George Hanson Jr., Esq.
Date:                          Friday, September 14, 2012
Venue:                       Harrah's Chester Casino & Racetrack, Chester, Pennsylvania
Promoters:               Joey Eye Boxing Promotions & David Feldman
Ring Announcer:   Larry Tornambe
Referees:                   Hurley McCall & Shawn Clark
Matchmaker:           Joey Eye
Coverage:                  www.gofightlive.com
Photos:                      www.christoneyphotography.com
I have always been fascinated with vampires and the possibility of living forever.  Count Dracula, an iconic symbol, is somewhat of a role model. Dressed in immaculately tailored suits showing his sartorial splendor the Prince of Darkness pops up out of "bed" as the sun goes down for a night on the town. The years are passing and I am as close to meeting a vampire as the world is to eradicating racism and classism. However, the written word lives forever. Thus, I write because that is the only way I will still be around after Darkness has taken my soul to the other side. Five hundred years from now I hope that boxing aficionados will read this article. And I want them to know that on a glorious Fall day boxing fans gathered in a packed hall and witnessed two pugilists from the hotbed of boxing—Philadelphia—rumble for ten incredible rounds and hugged in a show of respect when the final bell sounded.
I want them to know that a little coiffeur by the name of Victor "The Fighting Barber" Vasquez roamed the badlands of The Legendary Blue Horizon and The Arena packing both venues with his rabid fans keeping them on the edge of their seats with his bravado, courage, machismo and undying will to win. They have to know that this dude never turned down a challenge and was the biggest ticket seller in a town at a time when the great Bernard Hopkins was either a contender or world champion. And tonight it was the 29-year-old Vasquez (15 wins – 6 losses – 1 draws – 7 kos) who engaged a fighter seven years his junior in a frenetic epic battle that lasted the scheduled ten rounds for the vacant Pennsylvania State Lightweight title.
I want them to know that Naim "The Dream" Nelson (7 wins – 0 losses – 0 draws – 1 ko) with only 16-months of professional fighting skipped eight-rounders and went straight to a ten-rounder in only his eighth bout. They must know that in the second round bleeding profusely from a cut above his right eye, probably caused by an inadvertent clash of heads, Nelson was introduced to the canvas for the first time in his career. Vasquez caught the young pugilist with an uppercut that deposited him on the canvas for a split second.  I want them to know that the young man never panicked and showed the calmness of a seasoned veteran as he fought on even terms for the remainder of the round.
I want them to know that Nelson's cutman, Jimmy Williams, worked his magic and the cut never became a factor or distraction to his client. Nelson and Vasquez waged war for the entire match with both dishing out punishment hoping to render the other hapless on the canvas as the crowd reveled in the excitement.  And when it was over you knew that this was Nelson's rite of passage. Phooey to those who on the ubiquitous social network, Facebook, stated that it was going to be an easy fight for the undefeated prospect.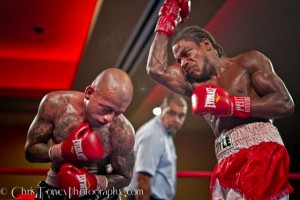 I want them to know that oftentimes I am critical of boxing judges who for the most part are either blind, near blind or have absolutely no clue how to score fights. Tonight was no exception as they had it 98-91, 97-92 and 96-93 all for Nelson. At least I can take comfort that the final judge got the score correct!
I want them to know that the last time I saw junior-featherweight Arthur "The King" Parker (1 wins – 7 losses – 0 draws – 1 ko) of Lancaster, Pennsylvania was back in 2007 when he was on the losing end of a controversial four-round majority decision loss to Jules Blackwell. The little monarch was back and in good spirits. The diminutive fighter who holds a Bachelor's degree in Accounting from Millersville University was fighting for the first time since 2008 having converted to mixed-martial arts where he had already competed in nine matches.
In what could be billed as the battle of the southpaw scholars, Parker squared off against Philadelphian Alex "Macho" Barbosa (3 wins – 0 losses – 0 draws – 1 ko)—a graduate of Temple University with a Bachelor's degree in Criminal Justice.  Parker stepped in as a last minute replacement for Barbosa's originally scheduled opponent.
I want them to know that it would have been more palatable if the judges had lay waited Parker in the parking garage, hit him over the head with a billy club and relieve him of the contents of his wallet. Because they possibly could not have watched the same four rounds in which Parker befuddled, beguiled and out boxed Barbosa who seemed to be two steps behind the slick southpaw. The little man from Lancaster showed no ring rust as he was in charge from the opening bell working behind his southpaw jab, peppering at a distance and disappearing at will.
Barbosa's corner screamed throughout the bout but, it made no difference.  A cacophony of boos filled the house as scores of 39-37 twice and 38-38 were announced in favor of Barbosa who received an early Christmas gift. Once again the "Three Blind Mice" continue to make a compelling argument for mandatory eye examinations and drug testing for judges.  Moral or lesson to be learned by Barbosa's management: don't face a southpaw king at the last minutes and don't judge an opponent by his record.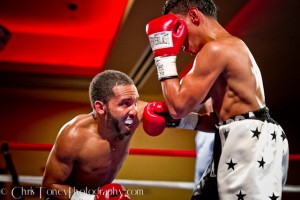 I want them to know that Parker and Barbosa weren't the only college men on the card. Joining them was Chester's favorite son—Julio DeJesus (5 wins – 3 losses – 2 draws – 3 kos)—who holds a Bachelor's degree in Criminal Justice from Penn State University. In a scheduled four-rounder DeJesus chased Philadelphia's Gabriel Diaz (1 win – 1 loss – 1 draws – 0 kos) around the ring hoping to engage him in a fight. However, the fleet-footed Diaz demonstrated brilliant lateral moving and the uncanny ability to change directions
effortlessly.  However, even though the great Willie Pep once won a round without throwing a punch it was difficult to give Diaz four rounds for coming close to replicating Pep's feat. The Philadelphia fighter threw sporadically as DeJesus came forward throwing with bad intentions trying to start a fight. It takes two to tango and for whatever reason Diaz was content on demonstrating his defensive capabilities.  DeJesus won by scores of 40-36, 39-37 with the third judge scoring it even at 38-38.
Writing about boxing is often nostalgic. And, I am not about to forgo the opportunity to continue that trend. I want them to know that Philadelphia light-heavyweight Todd "2Gunz" Unthank-May (4 wins – 0 losses – 0 draws – 2 kos) was impressive in winning a four-round unanimous decision 40-36 on all three scorecards over cross-town rival Taneal Goyco (4 wins – 3 losses – 1 draw – 2 kos). Goyco is no easy test for anyone because he is strong, unpredictable, has a cast iron chin and never takes his foot off the gas. The gong sounded and he jumped all over Unthank-May like a defensive lineman on fumble. Never giving ground the undefeated fighter stayed in the trenches and went to war with Goyco using his speed and defensive capabilities to evade punishment and get the better of the toe-to-toe fighting.  Unthank-May not only demonstrated his in-fighting skills but he also showed that he was adept at keeping his opponent on the end of his jab and boxing effectively from long range. I want them to know that tonight  Unthank-May opened many eyes and is causing me to mount my soapbox and proclaim him as a future world champion. He was that inspiring against a dangerous opponent.
I want them to know that boxing is probably the last frontier in which people can still compete on equal terms. One's socio-economic standards, religion, race, creed or upbringing doesn't matter—facing another pugilist in the squared circle is the ultimate equalizer. And that my friends, is why fans packed the venue tonight to witness another exciting display of pugilism.
Philadelphia heavyweight Mark Rideout (1 win – 0 losses – 0 draws – 0 kos) looked sharp out boxing tough Lonnie Kornegay (1 win – 6 losses – 2 draws – 0 kos) of Baltimore, Maryland, winning a majority four-round decision by scores of 40-36 twice and 38-38.
Hackensack, New Jersey's junior-middleweight Edwin Soto made short work of Philadelphia's Joshua Rivera in their professional debuts. The southpaw Soto caught Rivera on the ropes and chopped him down, wailing away at the head and body until his adversary folded like a used pawn shop lawn chair forcing referee Clark to call a halt at 2:52 of the opening round of the scheduled four-rounder.
I want them to know that Philadelphia has a rich boxing history and oftentimes the torch is passed from father to son. Many know that Eugene "Cyclone" Hart was one of the city's middleweight quartet (Hart, "Bad" Bennie Briscoe, Bobby "Boogaloo" Watts, Willie "The Worm" Monroe) that faced the great Marvelous Marvin Hagler in the 70's and cemented his legend as the baddest man on the planet during that era. Hart was such a murderous puncher that during my amateur career I once saw him put a light-heavyweight to sleep during a sparring session with 16-oz gloves. Tonight the old man was in the corner of his son—super-middleweight prospect—Jesse "Hard Work" Hart (2 wins – 0 losses – 0 draws – 2 kos) for his bout against Yonkers, New York's Lekan Byfield (2 wins – 1 loss – 1 draw – 0 kos).  The apple doesn't fall far from the tree as the fight had barely started when Hart countered Byfield with a right uppercut that drove him to the canvas, crashing on his left side. Byfield was temporarily paralyzed and struggled to get up, replicating Trevor Berbick's attempt to remain upright after being imploded by Mike Tyson. Referee Hurley McCall stopped the fight as Byfield got up on spaghetti legs, pitched forward into him almost sending both of them through the ropes into press row. Hart was declared the winner by technical knockout at only 28 seconds of the opening stanza!
I would be remiss if I didn't let them know that we tolled the ten-count for the passing of trainer and cutman Willie Folks, a Philadelphia stalwart for over 40 years who left an indelible mark on the sweet science and will be forever a patch on the rich boxing quilt of our city. Folk was honored in a memorial service on Tuesday that was packed with members of the boxing community.  I want them to know that light-heavyweight Todd Unthankmay entered the ring wearing the white headband that was Mr. Willie's trademark.
Darkness came and took our friend.  However, just as the written word, Mr. Willie will live forever!
Rest in Peace my friend.
Continue to support the sweet science, and remember, always carry your mouthpiece!
Related Articles: