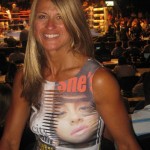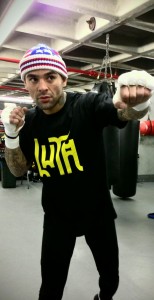 Interview by Pattee Mak | December 17, 2013
Welterweight Luis Collazo (37-5-0, 17 ko's) former WBA welterweight world champ will be starting 2014 off right. On January 30, 2014 he is scheduled to be the main event against Season 16, Dancing with the Stars contestant "Vicious" Victor Ortiz (29-4-2, 22 ko's) of Oxnard, California at the Barclays Center, Brooklyn, New York. The bout is scheduled for 10 rounds and will be televised live on Fox Sports 1.  This time around a new audience will be glued to the fight and not just boxing fans but also Dancing with the Stars fans.
Pattee Mak:  How excited are you to be fighting in Brooklyn. Your City! Your Home! Your Neighborhood!  Originally Ortiz was going to fight Alfonso Gomez but he suffered a hand injury.  Tell me how did this fight come about?
Collazo:  Yea Gómez suffered an injury so they needed someone to step in so WHO better during super bowl week in NYC. Let's do it!!  I'm stoked for the opportunity, goin to be a good one.
Pattee Mak:  Is this the right timing in your career to take this fight?
Collazo:  Absolutely.  My state of mind and spirituality couldn't be better.  I'm truly ready for this outing.
Pattee Mak:  I feel this could be a difficult fight for both of you.  In the past I've seen you at the Ortiz vs. Berto fight, so I'm sure you've been eyeing in for some time now.  What do you know about his style of fighting?
Collazo:  I know Ortiz loves fighting.  He's a brawler that's why he's a fan favorite fighter. I'm a boxing fan first before anything. I watch all fighters. That's how you learn the sport of boxing by watching all fighters.
Pattee Mak:  Ortiz is well known in the media not only in boxing but also because of his role on TV and his upcoming movie role.  A brand new audience will be tuning in to see this fight. Tell me your thoughts on this?
Collazo:  LOL Well… That's awesome.   I hope he brings everybody from Hollywood to watch the fight cause that means I'm going to have new fans too. I just want to give everyone who loves boxing a night to remember.
Pattee Mak:  You are both southpaws.  What will be your game plan going into the fight?
Collazo:   Yes we both are. It's like two righties fighting. It shouldn't make a big difference.  A good fighter should adjusts and make the most of it.
Pattee Mak:  In Dancing with the Stars, Ortiz was knocked out of the competition. Are you going to do the same come the 30th?
Collazo:  I didn't get to watch him on the show. To be honest I'm just going to go out there do what I love to do and have fun with the opportunity and come out with the "W".
Pattee Mak:  You currently have 5 losses on your record. Some would say your fight against Ricky Hatton should have gone the other way.  Out of those 5 losses were they all legitimate losses?
Collazo:   Well I don't think so but they are there.  I take those losses as a blessing. It taught me a lot.  How to appreciate the opportunities we get in life and make positive choices with them. But hey I'm still here and come the 30th, I'll be ready to seize the moment.
Pattee Mak:  Since your shoulder injury back in 2011 you've been on a role winning your last 3 fights. Two by UD and one by TKO.   Is your shoulder still feeling in tip-top condition?
Collazo:  Yes!  Absolutely.  It feels great. I had a great therapist. Now I'm working with my new strength conditioning coach, David "Scooter" Honig and we are still working on making the shoulder stronger and better.
Pattee Mak:  That's fantastic news that you have healed.
Pattee Mak:  Since you are fighting once again in your hometown. Are you selling tickets and what would you like to say to your fans?
Collazo:  No I'm not selling tickets for the fight to my fans.  Thank you for all the support it means everything to me cause this is why I do what I do. So I can inspire or motivate those people that want to accomplish something in life that people say, "They can't do". But with God as your "GPS" you can't get lost to get to your final destination. We just got to have faith and go for it.
Pattee Mak:  I always said, "With God anything is possible".
Pattee Mak:  Thank you so much for taking the time to answer these questions via email. I'll be watching the fight next month. 
Collazo:  The pleasure was mine. Thank you once again for reaching out. Hope you have a blessed and Happy New Year.
(The above bout is subject to change.)  Questions or comments, feel free to comment below or follow me on twitter @PatteeMak or on facebook: Pattee Mak.
Related Articles: