Categories:
Fight Reports
|
Comments Off

on Abner Mares Roughs up 'Chemito' to cap blazing night of fights
LEO SANTA CRUZ & ALFREDO ANGULO WIN WITH IMPRESSIVE KNOCKOUTS
Saturday's SHOWTIME CHAMPIONSHIP BOXING® Telecast Will Replay TOMORROW At 9:30 a.m. ET/PT On SHOWTIME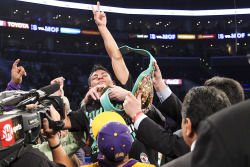 LOS ANGELES (Nov. 10, 2012) – Abner Mares defended his WBC Super Bantamweight World Title with a 12-round unanimous decision victory in the main event of Saturday's SHOWTIME CHAMPIONSHIP BOXING telecast in front of 6,341 of his hometown fans at STAPLES Center in Los Angeles.
Some of LA's finest, including Jack Nicholson, Metta World Peace, Caron Butler and Mickey Rourke were in attendance to witness a SHOWTIME tripleheader that showcased two crushing knockouts and a bruising, back-and-forth main event that featured a clash of styles that produced fireworks.
Referee Raul Caiz Jr., immediately had his hands full in the wildly entertaining opening round that saw Moreno touch the canvas from a push. The pace was set for the sensational scrap. While both champions were warned for fouls multiple times throughout and Mares knocked down Moreno for the first time in his career, the main event was closer than the official scores of 116-110 (twice) and 120-106 indicated.
The overhand right of Mares (25-0-1, 13 KO's) was the difference in the fight, as he went the distance for sixth consecutive fight and handed Moreno, who still holds the WBA Bantamweight belt, his first loss in 27 fights.
"There was a moment where I lost my concentration in the middle rounds, but I came back to my corner and they calmed me down," Mares said. "I could feel he felt my power and my aggression. He did take advantage of me when I waited too long, but he's a super champion and I gave him hell."
Mares, who came out blazing in the early rounds, knocked down the southpaw Moreno (33-2-1, 12 KO's) with a sweeping right to close out the fifth.
"I couldn't let him get comfortable with his style because he's very good. I made it my fight tonight. I was a little shocked when he went down. I felt the punch, but didn't think it was powerful. He had never been down and that was great. I want to fight Nonito (Donaire) next."
Moreno said, "The fight should have been closer and I am unhappy that the one judge didn't give me at least one round, but Abner fought a great fight. He's a great champion. He was very strong and I got caught by his shots. I was careless when I went down but it was a great fight for the people and I'm happy about that. It's not over yet. I'm still champion at 118 rounds and I'll be back."
Throughout the bout, Mares complained that Moreno constantly pushed his head down while Moreno griped about head-butts. Mares was warned repeatedly. Moreno was penalized one point in the 11th for pushing Mares' head down, a move that he seemed to claim was to defend against an incoming head.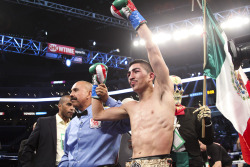 In a co-featured bout, Leo Santa Cruz kept his undefeated record intact and defended his IBF Bantamweight Title with a dominating and impressive ninth-round knockout victory over the tough and determined Victor Zaleta.
Hammering Zaleta body shots from the opening bell, Santa Cruz (22-0-1, 13 KO's) floored his game oppponent with his signature left hook to the body in the fourth with just seconds left in the round. Zelata Zaleta (20-3-1, 10 KO's) was able to survive and fight back in the subsequent rounds, but was knocked down again with one minute left in the seventh and barely survived the round. Midway through the ninth, Santa Cruz landed a brutal right-left combo to floor Zaleta and the referee quickly called the bout at 1:42. Santa Cruz had landed 342 of his over 800 punches thrown.
"He was a strong fighter, he made this a fight," Santa Cruz said right after his fight. "I was working the head and his body and I finally caught him and he went down. He was blocking my shots at first but I kept working and I got three knockdowns. I want one or two more fights so I can get more experience and then I want the winner of the Mares-Moreno fight."
Zaleta, who looked like he was finished at multiple times throughout the fight but continued to fight on valiantly, wasn't dejected following the loss.
"I have the heart and blood of a Mexican fighter," Zaleta said. "I'm a very proud fighter. He's very strong. I am usually a lower weight class and came up for this, so I definitely felt his power."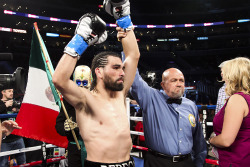 Alfredo Angulo was triumphant in his return to the ring, registering a knockout win in less than a minute over Raul Casarez. Angulo (21-2, 18 KO's) was emotional after landing a huge left hook that dropped Casarez (19-3 9 KO's) at 0:56 of the first round, the seventh first-round knockout of Angulo's career.
"There was so much emotion, I wanted to cry but I had to hold it in," Angulo said. "I had a lot of pressure but I knew I could get through it. I knew the dog was going to come back.
"Against (James) Kirkland I knew I wasn't prepared enough. I am now. I was listening to the crowd cheering for me and I was overwhelmed. Virgil (Hunter) has changed everything. We've worked a lot of defense and to not get hit. I could fight in 20 minutes if I wanted."
Amir Khan and Carlos Molina, who will square off on Saturday, Dec. 15 on SHOWTIME here in Los Angeles at the Los Angeles Sports Arena, were interviewed during the telecast by host Brian Kenny.
Kenny asked Khan about his countryman Ricky Hatton, who is preparing to make his comeback Nov. 24 in Manchester, England, live on SHOWTIME.
"Hatton has taken a long time off now," Khan said. "His last fight was in 2009, so that's a long time. I know what he wants to do – he wants to finish boxing with a win. He's coming back against a very tough guy in (Vyacheslav) Senchenko, but he can beat him and be back right where he wants to be.
When asked about the biggest fight of the young, undefeated Molina's career, he was respectful of the former world champion.
"We know the ability that Amir Khan has," Molina said. "I know he's hungry coming off those two losses so we are preparing for the very best Amir Khan.
Khan replied with a promise that he will be an improved and prepared fighter now that he is working with trainer Virgil Hunter.
"I am coming off of two losses," Khan said. "And I'm looking to finish the year with a good performance. This is the reason I made the change to Virgil Hunter and that means I will come back even stronger and smarter than before."
The fights will air on replay SHOWTIME on Sunday, Nov. 11 at 9:30 a.m. ET/PT, on Tuesday, Nov. 13 at 10:00 p.m. ET/PT on SHOWTIME EXTREME and will be available On Demand from Sunday, Nov. 11 through Saturday, Dec. 8.
Brian Kenny served as host of SHOWTIME CHAMPIONSHIP BOXING with Mauro Ranallo calling the action, Al Bernstein and Paulie Malignaggi serving as expert analysts with Jim Gray reporting. Barry Tompkins and Steve Farhood announced the fights on SHOWTIME EXTREME. David Dinkins Jr. was the Executive Producer with Bob Dunphy directing.
Related Articles: