Categories:
Fight Reports
|
Comments Off

on Algieri Defeats Peralta; Seldin, Kinda, and Gotay also Win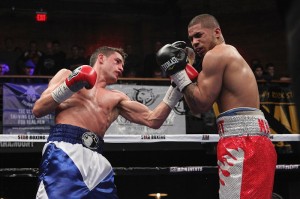 ALGIERI, SELDIN, KINDA, AND GOTAY BIG WINNERS AT ROCKIN' FIGHTS 7 SATURDAY NIGHT AT THE PARAMOUNT
HUNTINGTON, NEW YORK (February 24, 2013) Saturday night in front of a standing room only packed house of Long Island fight fans at The Paramount and a nationally televised audience on NBC Sports Network's FIGHT NIGHT, The Fighting Pride of Huntington, New York, Chris Algieri won the biggest fight of his pro career, capturing a ten round dominant decision over Jose "Mangu" Peralta of Jersey City, New Jersey in their junior welterweight bout.
"It was an electric evening and I'm very proud that once again Star Boxing was able to show the boxing world on this nationally televised broadcast the rich talent we have on Long Island" said Joe DeGuardia, President of Star Boxing. "This was our seventh straight sellout at The Paramount where the fan and media support has continued to be tremendous."
"Chris Algieri truly shined in the biggest win to date and we look forward to a very big 2013 for him. And the rest of our young stars on the Star Boxing team, Cletus Seldin, Issouf Kinda and Alan Gotay are to be commended for their terrific performances."
Using an excellent array of pinpoint jabs, blistering left hooks and powerful overhand right hands, Algieri controlled the action throughout the fight against the game but outgunned Peralta.
Scores at the end of the action filled ten rounder were 98-92, 97-93 and 96-94. With the win, Algieri stayed undefeated with a record of 16-0-0 (7KO's) while Peralta moved to 10-2-0 (6KO's).
Fighting for the sixth time at The Paramount, Cletus "The Hebrew Hammer" Seldin scored his eighth straight knockout victory, stunning the crowd at The Paramount by stopping New York City's Jonathan Cuba with a massive overhand right, which quickly stopped the action.
With the win Seldin improved to 11-0-0 (9KO's), while Cuba fell to 6-5-1 (4KO's).
In a scheduled eight round junior welterweight tilt, Issouf Kinda knocked out Phoenix, Arizona native Javier Loya in the second round, dropping him twice before the bout was halted.
Continuing to impress the Long Island fight fans, Kinda improved his undefeated record to 16-0-0 (6KO's), while Loya's record hits 7-2-0 (2KO's).
In a four round lightweight bout, Huntington, New York newcomer, 22-year-old Alan Gotay improved to 4-0-0 (2KO's) with a unanimous decision win over Cincinnati's Micah Branch, now 1-4-1. Scores were 38-37 on all three scorecards.
Also featured on the card in the NBC Sports Network FIGHT NIGHT main event, Philadelphia's Malik Scott, 35-0-1 (12KO's) and Vyacheslav "Czar" Glazkov, 14-0-1 (10KO's), battled to a ten round draw. Scores were 98-92 for Scott, 96-94 for Glazkov and 95-95.
On the undercard, junior welterweight Anthony Karperis of Hicksville, New York fell to 3-1-0 (2KO's), dropping a four round unanimous decision to Justin Johnson 5-4-4, of Clairton, Pennsylvania.
Rounding out the card, Philadelphia's Karl Dargan stayed undefeated taking a six round split decision over junior welterweight Rameses Gil, 8-6-5 (5KO's) of Santo Domingo, Dominican Republic. Scores were 58-56, 57-56 and 56-57.
FIGHT NIGHT was presented by Star Boxing, Main Events and Goossen Tutor.
MEDIA CONTACTS
Star Boxing, Main office, [email protected], 718-823-2000
Star Boxing, Bernie Bahrmasel, [email protected], 773-592-2986
ABOUT STAR BOXING:
Star Boxing Inc. is celebrating its 20th Anniversary in 2012. Star Boxing has worked to produce some of the most exciting and memorable boxing events in recent history. Star has continued to work with and develop a number of very exciting world champions, world rated contenders and young prospects. Star has consistently brought credibility, integrity, and exciting fights to the boxing industry. For more information on Star Boxing, visit their official website at www.StarBoxing.com and follow them on Twitter @ Star Boxing and Facebook at Star Boxing.
ABOUT MODELL'S SPORTING GOODS
Founded in 1889, Modell's Sporting Goods is the local family sporting goods destination that provides a convenient and compelling shopping experience for the athlete and fan in all of us. Modell's offers customers an assortment of top brands in sporting goods equipment, footwear and active apparel for every level of play year round. The retailer operates 153 stores located in New York, New Jersey, Pennsylvania, Connecticut, Rhode Island, Massachusetts, New Hampshire, Delaware, Maryland, Virginia and Washington, DC. In addition to www.Modells.com, which services customers all over the country.
ABOUT THE FOX HOLLOW
Nestled upon 8 private acres of Long Island's north shore is the Fox Hollow which features a state of the art event venue, fine dining restaurant and an all-suite luxury boutique hotel. Owned & operated by the Scotto Brothers, their Above & Beyond philosophy in providing each & every guest with superior services and amenities is paramount. Visit the Fox Hollow online at www.TheFoxHollow.com & www.TheInnAtFoxHollow.com
ABOUT THE PARAMOUNT:
Opened September 30, 2011 this 1,555 capacity live entertainment venue located in downtown Huntington, Long Island, features concerts, boxing, comedy, community and other special events. Booked by Live Nation, the Paramount has hosted over 150 events in its first year of operation and quickly established itself as the premier music venue on Long Island. Some recent acts to take the stage include Pitbull, Taking Back Sunday, The Pixies, Elvis Costello, Warren Haynes, Willie Nelson, Brand New, Goo Goo Dolls, Primus, Marilyn Manson, Korn, The Wanted, The Script, Panic! At the Disco and many, more.
Related Articles: