Categories:
Fight Reports
|
Comments Off

on Berto Escapes the Collazo Firestorm
By Michael Amakor l Photo by Naoki Fukuda l January 18th, 2009
Undefeated Andre Berto withstood the formidable challenge of former WBC champion Luis Collazo, to keep his WBA Welterweight (147lbs) title and pass his first test against stiff world class opposition in an entertaining fight to usher in 2009 at the Beau Rivage Resort & Casino, in Biloxi, Mississippi.
Collazo stormed and confused Berto with his southpaw stance jabbing, punching and staggering Berto straight back into the ropes before the second minute of the first round, a few moments later Berto returned fire landing some blistering head shots while trying to impose his superior strenght over Collazo to wind the second round.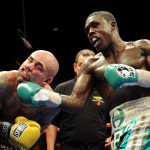 By the third round the winded Berto continued to square up to Collazo who used his superior infighting to steal the third round with excellent body shots forcing the discombulated Berto to continue to hold into the fourth round as he tried to get his wits about him repeatedly until the referee deducted him a point for holding after repeated warning giving the rounds to Collazo by default.
A straight right from Berto sent Collazo's mouthpiece flying through the air in the 5th, and in round six he began to pick Collazo apart with measured explosive head shots, to win the 7th and 8th rounds, but Collazo countered furiously with some withering body shots and numerous flurries to seize the 9th before losing his wind down the stretch as Berto surged mightily down the stretch to completely steal the 12th round from the back pedaling Collazo, making you wish post fight that you could make the judges take back their earlier submitted scores for Collazo who you vaguely sensed may have eeked out a close decision with his technical infighting in the earlier rounds and according to the HBO commentators observation during the fight.
However, the judges were having none of that as Larry Ingle and Gary Ritter scored it 113-114 for Berto, followed by the outrageous score of Bill Clancy scoring it 111-116 for Berto earning him scathing criticisms from ringside scribes and HBO's commentator Max Kellerman.
The 25 year old Berto who improved to won 24-0 (19 KO 19) promised Collazo who fell to 29 -4 (14 ko's) ringside that he would grant him a rematch. Lets hope the world of boxing forces him to keep his word. Former Heavyweight champion Lennox Lewis said he would move on to another fight if he were in Berto shoes as Collazo was too tough cookie to tango with.
Related Articles: