Categories:
Fight Reports
|
Comments Off

on Braehmer crushes Averlant inside two rounds – Arslan ready for another world title shot!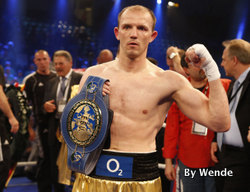 Juergen Braehmer is still the European Light Heavyweight Champion. The prodigy of coach Karsten Roewer saw-off his challenger Tony Averlant in two
rounds on Saturday. 3,200 fans inside the Sporthalle Hamburg, Germany witnessed a vastly improved Braehmer, who is seemingly getting back to the top of his game.
"We said after my last fight that there was still some room for improvement– and I proved that today. But my coach and I know that I can even do better
than that," said the champion afterwards.
The 34-year-old was keen to put his stamp onto the fight right from the get-go and did so in dominating style. Braehmer controlled the action and
the challenger was only able to react to whatever was thrown at him. The German was able to neutralize the height advantage of the six centimeters
taller Frenchman by using his jab and throwing single punches to Averlant´s head and body.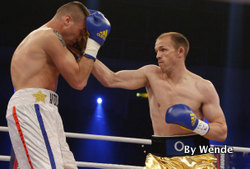 From that point on, Braehmer already knew his opponent's weak spot. "I realized in round one that Averlant struggled whenever I hit him in the stomach." Said and done! Round two saw the champion starting to land pinpoint combinations. One of them ended with a hard straight left to the ribs of his foe. With agony written all over his face, the 29-year-old hit the canvas and quickly realized that his attempt to get back to his feet was destined to fail. Therefore, the referee ended the fight after two minutes and 36 seconds of the round and Braehmer celebrated not only win number 40 as a professional but also his 31. knockout victory.
"Tonight, Juergen only showed us about 80 percent of his abilities inside the ring. I know that he can do even better and we will further work on
bringing the best out of him", said coach Roewer.
WBO World Champion Nathan Cleverly, who will have to face mandatory challenger Braehmer, should be warned. "I hope Cleverly got the message.
When I get to the top of my game, I am extremely difficult to beat," promised Braehmer after the fight.
Before Braehmer excited the crowd in Hamburg, Firat Arslan celebrated his first victory under the banner of Team Sauerland. The former WBA
Cruiserweight Champion won a one-sided affair against fellow German Varol Vekiloglu by unanimous decision.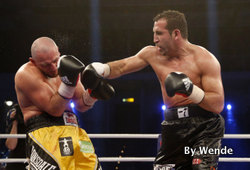 Arslan continued where he left off from his clash against WBO Champion Marco Huck last November. The 42-year-old was chasing his opponent through the
ring. Almost for the whole duration of the bout Arslan was stuck in top-gear and constantly on the front-foot. Mean left and right hooks shook Vekiloglu,landing to his head and body. His own punches didn't carry a lot of power, resulting in pretty much nothing.
As Arslan was unable to finish the bout early, the decision went to the scorecards. All three judges saw him clearly ahead, scoring the fight 98-92,
99-92 and 99-91. This was the fifth loss for Vekiloglu in 26 professional fights. Arslan on the other hand celebrated his 33. victory out of 41 bouts
and will soon get another crack at the WBO Crown.
In contrast to his teammates, Jack Culcay lost his first bout in the pro ranks and consequently the WBA Intercontinental Light Middleweight Title.
After twelve rounds one judge saw Culcay in front with 115-113 whereas the other two awarded the fight with scores of 116-112 and 115-113 to Guido
Nicolas Pitto, who won by a split decision.
Also unsuccessful was WBA Intercontinental Light Heavyweight Champion Dustin Dirks. The German lost to Oleksandr Cherviak by technical knockout in round
ten after Dirks´ coach Otto Ramin threw in the towel. However, Cherviak lost his chance to win the title due to being overweight during the official
weigh-in on Friday.
Related Articles: