Categories:
Fight Reports
|
Comments Off

on Burns vs. Beltran on Wealth TV on September 7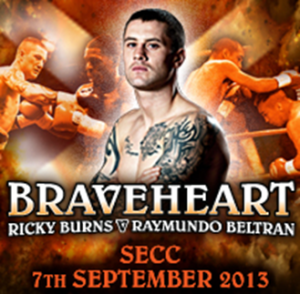 HOLLYWOOD, CALIF. (August 16, 2013) — No. 6 world-rated contender RAY BELTRAN, who finally gets his well-deserved chance at the brass ring when he travels to Glasgow, Scotland to challenge Scottish hero and World Boxing Organization (WBO) lightweight champion Ricky Burns, will host his only U.S. Media Day Next Thursday! August 22, at Freddie Roach's Wild Card Boxing Club (1123 North Vine St. — one block north of Santa Monica Blvd. — Hollywood, Calif. 90038.) Beltran and his team will be available for interviews from Noon to 1:00 p.m. PT.
The Burns vs. Beltran WBO lightweight championship fight will be televised live, in high definition, from Scottish Exhibition Centre, Saturday, September 7, on Wealth TV (http://www.wealthtv.com/).
Beltran (28-6, 17 KOs), from Los Mochis, México, who has been a regular sparring partner for Fighter of the Decade Manny Pacquiao, enters his first world championship fight having won six of his last eight fights, including USBA or NABF title victories over Carlos Vinan, Henry Lundy and Jihoon Kim.
Burns (36-2, 11 KOs), of Coatridge, Scotland, is riding a six-year, 21-bout winning streak. Burns captured the WBO junior lightweight title in 2010, dethroning Rocky Martinez via unanimous decision. After three successful title defenses, he moved up in 2011 to capture the WBO interim lightweight title with a unanimous decision over Michael Katsidis. He was elevated to WBO lightweight champion shortly after that victory and has successfully defended that title three times, the most recent on May 11, with a ninth-round TKO of undefeated Jose Gonzalez.
Beltran turned pro in 1999 took some losses early in his career but he was determined to realize his dream of becoming a world champion.
Beltran who lost a controversial decision to Sharif Bogere and a close loss to undefeated Luis Ramos Jr. before a magical three fight run where he defeated Number-one ranked contender Henry Lundy, former world title challenger Ji-Hoon Kim and Alejandro Rodriguez that catapulted him into this opportunity.
Beltran has been a fixture at the Wild Card Gym in Los Angeles was more than satisfied with his preparation for the bout and is very philosophical about the road taken to get to this title chance.
"Training camp was good. I think everything happens for a reason. I think by the way my career has been has made me a better fighter."", said Beltran
"I am mentally prepared to bring this to another level."
It was the win over television favorite, Lundy that made Beltran realize that he was a player in the 135 pound division.
"That win was the beginning of something good and it was the win over Ji-Hoon Kim that made this fight possible."
Standing in front of him will be Burns (35-2, 11 KO's) who is a two-division world champion who has won twenty-one straight fights and has not lost in over six and a half years.
"Burns has a lot of heart. He is a good champion and I respect him a lot. I appreciate the opportunity but it is my time"
The fight will take place at the Scottish Exhibition Center in Burns' home country of Scotland. Beltran, who has been an underdog many times in the past, relishes the opportunity of being a road warrior.
"I am excited to fight in Scotland. I know that crowd will be against me but that motivates me a lot."
Beltran does know that he will have a lot of support watching him back in America and around the world the world on AWE.
"To the fans in America and the United Kingdom, This will be a good show and I know the fans will enjoy the fight. I want to thank AWE for picking this fight up and I know my fans will be proud of my performance"
WealthTV is the premier lifestyle and entertainment network —the destination for exclusive and original programming, simultaneously transmitted in high definition and standard definition. WealthTV delivers to informative shows to its viewers, providing invaluable insights on what every American dreams of – from travel secrets to fast cars, from outrageous homes to live events, and much more. The network fills a television vacuum by delivering intellectually stimulating, thought-provoking entertainment and always-unbiased news from an insider's perspective. For more information, please visit www.wealthtv.com.
The network is currently available nationally on Verizon FiOS TV channel 169 and 669 in HD, AT&T U-Verse TV channels 470 and 1470 in HD, along with over 100 cable systems across the country and worldwide. The new website for AWE iswww.AWEtv.com.
Related Articles: