Categories:
Fight Reports
|
Comments Off

on Calzaghe Remains Undisputed
By Michael Amakor | November 4, 2007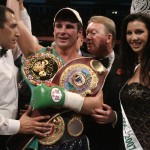 The decade rule of WBO Super Middleweight champion Joe Calzaghe continued uninterrupted as he comprehensively out-boxed the game, strong but technically overmatched Mikkel Kessler to annex the WBA and WBC titles to seal his legacy and supremacy in the 168 pound division in front of over fifty thousand partisan fans at a converted rugby pitch in Cardiff Wales.
The combatants spent the first round trying to figure each other out, but Calzaghe was quicker and subtle imposed his will on the Dane landing body shots from different angles to steal the 2nd and 3rd rounds.
Kessler rallied in the fourth round in desperation landing some hellecious uppercuts that dazed Calzaghe who virtually walked into these shots after figuring out Kessler could not hurt him, he ate more leather as Kessler countered his rushes in the fifth round as well.
Calzaghe regained the initiative in the 6th as he set a faster tempo and rhythm picking the Dane apart with body shots launched from different angles, his cockiness got him into trouble as he ate a couple of ill time uppercuts from Kessler which missed the mark.
The desperate Kessler went berserk in the 8th using a combination of wild uppercuts and laser guided punches that do not faze the Welshman, suddenly Calzaghe unleashed a combination that had Kessler seeming discombobulated but Calzaghe was unable to finish him off as referee Arthur Mercante interrupted the action by standing between the fighters and issuing a badly timed warning to Calzaghe for some illegal tactic that had the foaming fans furious at being denied the kill.
Kessler recovered and changed tactics so much that Calzaghe began to lose his balance in the ninth and tenth as Kessler unloaded some powerful jabs and overhand rights looking to knock out Calzaghe who returned fire and landed a monstrous 260 punches according to HBO's compubox stats in the eleventh as he coasted to win the fight 117-111, 116-112, 116-112 on all judges score cards.
This impressive performance will guarantee the elevation of Calzaghe undefeated in 44 fights up the pound for pound ranking and probably for all time down memory lane. So convincing and complete was his performance that is it would be impossible to get him to retire right now, and although he is not interested in fighting "Popkins" his humorous reference to the aged 43 year old Bernard Hopkins forever rumored to be his possible opponent, he lights up when the more interesting super fight with fellow country man IBF Light Heavyweight champion Clinton Woods who has been calling him out for ages is mentioned. That fight could happen and you have to give Joe more than a passing shot to win after his confidence boosting performance in Cardiff.
Kessler finally had a loss posted to his clean record which now stands at 39-1, 29kos but he is by no means fazed by this defeat which he took in stride knowing in his heart that he just lost to the better guy today, but God help the next person to step into the ring to fight him next, he conveyed to everybody judging by his confident demeanor and all smiles carriage post fight.
Pictures by Sumio Yamada
Related Articles: