Categories:
Fight Reports
|
Comments Off

on Crawford Prevails, moves to 140 lb. Division & B-News
Arizona Boxing News & Notes with Don Smith
Crawford Prevails, moves to 140 lb. Division & B-News
Boxing Fans,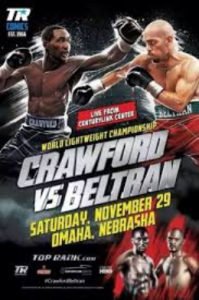 Andy & Carolyn Bayless, Owners of Twin Peaks, a spacious and comfortable sports bar & Restaurant in Phoenix, Arizona invited me to watch the November 29 WBO Lightweight Championship bout between 27 year old defending champion Terrence Crawford and 33 year old Raymundo Beltran on Saturday, November 29. I accepted their generous offer immediately since I don't subscribe to HBO and I like to watch fights with a drinking crowd because they rarely hold back their emotions and opinions. For the record, I ordered a single Ice Tea and not a Long Island Tea, scouts honor and Stephanie, Nicole and Brittany (my efficient, attractive and personable servers) will back me up and their sworn "affidavit of support" has nothing to do with the size of tip I left.
It was a special night; Andy & Carolyn know Ray Beltran who resides in Phoenix with his wife and children. The 7-1 underdog tag didn't deter the onetime Beltran sponsor (Andy) from openly supporting his friend with a small wager: friendship is more important than money, sometimes. Ray had a lot of friends in the house and only one enemy: Terrence Crawford who was fighting in Omaha, Nebraska, his hometown.
HBO showed a replay Manny Pacquiao's November 22 fight against Chris Algieri before presenting the co-main event, Russian IBF featherweight champion Evgeny Gradovich vs. undefeated 26 year old Puerto Rican Jayson Velez which ended in a draw. It was a nonstop entertaining counter-punching exhibition that was difficult to score. I thought Gradovich won (so did the crowd) even though Velez threw more punches, but Velez appeared to tire in the later rounds of their 12 round draw and his visible lack of stamina and questionable condition may have cost him a title.
The draw result left Gradovich with the IBF belt and a record of 19-0-1 while Velez returned home with a professional boxing resume of 22-0-1. There was talk of a rematch. Oh by the way, I tried to find someone gullible enough to bet on the Pacquiao/Algieri encore performance, but (not surprisingly) I couldn't find anyone to take me up on my $1,000,000.00 offer.
It was a sad night for members of the Beltran family who were on hand hoping to watch their favorite fighter win a world title; unfortunately the scorecard awarded the 12 round fight in favor of Crawford: 119-109 x 2 and 120-108. I agree with the unanimous verdict but thought the proud Mexican fighter won 3 rounds and I had one even on my unofficial scorecard. The pro Beltran crowd gathered at Twin Peaks in Phoenix, had little to cheer about throughout the match but the gritty challenger did bring his fans to their feet when he landed some hard blows to the head and body of his taller and younger opponent in the 11th round; unfortunately for his ardent fans, the defending champion managed to scramble away and avoid a possible knockdown.
A calm but jubilant Crawford (25-0) announced after the fight that he would move up to the 140 lb. division and when asked who he would like to fight next, the champion said it wasn't his habit to mention names of possible foes, but in a bit of irony; Manny Pacquiao's camp announced the Filipino boxing legend would move down to 140 lbs. for his next fight. Columnists aren't shy about spreading a little speculative gossip if the ammunition is there.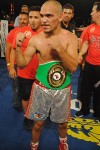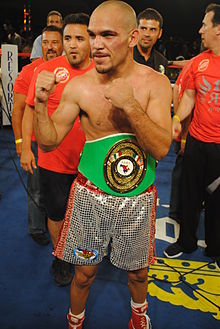 As for Beltran (29-7-1), if can continue to make weight at 135, he should be considered a serious threat to campaign for Crawford's soon to be vacated WBO Lightweight title. I talked to several of his fans who were ready to do cartwheels if the opportunity came to fruition. In the immortal words of Yankee philosopher Yogi Berra: "it ain't over until it's over."
A world title would cap a long and memorable career for the boxer affectionately known as "Sugar Ray" Beltran and was a longtime sparring partner of Manny Pacquiao. Meanwhile, Crawford hopes to add another crown, good performance by a boxer who is being considered for 2014 fighter of the year honors; 3 wins in one year is quite impressive.
For future televised fight events (UFC & Boxing) at Twin Peaks on Camelback in Phoenix, go online to the Twin Peak establishment website and check out calendar events and directions.
B-News: A spokesperson the Cardenas Group, a local public relations firm, will continue doing PR duties during the rebirth process of Ben Miranda Boxing Promotions. BMBP will cease to operate under the name of the late Arizona State Legislator and Silver Star recipient Ben Miranda after numerous complaints over the use of his name and questions involving management of the operation. At a recent Arizona Boxing/MMA meeting, one of the founding members apologized for the lack of quality of their first and only promotion and said the company would change its' name, evaluate personnel and upgrade their product. No time table on when the new group, under a different name, will resurface and present an event. I asked the PR spokesperson when a press release detailing plans would be sent to working members of the boxing media and she didn't know, but she did confirm that my email address was son file and I would be sent info after decisions would be made.
I then contacted Arizona State Legislator Catherine Miranda (Ben Miranda's Widow) office to ask her if she knew of the name change and the decision to dissolve the organization and Donna (Arizona State employee) told me Ms. Miranda was gone and promised to pass on elements of my inquiry to Cesar, her aide and confidant. Donna offered her opinion that it sounded like personal business and none of my business whether or Arizona State Senator elect Miranda knew the status of a boxing organization that bore her late husband's name. After grappling with her on the phone, I decided to hang up and wait for an answer to a very simple question.
Cesar never called me, but I called Donna back and she said the Senator elect told her that she knew nothing about the name change or the dissolving of Ben Miranda Boxing Promotions. Previously, the elected official made it abundantly clear that she did not endorse or support the organization bearing the name of her late husband. Her first response statement was made prior to her election to the Arizona State Senate.
Inside Stuff: According to two sources, Sonny Gutierrez is pondering the idea of promoting a professional boxing event in Arizona within the next 3-4 months. Sonny, a fixture in Arizona boxing for more than 30 years, is the head trainer and owner of Sonny's Boxing Gym in Avondale.
This column first reported that Shane Mosley was coming to the Phoenix Area to talk about the promotion of a show (MMA or Boxing) to be held at the Phoenix Zoo at the end of January 2015. After the report, I was told the show was to be promoted by Jack Mosley (relative of Shane). A call to Mosley promotions was unable to confirm or deny the rumor. Stay tuned!
More Unconfirmed Whispers: According to the boxing grapevine, Roy Jones Jr.is also planning a show in the Phoenix Area at about the same time Mr. Mosley (Jack or Shane) is allegedly ready to spend money in Phoenix. Local Boxer Alexis Santiago is rumored to be one of the targeted boxers asked to perform.
Initially, I was led to believe the proposed Mosley Show is an MMA event to be held at the Phoenix Zoo. One thing for certain, Mark Mosley (retired Washing Redskin Kicker) doesn't have any type of show in the works, anywhere! The Mosley Camp sent me an email asking what I wanted to know and I told them I was seeking info on a possible Mosley produced Super Bowl week, but none of his peeps have confirmed or denied a possible show.
As for Mr. Jones, I talked to John Wirt (an associate) and he didn't know if Jones had Arizona plans during the 2015 super bowl week, but he promised to get back to me ASAP! In my opinion, prospective employers may be reluctant to bring a boxing show to Phoenix during Super Bowl Week because of hotel rates and room availability. I hope my negative hunch is proven wrong because Arizona Boxing could use the super boost a Super Bowl can provide.
Officially there is no events penciled in on the Arizona Boxing and MMA Commission calendar of events for January 2015 but a representative for Roy Jones Jr. will be at the Monday, December 8 commission meeting which is open to the public and curious members of the press. Mosley's representative(s) met with the Executive Director, recently. Time will tell and deadlines, unfortunately, have to be postponed.
Public Service Announcement: Anyone (all ages) needing dental work can go to the Arizona State Fairgrounds on December 12-13 (Saturday & Sunday) and receive professional care free of charge no questions or identification required. The Central Arizona Dental Society Foundation (CADSF) is hosting its 3rd annual Dental Mission of Mercy event at the veteran's Memorial Coliseum at the Arizona State fairgrounds located at 19th Avenue & McDowell Road. The best entrance for the coliseum is off 19th Avenue and Encanto Road. Parking is free and the free dental care starts at 6 am on each day; concluding at 6 pm on both days. For more information call 602-738-9252. Volunteers are welcome and Arizona Boxing News & Notes is a proud supporter of Dental Mission of Mercy.
Short Jabs: Attending the Arizona Silver Gloves Championships (12/6-8/2014) at the Iron Boy Gym, 4238 South 37th Street in Phoenix, is a good way of working off the Thanksgiving gain unless you sleep through the fights. For info on ticket prices; call Mike Sanchez at 480-560-8114 for further information. 1st bout swings into action at 2 pm….Alexis Santiago & Iron Boy Promotions have parted ways according to a reliable source and the decision to sever ties was mutual….Super Bantamweight Walter Melchor Santibanes (6-2) was tossed out of the Central Boxing Gym for repeatedly hitting his sparring partner in the cashews days before he won his 11/29 bout in Los Angeles California Walter is the young man who went to the Celebrity Theater as a spectator and taunted Alexis Santiago during his fight earlier this year. He was later arrested and taken downtown by the boys in blue. Evidently Sir Walter wanted to kick Santiago's Cashews or Spanish Peanuts. Too bad, Santibanes has a character flaw, the young man can fight…..Members of USA Boxing Arizonaare thinking about setting curfews on all USA Boxing Arizona tournaments and limiting the number of bouts. Workers claim the hours are too long and they need more family time…..I applaud USA Boxing Arizona for their tireless efforts and I hope fans of amateurs boxing will call Chief of Officials Richard Soto at 602-702- 7053 and become a volunteer.
Iron Boy XV111 tickets are on sale at the Celebrity Theatre for a show expected to be a sellout. Andy Ruiz Jr., Trevor McCumby, Erick Deleon, Francisco C. de Vaca, Joey Ruelas, Edgar Brito are expected to fight on the card. Other names will be released next week. …Until Next Time!
Related Articles: