Categories:
Fight Reports
|
Comments Off

on Culcay Wins First Pro Title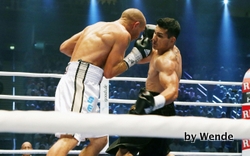 Stieglitz proved his sportsmanship by being a fair loser. "I have made a lot of mistakes today and from round seven onwards I wasn't able to see properly through my left eye. Nevertheless, I continued fighting but it just wasn't meant to be."
This was the 35th victory out of 38 fights for Abraham. In contrary, Stieglitz suffered his third loss as a professional.
Also on the card: Jack Culcay. "Golden Jack" won his first professional title, the WBA-Intercontinental Light Middleweight Championship against Frederic Serre from France.
However, this victory did not come easy for the German. His opponent kept on trying to cut the distance to the 26-year-old opponent. But Culcay kept his cool and while moving backwards away from Serre he kept on landing counter punches. By constantly bobbing his upper body, the amateur world champion of 2009 landed quick firing combinations to head and torso of his foe.
Midway through round three, referee Giuseppe Quartarone stopped the fight: During a quick firing combination of left and right hands, Culcay threw a surprising hard right hook to the face of Serre resulting in a gushing cut above his left eye. Consequently, the ring doctor had to look at the injury but called for the fight to be continued. Though, just a few seconds later, it was over. Serre´s injury was just too extensive and the bout had to be stopped. After two minutes and four seconds of round three Culcay was declared the winner of the fight.
Related Articles: