Categories:
Fight Reports
|
Comments Off

on George "BOMBS OUT" Taylor in 8 rounds and wins IBF/USBA Title!
By: Cestus Press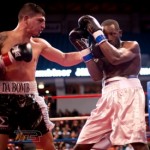 Last Friday at the UIC Pavilion in Chicago, Illinois, Cestus Management fighter, 168-pound destroyer, Don "DA BOMB" George, dismantled Maxell "General" Taylor winning the IBF/USBA Championship Belt.  The contest was scheduled for 12 rounds and was the main event of a 7 fight card.  George, is now 22 and 1 with 19 knockout wins, moves one step closer to a world title shot. 
George entered the ring and looked fully focused and when the first bell rang came out of the gate all business and immediately took command where he was met by a very live Taylor. Both fighters exchanged shots from the outset, but you could tell that George's shots where harder and he was the stronger fighter. In the exchanges, George combined boxing with hard shots to the head and body and you could see the pattern of the fight start to take place.
 As the fight progressed through rounds 2 to 7 "Da' Bomb" continually landed a crisp hard double jab, followed by rapid-fire combination's to the head followed by hellacious body shots that where breaking Taylor down round by round.  George, looking in excellent shape was able to keep a frantic pace and stuck to his corners fight plan of backing up Taylor with offensive pressure that completely dominated the very game Taylor.  
George came out for the eighth round and exploded all over Taylor and put together a vicious offensive attack and caught Taylor with a three punch combination to the head followed by a booming right hand Bomb to the chin that dropped Taylor for the first time in his career. Taylor got up at the count of 8 and you could see that he was hurt. The crowd went wild and sensed that the end was near as referee Gino Rodriguez took a look at Taylor and asked him to take a step forward and then motioned the fighters together and let the fight continue. The end came in 2:05 of the round as George pinned Taylor on the ropes, where he rained vicious unanswered shots to the head and body promoting referee Gino Rodriguez to stop the carnage of the battered and busted up Taylor, awarding the fight to "DA BOMB" on a technical knockout and the IBF/USBA title in the process.    
An ecstatic Donovan had this to say right after his victory, "This is a great feeling for me and I'm so happy that i have fulfilled one of my goals tonight.  Winning this title  is an awesome thing for me and my team, as everyone has worked really hard for me to get here.  Taylor was a real tough guy that knows how to box, but I was the better fighter and i showed that tonight. This was a fantastic night and this win will always be special".  
Gina Iacovou, George's manager (Cestus CEO) said, "Donovan looked sensational and I'm very proud of his performance here tonight.  The people in Chicago have a new IBF/USBA champion and a true world-class contender to support and after tonight we are one step closer to fighting for a world title".  
Mike Michael (Cestus Chief Adviser) said, "Donovan beat a very tough, determined and very capable opponent. Donovan's performance tonight was electrifying and the way that he beat Taylor showed that he has matured and belongs at the world class level in boxing".
Related Articles: