Categories:
Fight Reports
|
Comments Off

on Hyland impressive Stops Archuleta in fourth round
(Photos by Amy Wiley Photography)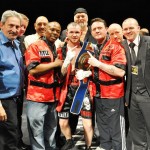 POUGHKEEPSIE, NY (May 15, 2012) — Undefeated Irish super featherweight Patrick "The Punisher" Hyland improved his record to a perfect 26-0, registering his 12th knockout when the action was halted by the referee Benji Estevez in the fourth round as veteran Frankie Archuleta (27-10-1, 14 KOs) was being pounded in tonight's main event, headlining "Irish Invasion," at Mid-Hudson Civic Center in Poughkeepsie, New York.
"Irish Invasion" was presented by Final Round Promotions, in association with Team Snooki Boxing and Bob Duffy's Ring Promotions, and sponsored in part by Title Boxing.
Hyland came out throwing crippling body shots, taking complete control from the opening bell. He dropped Archuleta in the first and third rounds, peppering Artchuleta with stiff jabs, solid combinations and devastating body blows.
"It was a good fight but I could have done a little better," Hyland said after the fight. "He's a tough guy who hit me with a couple of good shots. I got him with some good shots in the fourth when it was stopped. I'm a contender, 26-0, and fighting here in the United States. I'm ready for anybody at 126 pounds."
Arkansas invader Josh Williams (6-4, 4 KOs) upset previously unbeaten Bryant "The Spartan" Pappas (13-1-1, 13 KOs), winning a six-round decision in an entertaining match. Former USA Mid-American middleweight champion Pappas, a sergeant in the Yonkers Police Department, is a cancer survivor who donated his purse to cancer research.
Poughkeepsie super featherweight Chazz McDowell (6-1, 1 KOs) won a six-round majority decision from Cuban-born Yuniel Ramos. Canadian light welterweight Natasha "The Nightmare" Spencer (4-0-1, 2 KOs) tangles with Racquel Bailey (1-2-1) in a six-round female match. New York City light middleweight Valdrin Muriqi (3-1) won a unanimous four-round decision over a game Philip Burnette (2-4, 1 KOs),
Team Snooki Boxing was donating $1.00 from each sold ticket to Rolling Thunder, Chapter III New York to support needy U.S. military veterans.
"Irish Invasion" replays are available to watch at www.ustream.tv/bslive.
Full Results
MIDDLEWEIGHTS
Josh Williams (6-4, 4 KOs), Sheridan, AK WDEC6 (59-55 X2, 58-56) Bryant Pappas (13-1-1, 13 KOs), Yonkers, NY
LIGHT MIDDLEWEIGHTS
Valdrin Muriqi (3-1, 0 KOs), New York, NY WDEC4 (40-36 X3) Philip Burnette (2-4, 1 KO), Myrtle Beach, SC
SUPER FEATHERWEIGHTS
Patrick Hyland (26-0, 12 KOs), Marlboro NY WTKO4 (0:39) Frankie Archuleta (27-10-1, 14 KOs), Albuquerque, NM
Chazz McDowell (4-1, 1 KO), Yonkers, NY WDEC6 (60-54, 58-56, 57-57) Yuniel Ramos (1-8-1, 0 KOs), Miami, FL
Natasha Spence (3-0-1, 2 KOs), Mississauga, Ontario WTKO3 (0:45) Racquel Bailey (1-1-1, 0 KOs), Oklahoma City, OK
About Final Round Promotions: A full service boxing and MMA promotional company, Final Round Promotions is based in Poughkeepsie, New York and operated by Mike Pascale and Brian Burke.
About Team Snooki Boxing: Founded by one of the stars of MTV's reality show, Jersey Shore, Nicole "Snooki" Polizzi, and her father, Andy, Team Snooki Boxing handle Patrick Hyland.
About Rolling Thunder, Chapter III New York: The major function of Rolling Thunder®, Inc. is to publicize POW-MIA issues: To educate the public that many American prisoners of war were left behind after all previous wars and to help correct the past and to protect future veterans from being left behind should they become prisoners of war-missing in action. Go online to www.rtnych3.com for more information about his non-profit organization that is also committed to helping American veterans from all wars.
Ustream, Inc. is the leader in live and interactive video streaming. The interactive platform connects broadcasters and viewers of unlimited size through innovative technology, including: Facebook and Twitter social engagement tools, real-time chat and notifications, custom-designed channels, and embeddable features across multiple websites and platforms. Users are also able to broadcast, view, and engage with others in real-time, directly from mobile phones, tablets, computers, and smart TVs. The company attracts millions of high-profile brands, celebrities, musicians, athletes, politicians, animal enthusiasts, and gamers. Ustream recently earned the Guinness World Record for the "Most Content-Ingested by an Online Video Service".
For more information about Ustream, visit www.ustream.com and follow us on our socials: Twitter (@Ustream); Facebook (www.facebook.com/Ustream)
Related Articles: