Categories:
Fight Reports
,
Other News
|
Comments Off

on Jimmy Lange Does it Again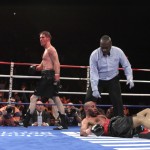 FORMER CONTENDER STAR SCORES DRAMATIC 10th ROUND KO OVER JOE WYATT TO CAPTURE NABA TITLE AT THE PATRIOT CENTER
Displaying his trademark heart, guts and determination, Jimmy Lange scored a dramatic 10th round knockout of Joe Wyatt with 22 seconds remaining in the final round to capture the North American Boxing Association's U.S. 154-pound title Saturday night at the Patriot Center in Fairfax Virginia.
There was plenty of action in the early rounds with each fighter gaining an upper hand at times, but with neither taking total control of the fight.  Lange struck two minutes into the fifth round when he knocked Wyatt down after connecting with a flurry of combinations.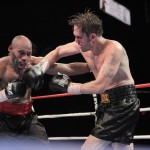 However Wyatt, who showed little ring rust despite fighting for the first time in more than three years, would recover to inflict his own damage causing a cut above Lange's left eye.  Jimmy Glenn, Lange's trainer and one of the top cutmen in the business, did an outstanding job controlling the gash during the fight.
By the seventh round both fighters had drawn blood and continued to go toe-to-toe to the delight of the large and enthusiastic crowd.   Then, like he has done many times before, Lange reached down deep inside to pull out the last-second win when he connected with a powerful right hand in the closing moments of the final round that sent Wyatt down for the count . 
 "We aren't in it for the money; we're in it for a world title," said manager/father Johnny Lange at the post-fight press conference.  "If you think of boxers from the 1950's and 1960's Jimmy is a throwback. Show me any other fighter today that has as much heart as Jimmy Lange."
 "I thought the fight was even heading into the 10th round." said Jimmy Lange. "The only person who had a hard time with my right hand was Joe."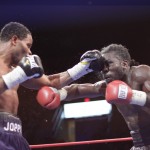 In the evening's co-main event former world champion William Joppy and Cory "Black Ice" Cummings fought to a majority draw, ending with an action-packed 10th round with each fighter desperately seeking a knockout blow. 
Todd Wilson remained unbeaten in impressive fashion, scoring a third-round TKO over Corey Goodwin after being led to the ring by his trademark bagpipe player.
Wilson's teammate, Zain "Tiger" Shah kept his unblemished record intact by pulling off a close (and many would say controversial one based on the shower of 'boos' coming from fans after the announcement) unanimous decision over Omar Sims.
Perry Ballard dispatched Booker Mullins with a devastating knockout at the close of the first round, and then proceeded to publicly challenge Lange to a rematch. (Lange defeated Ballard by fourth-round TKO in the Patriot Center's first boxing show held on September 17,  2005.)
Lange's former Contender teammate Jonathan Reid got back on the winning track by beating Mike McFail, while Brandon Quarles defeated Lawrence Jones in an entertaining bout that kick the evening off.
Ring Notes:  Three-time world champion Paul "The Punisher" Williams took time out from his Washington, DC-area training for his upcoming rematch against Sergio Martinez to attend the fight…  junior middleweight contender Harry Joe Yorgey made the short drive south from Pennsylvania to catch Lange in person sparking talks about a future Lange-Yorgey showdown… former world champion Demarcus "Chop Chop" Corley, set to fight Serhiy Fedchenko next Saturday in the Ukraine, served as a commentator for the promotion's video production team… other members of the local boxing community spotted were Pepe Corea, Ishmail Arvin, Jaime Palma, Tony Jeter, Purcell Miller, Carlos Quintana and Darrell Tyson…  …. A strong military contingency was on hand since the promotion supported America's Adopt a Solder program and hosted many soldiers including some Wounded Warriors from Walter Reed Army Medical Center …. O'Connell HS graduate and current George Mason University student Nadja Bienek sang the National Anthem.
 OFFICIAL RESULTS –Main Event
10 Rounds for North American Boxing Association U.S. Super Welterweight
Title (Division of World Boxing Association)
Jimmy Lange (34-4-2, 24 KOs) wins by KO (10 RD, 2:38) over Joe Wyatt (23-2, 15 KOs)
Co Main Event
10 Rounds, Middleweights
William Joppy (39-6-2, 30 KOs) and Cory "Black Ice" Cummings (17-4-1, 13 KOs) fight to majority draw (96-94 Joppy, 95-95, 95-95)
6 Rounds, Welterweight
Todd "White Lightning" Wilson (9-0, 2 KOs) wins by TKO (3 RD, 2:24) over Corey Goodwin (7-6, 4 KOs)
6 Rounds, Jr. Middleweights
Perry Ballard (21-2-1, 16 KOs) wins by KO (1 RD, 2:54) over Booker Mullins (3-10-2, 2 KOs)
6 Rounds, Middleweights
Jonathan Reid (35-13-7, 19 KOs) wins by UD (59-55, 59-55, 58-55) over Mike McFail (12-41-2 4 KOs)
6 Rounds, Middleweights
Zain "Tiger" Shah (4-0, 2 KOs) wins by UD (58-58, 58-56, 59-55) over Omar Sims (5-3, 3 KOs)
4 Rounds, Jr. Middleweights
Brandon Quarles (3-0, 1 KO) wins by UD (38-37, 38-37, 38-37) over Lawrence Jones (3-3-1)
Related Articles: