Categories:
Fight Reports
|
Comments Off

on Keith Thurman Knocks Out Soto Karass
Saturday's SHOWTIME CHAMPIONSHIP BOXING Telecast Will Replay As Follows:
Sunday, Dec. 15 at 9 a.m. ET/PT on SHOWTIME
Tuesday, Dec. 17 at 10 p.m. ET/PT on SHOWTIME EXTREME
Available on SHOWTIME ON DEMAND & SHOWTIME ANYTIME beginning Sunday, Dec. 15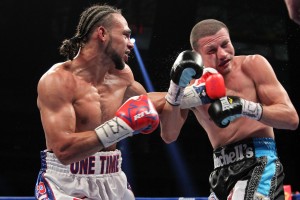 Two fighters with incredible will and determination met in a thrilling co-feature. Twenty-five year old Keith "One Time" Thurman made an emphatic statement with a brutal knockout of rugged, tested Mexican veteran Jesus "El Renuente" Soto Karass.
Karass opened the scoring in the first seconds of the bout when he stunned Thurman with a big right hand. But Thurman kept his feet, barely, and nearly floored Soto Karass to end the first round.
A furious pace was set. Thurman gradually stole the momentum and broke seemed ultimately to break the will of the Mexican challenger. Thurman showed impressive lateral movement and superb timing as he landed precise and powerful combinations in retreat.
Thurman sent Soto Karass down in the fifth and finished him in the ninth. The final blows were a lethal combination left hook and perfect left uppercut that landed flush to end the contest at 2:21 of round 9.
With the explosive technical knockout, the 25-year-old Thurman of Clearwater, Fla., is sure to climb the ranks of the deep welterweight division, arguably the most talented division in boxing the world over.
"Thurman can transition from a defensive position to explode with powerful shots," said Malignaggi. "That's not an easy thing to do."
Hall of Fame analyst Al Bernstein added this of Thurman, "Showing lateral movement while landing combinations and power punches. That's a tremendous set of skills to have. He has every offensive weapon you could want."
A jubilant Thurman: "San Antonio, baby. Thank you. There's a lot of tough guys out there but One Time represents the KO every time. They can take it for a few rounds, but they can't take it for 12 rounds.
"I saw I had him hurt. He was buzzed, standing up and I finished the show. I saw that he was open," Thurman said of the final uppercut. "I sat down on that left hook and I exploded.
"Everyone's dangerous with an 8oz. glove. Luckily, God willing, I was able to stand with him, go toe-to-toe and get him out of there."
When asked who he'd like to fight next, Thurman said, "I'd like whatever the fans like. I am here to entertain. I am here to give the best fights in the welterweight division.
"Merry Christmas everybody!"
Related Articles: