Categories:
Fight Reports
|
Comments Off

on Lucian Bute Stops Magee in ten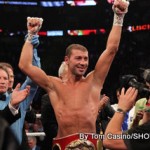 Mikkel Kessler Attends Bute Fight to Scout Possible Future Opponent's TKO Win in Eighth Consecutive Title Defense 
Catch the Replay on Tuesday, March 22 at 10 p.m. ET/PT on SHOWTIME EXTREME
 MONTREAL (March 20, 2011) – International Boxing Federation (IBF) Super Middleweight Champion Lucian Bute successfully defended his title for the eighth time with a 10th-round TKO over Brian Magee from the Bell Centre in Montreal, Canada. 
In front of 12,219 adoring fans, Bute (28-0, 23 KOs) put on a punching clinic that featured brutal body blows and unforgiving uppercuts. His opponent Magee, however, had no plans to give up easily after waiting until the age of 35 to score his first title shot. 
The scrap began with both southpaws feeling each other out. The taller Bute threw long body shots and a new-to-the-arsenal right hook while Magee fought to stay on the inside and take Bute out of his rhythm. The fight was close early on but Bute was winning most rounds. 
By the sixth, Bute's body shots started to take their toll. Magee (34-4-1, 24 KOs), of Belfast, Ireland, first hit the canvas with a flash knockdown after Bute hit him squarely in the gut. The seventh round proved even worse for Magee as Bute began to unload on his midsection. After referee Pete Podgorski incorrectly ruled the first knockdown a low blow, Lucian returned to the scene of the crime with another left hand to drop Magee for the second official time in the contest. 
Identifying the fight's mental turning point, Bute explained, "After the fourth round, I realized the body shots were working."
Whether relying on last-minute adrenaline or just lucky charms, the Irishman was determined to make a comeback.  Magee fired from his corner following the knockdowns to turn in gritty, resilient rounds in the eighth and ninth. Entering the tenth, the crowd noise increased to a fever pitch as Bute began to truly let his hands go. Magee tried to get back inside but Bute countered the attempt with a left uppercut to the chin that knocked down Magee for the third and final time, as Podgorski had seen enough and called the fight at 2:04 in round ten. 
Proud of his performance, Magee offered after the bout, "It's not a bad thing having a loss on your card while fighting the best in the world."
The fifth consecutive stoppage by Bute begged the obvious question: Who is next? Ready to answer that question was Mikkel Kessler, who flew from Denmark to attend the fight and provide commentary with the SHOWTIME broadcasting team. Asked if he would fight Bute in front of the Lucian-loving Montreal crowd, Kessler responded, "Yea, why not?" He later continued, "[Bute] can have his hometown. I'll kick his [butt] anywhere."
When questioned if he would be interested in a match with the former WBA and WBC Super Middleweight Champion, Bute commented, "If he's well enough to fight, I'll fight anyone."
The event was promoted by InterBox and will be rebroadcast on Tuesday, March 22 at 10 p.m. ET/PT on SHOWTIME EXTREME and be available On Demand from March 22 through April 4, 2011.
Related Articles: