Categories:
Fight Reports
|
Comments Off

on Markussen destroys Ribic, Nielsen proves heart and class in thriller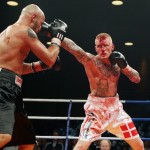 Rudy Markussen (35-2, 22 KOs) displayed his famed and feared punching power at the TV2 Fight Night in Herning on Saturday night when he destroyed Dejan Ribic (19-2, 7 KOs) in the first round. The Hardhitter knocked his opponent down with a left and then again two more times with thunderous body shots. "I felt in great shape," Markussen said. "Ribic said he was not afraid of my power but that did not do him any good. It was great to fight in front of the fans in Herning and I already look forward to the next TV2 Fight Night. This was my real comeback tonight and there is a lot more to come, I can promise."
In the co-featured man event, Patrick Nielsen (7-0, 5 KOs) put on an astonishing display of will and strength as he clinched a unanimous points victory over Adnan Salihu (5-1, 3 KOs) despite three bad cuts. Nielsen rocked his opponent with big shots to the head and body in the first round before several head clashes badly bloodied his face. "I take my hat off to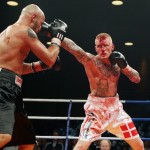 Patrick," coach Karsten Rower said. "He really proved his special talent tonight. Despite the bad cuts, he continued to box well and dominate the fight. That is a huge accomplishment for somebody at his age. I was very impressed by him." Said Nielsen: "Cuts and head
clashes are part of the game. I would not allow them to affect me. All that matters inside the ring is a victory and I think I got a good one tonight — even though I look like Quasimodo now."
It was an action-packed evening at Herning Kongrescenter, with Kaspar Bruun defeating Massimiliano Chiofalo on points and Kim Poulsen outclassing Saber Gasmi. Cecilia Braekhus also clinched a third-round KO victory over Eva Halasi to defend her WBC- and WBO female welterweight titles. Swedish sensation Erik Skoglund showed steady improvement in his points victory over Vladimir Spasojevic, while Serdar Sahin TKOed Lukas Schulz in the sixth round.
Related Articles: