Categories:
Fight Reports
|
Comments Off

on MY 2007 FIGHT OF THE YEAR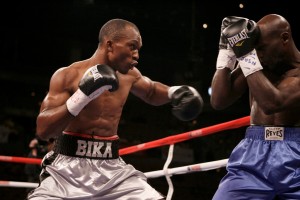 By Michael Amakor  | Watch fight
You may not have been a fan of the contrived and carefully edited boxing series "The Contender", you may also not have been enthusiastic about the mix of 168 pound super middleweights fighters assembled in the third installment which in the end pitted the very experienced 28 year old Sakio Bika (24- 3-2, 14 ko's); a former Olympian and two time title challenger, against the 23 year old Jaidon Codrington (18- 1, 14ko's) in the finals for the Contender title. However, there was nothing contrived about the televised slugfest that finally took place at the TD Banknorth Garden, in Boston MA, USA on November 6th 2007.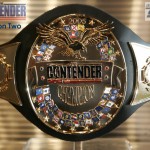 Maybe it was the three quarters of a million dollar prize for the winner, or the realization that this was their last shot at boxing immortality, but in the end it may have boiled down to two hungry pit bulls being trapped in a cage in the full glare of camera lights and prodded on by bloodthirsty foaming fans beating frenzied war drums, because after only a few seconds, the fight descended into a wildly entertaining slugfest of monumental proportions with the impact of bone crunching punches heard all across the arena.
Bika unleashed a blistering combination of head shots to stun Jaidon down to the canvas in the first 30 seconds, Jaidon quickly beat the count and Bika stormed in for the kill flailing wildly against Jaidon who recovered quickly enough to counter with an inside left hook that dropped the exposed Bika down to the canvas in only the first round. As the fight progressed I could no longer contain my astonishment by the awe inspiring brutality on display. Both guys seemed to dispense with body shots and resorted to head hunting and unrestrained power punching.
There were too many ebbs and flows to describe so you need to watch it and judge for yourself as both combatants kept surging against each other, and it was amazing how many big punches both guys absorbed, giving credence to both having iron clad chins.
Needless to say, Jaidon fought like a cornered lion, after perhaps vowing never to go out in the first round of a fight like he did against Allen Green in 2005 on Showtime. During the entire fight you got the palpable feeling that the fight could be stopped at any second in favor of either combatant and you were forced to remain fixated on the fight. Each guy dug in real deep to continue assaulting each other, fortunately such brutality could not be sustained and the fight ended as brutally as it began in the eight round when Bika unleashed several upper cuts that landed flush to discombobulate Jaidon, a further series of withering head shots forced the referee to award Bika the TKO win at the 2:18 mark.
Post fight, I distinctly remember questioning my morals about being a fan of such a brutal sport, and for a few seconds I reconsidered many previously scuffed at arguments to ban boxing altogether. I can think of only one other fight that had me question my allegiance to the sweet science and that was the slugfest between titlists Nigel Benn and Gerald McClellan back in 1995 with its immediate tragic consequences. I just hope both Bika and Jaidon have not deteriorated each other seriously enough to be unable to further peak in their respective careers up the tedious championship path.
As a tribute to what I witnessed I nominate their bout as "The fight of the year".
Related Articles: