Categories:
Fight Reports
|
Comments Off

on Oscar Stops Mayorga
By Michael Amakor | May 7,2006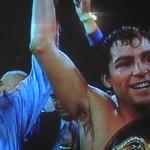 Boxing fans were treated to another brilliant performance at the MGM Grand Hotel and Casino in Las Vegas on May 6th, as Oscar De La Hoya, popularly known as the golden boy, despite a twenty month joy filled absence away from the ring needed only six rounds to decapitate the hydra headed trash talking Ricardo Mayorga, and seize his WBC Light Middleweight belt to add to his sizeable collection of trophies.
Most boxing analysts, including myself believed that Oscar might have been taking on more than he could chew too soon by challenging Mayorga, a fighter known for his wild power punching slugging tactics that once caught Vernon Forest and Trinidad off guard sending them down to the canvas. Our fears were however unfounded as Oscar unleashed his vintage left hook combinations that dropped Mayorga in the very first round, he then proceeded to brutalize the overmatched Mayorga down the stretch, firing laser guided bombs that ended suddenly with a barrage of punches that battered Mayorga against the ropes in the sixth round forcing Jay Nady to jump in and stop the one sided slugfest at the 1:25 mark.
As is typical after most feuds after a fight, the beaten Mayorga apologized to a gracious Oscar De la Hoya for all the horrible invectives he heaped on him to draw him out of his skin for this fight. This knew found respect is always preceded after receiving a sound beating, he has now tasted first hand, the destructive power of Oscar punches that have garnered him so many accolades over the years.I believe Mayorga is now convinced that Oscar is the real deal for him to apologize so soon after the fight, the ignomy of this defeat and the pain in his body must have convinced him not show up for post fight press conference afterwards.
This fight exemplifies the superiority of pure skill over sheer will, and this will no doubt be one of the most notable victories in Oscar's career which will be elevated to a higher plateau if he follows through with speculations of fighting Mayweather Jr or the winner of the Winky Wright vs Jermaine Taylor showdown. If he wins any of those fights he will become more than the living legend that he already is.
On my part, I have no doubt that he will give a good account of himself against any of them if these fights ever happen, but I would advise him to regain his rhythm against another B class opponent before stepping up to the A game of the winner of the Winky Wright vs. Jermain Taylor showdown, or Floyd Mayweather for that matter. Both of these guys are capable of giving him a boxing clinic if he rides up against them too soon and ill prepared as Felix Trinidad found out to his chagrin.
Nevertheless, this is Oscar's ninth title seizure in six weight divisions, his record has now improved to a solid 38 wins, 4 losses including stopping 34 top flight foes inside the distance. Simply Amazing.
Related Articles: