Categories:
Featured Article
,
Fight Reports
|
Comments Off

on Pacquaio Avenges Defeat – Dethrones Bradley
By Michael Amakor | April 13, 2014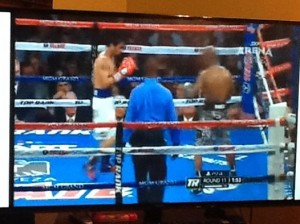 In an exciting fast-paced action fight, Manny Pacquaio wrested the WBO Welterweight championship belt back from Timothy "Desert Storm" Bradley at the MGM Grand in Las Vegas, Nevada and in the process avenged the loss he suffered to Bradley through a controversial decision at the same arena back in 2012.
This fight was an even match in the first five rounds, with pacquaio coming out strong in the second and Bradley returning fire in the third, but as the rounds wore on Bradley seemed unable to keep up with the blinding hand speed and combinations rained on by southpaw Pacquaio.
Pacquaio controlled the fight from then on and repeatedly backed Bradley against the ropes. The seemingly flat-footed Bradley was unable to mix it up on the inside and was stung with shots while against the ropes.
In frustration, Bradley began beckoning Pacquaio to bring it on and attack.
Pacquaio repeatedly obliged Bradley when prompted, avoided his counters and unleashed many unanswered combinations against Bradley who also appeared to have injured his foot, which negated his defense and movement.
In the seventh, 8th and 9th rounds Bradley tried to storm back into the fight but Pacquaio was able to make him miss many of his offensive assaults and jabs.
In between rounds on the large overhead screens, Manny Pacquaio's mum could be seen holding a cross in her hand and pointing a hex towards the ring.
Knowing that he needed a knockout to win, an emotional Bradley pressed his attack in the 11th and 12th round, but it was too late, but not before seemingly unintentionally head butting and opening up a cut over Manny's left eye to close out the fight in the closing seconds of the final round.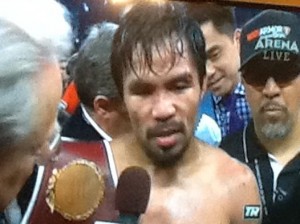 Judges Michael Pernick, Glenn Trowbridge, Craig Metcalfe scored it  116-112, 118-110, 116-112 respectively for Manny Pacquaio who secured his 56th win, 38 of which have been by Knockout, with two draws and five losses. 
With this win, Manny Pacquaio revived a career that was being fast tracked by boxing opinion makers towards retirement after being sensationally knocked out by Juan Marquez in his next fight after his loss to Bradley in 2012, followed by a win over the overmatched Brandon Rios last year. With this win, the coast is clear towards a long anticipated super fight with Floyd Mayweather. Whether the fight with Mayweather ever happens remains to be seen, as both camps have been unable to reach an agreement over the years.
Bradley (31-1, 12kos) who suffered his first professional defeat appeared to take his loss in stride and readily acknowledged during the post fight interview of the two fighters by Larry Merchant that Pacquaio was the better man tonight and promised to go back to the gym to get better and too keep on fighting.
Pacquaio reportedly will walk away with $20-million while the former champion Bradley earned $6 million for this fight.
Related Articles: