Categories:
Fight Reports
|
Comments Off

on RIGONDEAUX KNOCKS OUT RAMOS TO CAPTURE WBA SUPER BANTAMWEIGHT TITLE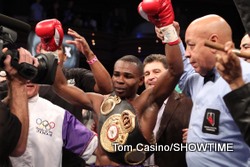 Joel Diaz Jr. Scores Seventh-Round TKO in "Mini Classic" Slugfest;
Matthew Villanueva Stops Mike Ruiz, Jr. in Seventh
Telecast to Re-Air on Tuesday, Jan. 24 at 10 p.m. ET/PT on SHOWTIME EXTREME
LAS VEGAS (Jan. 20, 2012) – In a night of knockdowns and stoppages on ShoBox: The New Generation, Guillermo Rigondeaux won a world title in only his ninth professional fight by knocking out the defending World Boxing Association (WBA) super bantamweight champion Rico Ramos at 1:29 of the sixth round. The co-feature resulted in a multiple knockdown thriller live on SHOWTIME® before Joel Diaz Jr. ended the contest by scoring a TKO over Guy Robb at 2:20 of round seven. In the opening bout of the night, super flyweight Matthew Villanueva TKOed Mike Ruiz Jr. at 1:04 in the seventh round from Pearl Theatre at Palms Casino Resort in Las Vegas, Nev.
In his first title defense, Ramos never found his rhythm.
"Rico Ramos is a very good fighter," Rigondeaux said after his world championship-capturing fight. "But I train very hard and when I train, no one can beat me."
The quick and slick Rigondeaux scored a knockdown in the first session and threw a slew of rapid-fire power shots to end the affair but Ramos pulled through the early adversity. From there, Rigondeaux methodically controlled the pace, although both fighters seemed a bit tentative and unwilling to engage from the second through the fifth rounds.
In the sixth, Rigondeaux (9-0, 7 KOs) bothered Ramos by holding and hitting. Joe Cortez warned Rigondeaux as Ramos (20-1, 11 KOs) recovered but Rigondeaux smelled blood in the water. The Cuban burst from his corner and belted Ramos with power shots to the head and a solid left hook to the midsection that sent Ramos to the canvas for a count of ten.
"He hit me in the back of the head and I got dizzy," said Ramos. "The referee told us to fight and I wanted to take my time. That's when he caught me with the body shot and I fell. I'm going to bounce back harder. I'll be up in that gym next week."
Diaz Jr. (7-0, 6 KOs) and Robb (7-1, 3 KOs) produced a shootout with its share of knockdowns and blood in a fight that both young boxers took on short notice. From the opening bell, power punches flew – and landed. As Diaz Jr., of Los Angeles, began to come on strong in the second, Sacramento-based Robb dropped him with a big right hand. Diaz Jr. retaliated with two knockdowns of his own in the third round.
Refusing to back down, the fight enjoyed several swings of momentum. The fighters loaded up on the majority of their shots with Diaz Jr. landing 148 power shots to Robb's 120. In the seventh, Diaz Jr. rocked Robb and began a barrage of punches that caused referee Vic Drakulich to call the fight.
"It was much harder than I thought," said Diaz Jr. of the scheduled eight-round super featherweight attraction. "I was expecting it to be more like my previous fights, but not everybody's the same. I can't hit everybody with one punch and knock them down."
Impressed by the action and torrid pace, SHOWTIME boxing analyst Steve Farhood called the fight a "mini classic."
Villanueva (7-0-1, 7 KOs), of Burbank, Calif., came into this evening with six stoppages in his six wins and tonight's victory was no different. The five-foot-seven Villanueva overwhelmed his opponent with his superior power. By round two, it looked like Ruiz Jr. (8-2-1, 3 KOs) of Fresno, Calif., might not survive as Villanueva dropped him, however the determined fighter made it back to his corner. Villanueva opened the third round by pummeling his opponent but again Ruiz. Jr. showed heart and resolve to keep the bout alive. Through the middle rounds, Villanueva showed great composure for a young fighter to not force the knockout. His patience paid off in the seventh when Villanueva began to tee off on Ruiz Jr. before referee Russell Mora stepped in to end the fight.
By the end of the scheduled eight-round super flyweight affair, Villanueva had landed 211 punches; Ruiz 62.
The event was promoted by Goossen Tutor Promotions.
Tonight's telecast will re-air on Tuesday, Jan. 24 at 10 p.m. ET/PT on SHOWTIME EXTREME and be available on SHOWTIME On Demand from Jan. 23 through Feb. 5. Al Bernstein called the action from ringside with Steve Farhood, Antonio Tarver and Andre Ward serving as expert analysts.
SHOWTIME returns to Las Vegas on Saturday, Feb. 11 for the most anticipated rematch of the year, Victor Ortiz vs. Andre Berto II from the MGM Grand Garden Arena. Both fighters will be featured in the upcoming premiere of FIGHT CAMP 360°: Ortiz vs. Berto II on Wednesday, Feb. 1 at 10 p.m. ET/PT.
For information on SHOWTIME Sports, including exclusive behind-the-scenes video and photo galleries, complete telecast information and more, please visit the website at http://sports.SHO.com.
Related Articles: