Categories:
Fight Reports
|
Comments Off

on Sheika vs Ferrante – Fight of the Year Candidate on GFL TV
CHESTER, PA (March 1, 2012)—This past Friday night at Harrahs in Chester, PA, Omar Sheika scored a ten round unanimous decision over Tony Ferrante in a bout that many are already hailing as a Fight of the Year candidate.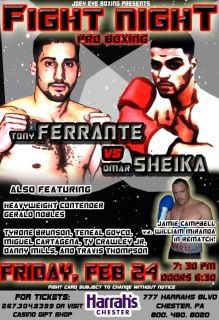 That bout plus a full five bout undercard is now available on www.gfl.tv for just $9.99 by clicking on the poster
Sheika and Ferrante took turns landing hard shots which thrilled the crowd at Harrahs. Ferrante jabbed very well early and was able to land some hard uppercuts. Sheika got through with right hands. The bout was a battle of geography as Ferrante had much success by keeping Sheika pinned up against the ropes while Sheika performed well in the middle of the ring.
Sheika too control in the middle round by landing some furious combinations. With both fighters faces showing the signs of a war, Sheika landed a crunching blow in round nine that snapped the head of Ferrante back. Somehow Ferrante was able to recover and get some work done at the end of the round. Ferrante came back to have a strong round ten but it was not enough to offset an earlier damage done inflicted by Sheika which included an earlier knockdown.
In the exciting co-feature, Naim Nelson remained undefeated with a close six round majority decision over Linwood Hurd.
This was a bout in which each fighter had solid moments but it was the more solid punching of Nelson that seemed better in the judges' minds over the volume of Hurd.
Local favorite Jamie Campbell scored a four round unanimous decision over Lonnie Kornegay in a battle of hard hitting Heavyweights.
Fred Jenkins Jr. survived a spirited effort over late-replacement John Michael Terry to eek out a four round unanimous decision in a Light Heavyweight bout.
Tyrone Crawley Jr. made a successful pro debut with a four round unanimous decision over Hamid Robinson.
In a battle of pro debuters, Danny Mills scored the only knockout of the evening when he took out Michael Haines in a Middleweight bout.
This terrific night of boxing was promoted by Joey Eye Boxing & David Feldman.
Joey Eye Boxing returns to Harrahs in Chester on Friday night May 4th
<iframe src="//www.facebook.com/plugins/like.php?href=http%3A%2F%2Fwww.facebook.com%2Fpages%2FFightkings%2F134939333215152&amp;send=false&amp;layout=standard&amp;width=450&amp;show_faces=true&amp;action=like&amp;colorscheme=light&amp;font=arial&amp;height=80&amp;appId=237974992949883″ scrolling="no" frameborder="0″ style="border:none; overflow:hidden; width:450px; height:80px;" allowTransparency="true"></iframe>
Related Articles: