Posted by George Hanson., Jr Esq. on Nov 24, 2010

Share
The Mouthpiece
The Inevitable Montecore – Martinez Euthanizes Williams
By: George Hanson Jr., Esq.
Date: Saturday, November 20, 2010
Venue: Boardwalk Hall—Atlantic City, New Jersey
Promoters: Goosen Tutor & DiBella Entertainment
Coverage: HBO's World Championship Boxing
Commentators: Bob Papa, Emanuel Steward & Max Kellerman
Ring Announcers: Michael Buffer & Joe Antonacci
Referees: rl Morton, Ricardo Vera & David Fields
Pictures: www.christoneyphotography.com
Round 2 of the main event, time stopped. WBC middleweight champion Sergio "Maravilla" Martinez (45 wins – 2 losses – 2 draws – 24 kos) defending the title for the first time was circling to his right when I heard what sounded like the crack of a whip as three-time world champion Paul "The Punisher" Williams (39 wins – 1 loss – 0 draws – 27 kos) spun 45 degrees in slow motion and crashed face first on the canvas. Time stood still. The building fell silent and you could hear a mouse peeing on cotton, fans with mouths agape in disbelief wondering what just happened.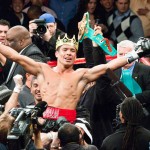 < A jubilant Sergio Martinez
The monstrous hall sounded empty. Two seconds seemed like eternity. I looked at matchmaker Renee Aiken seated beside me who appeared stunned, as if she had just seen the ghost of Jack Johnson. Martinez's promoter, Lou DiBella, seated ringside broke through the thickness of the eerie silence like a diver resurfacing by leaping into the air like he had just discovered that he held the winning ticket to Saturday's Powerball drawing. The astonished audience burst like a rumbling volcano erupting, cheering wildly, quickly processing what had happened—Sergio Martinez had knocked out Paul Williams with one punch!
Paul "The Punisher" Williams was sleeping on the canvas, deposited there by a well-timed Martinez overhand left that came above his low southpaw right jab. Williams never saw the punch because he was attempting his own overhand left while watching the left-handed Martinez's head which was going right, the direction he was stepping, while he brought the powerful left—picture-perfect! The entire four minutes and ten seconds of the fight had been a long conspiracy to entice Williams to continue his forward progress unabashed, confident that he had Martinez retreating while getting him in the optimal range to stop on a dime, dip right and explode the overhand left off his chin. When Williams was in hot pursuit he had exposed himself to such a blow that would have brought down a Silverback Gorilla. As I predicted, this was inevitable and destined to happen.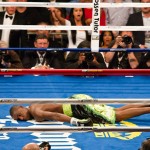 Paul Williams is out cold.
However, it was still shocking and I could not help but reflect during this poignant moment on Siegfried & Roy, the master illusionists who mesmerized audiences with glitz, glamour and animals, especially white tigers. I remember seeing them for the first time on television as a kid in Kingston, Jamaica. I must have been 10-years-old and was in disbelief as these two men stuck their heads in the tiger's mouth as part of their act. Growing up on a farm, I have a great appreciation for animals, their instincts and propensities. I told my father, "One day that tiger is going to eat those men." Fast forward to October 3, 2003 when Montecore, a seven-year-old 380-pound white tiger born in Guadalajara, Mexico attacked and dragged Roy Horn 30 feet off stage like a rag doll, rendering him unconscious, hospitalizing him in critical condition. Some said the tiger went crazy. However, it was comedian Chris Rock whose assessment was spot on – "That tiger didn't go crazy, that tiger went tiger. The tiger was crazy when he was wearing that little ass hat and riding that tri-cycle. He is a predator." This was inevitable, just like Paul Williams being put to sleep at 1:10 of Round 2.
For years we have been watching Williams, his brows thickened with scar tissue from all the years of aggressive attention. He has never been stopped, only losing to Carlos Quitana, a loss that was later avenged. I questioned his style, but some in the media thought I was being too critical of Williams after his razor-thin victory over Martinez last year when I wrote:
Whoever taught Williams how to box should be arrested for impersonating a trainer because his technical deficiencies are so egregious that it is amazing that he has won three world championships. Or maybe he is competing in an era where great fighters are few and far between. Williams wins because he has great physical skills and an indomitable will to win. He would be almost unbeatable had someone taught him how to properly use his gifts and the art and strategy of boxing—something mastered by Floyd "Money" Mayweather. The fat lady is clearing her throat on Williams. He will eventually walk into a punch that will render him hapless on the canvas. (The Mouthpiece – December 5, 2009).
Martinez was Williams' Montecore performing the inevitable, capitalizing on the moment while performing on a large stage in front of thousands. Martinez disposed of one question—moving up in weight has increased his punching power. Williams, in turn, answered another question. He can only fight one way—coming forward with reckless abandon throwing punches incessantly like he was amped up on espresso beans wearing down his opponents with his sheer volume of punches. This is what makes him such an exciting fighter. You can have 40 successful jumps with a parachute that has been manufactured to open 98 percent of the time. However, there will come a time when you pull that cord and nothing happens and you spiral to the ground, gravity being your Grim Reaper. Williams had 40 successful landings, but on Saturday night the parachute never opened as Martinez's left crashed off his chin rendering him unconscious. Martinez was the tiger and the crowd went crazy! I told my father that the tiger was going to eat those two men! It was unavoidable.
As Williams is technically deficient, middleweight prospect Fernando Guerrero (19 wins – 0 losses – 0 draws – 15 kos) is on the opposite end of the spectrum—technically sound, systematic in his approach with a high boxing IQ. It is only a matter of time before Guerrero's NABF belt is replaced with one of the world titles—he is that good. Born in the Dominican Republic and raised in Salisbury, Maryland, the southpaw Guerrero was an outstanding amateur who won the National Golden Gloves championship in 2007. Unlike most of his peers, his transition to the punch-for-pay-ranks has been smoother than a baby's bottom.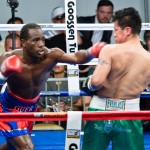 Guerrero (L.) landing the straight left.
All the vestiges of the amateur points system, which focuses on scoring points instead of landing telling blows, are non-existent in his repertoire. Articulate and charismatic, the young fighter carries himself with an air of humble superiority. He fights like Marvelous Marvin Hagler, but lights up a room like Sugar Ray Leonard.
UNDERCARD
Tonight Guerrero's arsenal was on display as he methodically dismantled veteran Saul Duran (36 wins – 17 losses – 3 draws – 29 kos) of Juarez, Mexico in the scheduled eight-rounder matched on short notice by matchmaker Renee Aiken. Guerrero attacked his opponent's body in the opening round, raking him with vicious hooks stalking him like a mountain lion after an elk. Guerrero sent Duran to the canvas with a straight left in the second round and rocked him with right hooks that he instantly turned into uppercuts that found their mark. However, Duran proved his mettle by standing toe-to-toe with Guerrero in Round 3. I would assume that Guerrero felt that our eyes had feasted enough on his talent and walked out in Round 4, cracked Duran with a left to the body that deposited him on the canvas. The wily Mexican was up at the count of five but Referee Vera was merciful and called a halt to save Duran from himself. It goes into the record books as a technical knockout at 1:06.
There are probably a few more gray hairs gracing trainer Big Rob Murray's head as his charge—junior-welterweight prospect Steve Upsher Chambers (22 wins – 1 loss – 1 draw 1 no-contest – 6 kos) decided that he was going to pay homage to the great Wilfred "The Bible of Boxing" Benitez by spending most of his eight-round match against the relentless Mongolian, Bayan Jargal (15 wins – 0 losses – 3 draws – 10 kos) fighting with his back touching the ropes. Chambers, the younger brother of heavyweight contender "Fast" Eddie Chambers, is a tall, slick and extremely talented boxer who has honed his skills by fighting twenty-three times at The Legendary Blue Horizon in Philadelphia. Jargal who now resides in Arlington, Virginia pressed the action from the opening bell as Chambers back-pedaled finding solace on the ropes.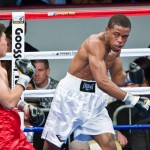 Chambers (R.) firing off the ropes.
The shorter Jagal repeatedly attacked the body as Chambers jabbed, followed by quick combinations. The rounds were close as they rumbled toe-to-toe in Round 3 with Chambers rocking Jargal with a blistering hook to steal the round. They continued their tactical match at a frenetic pace with neither man having a decisive advantage.
However, Chambers would close the rounds with combinations ala Sugar Ray Leonard. In Round 7 it appeared that Jargal was about to turn the tide significantly in his favor when he landed a terrific combination. But, true to form, Chambers responded from his arsenal and exchanged fire much to the delight of the crowd. Never to be outdone, Chambers ended the round strongly with a combination. The final round was close. I scored it 77-75 Chambers, as did one of the judges. Another judge had the same score, for Jargal with the third scoring it 78-74 for Chambers who captured a split-decision.
Other Results:
In a battle of southpaws one-time heavyweight title challenger Tony "The Tiger" Thompson (34 wins – 2 losses – 0 draws – 22 kos) of Washington, D.C. stopped Paul "The Italian Hitman" Marinaccio (24 wins – 5 losses – 3 draws – 11 kos) of Buffalo, New York at 2:02 of the fourth round of this scheduled 10-rounder. Marinaccio couldn't avoid Thompson's straight left that rocked him throughout the match. It was a blistering combination of rights and lefts that "whacked" Marinaccio late in Round 4 bringing Referee Fields to his rescue.
Former WBO light-heavyweight and cruiserweight champion Zsold Erdei (31 wins – 0 losses – 0 draws – 17 kos) of Hungary, won a lackluster unanimous eight-round decision over Samson Onyango (20 wins – 6 losses – 0 draws – 13 kos) of Nairobi, Kenya in their light-heavyweight match by scores of 80-72 twice and 79-73. Erdei, who is returning from a year layoff, had many supporters in the building who cheered whenever he threw a punch.
Despite Erdei fans' enthusiasm and hubris it would be ill-advised to consider putting him in a match with IBF light-heavyweight champion, Tavoris Cloud. Cloud would massacre the 36-year-old slow footed Erdei who has benefited tremendously by fighting mostly in Germany.
Undefeated featherweight Luis Del Valle (10 wins – 0 losses – 0 draws – 8 kos) of Newburgh, New York dropped Noel Lopez Jr. (6 wins – 6 losses – 0 draws – 4 kos) of Mexico twice in the third round forcing Referee Vera to stop this one-sided affair at 1:48 of the round.
The show opened with six-foot-three welterweight Willie Nelson (15 wins – 0 losses – 1 draw – 9 kos) of Cleveland, Ohio dropping Quinton Whitaker (7 wins – 8 losses – 0 draws – 5 kos) three times in the opening round of their scheduled eight-rounder, forcing Referee Fields to end it at 2:22. Nelson overwhelmed the shorter Whitaker with straight rights and blistering left hooks.
If anything had been lacking to establish the fame of Sergio Martinez, the above contest has completely cemented his place in the annals of boxing. It has to be one of the greatest knockouts that I have ever witnessed. As I left Atlantic City I reflected on Paul Williams, his courage, fighting spirit and indomitable will to win— marveling that he won three-world championships, avoiding the inevitable for 40 fights. However, you can't cheat destiny— Siegfried & Roy performed over 30,000 shows before Montecore reminded the whole world that he was a tiger.
Continue to support the sweet science, and remember, always carry your mouthpiece!
Related Articles: