Categories:
Fight Reports
|
Comments Off

on Wegner prodigy still cruiserweight champion after strong finish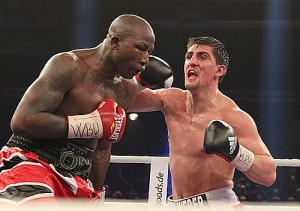 Marco "Captain" Huck is the new and old WBO Cruiserweight World Champion. On Saturday night the 27-year-old fought out a draw against mandatory challenger Ola Afolabi in front of 5.500 fans at the Messehalle in Erfurt. After twelve drama-filled rounds, judge Zoltan Enyedi gave the fight to the German with 115:113. Both Ingo Barrabas and Paul Thomas scored the bout 114:114
"It was a good fight," said Huck. "I am a real fighter and warrior, which is why I still have my title." And it seems that the prodigy of Ulli Wegner was correct with his evaluation. To begin with Ola Afolabi was more agile and active and managed to take charge of the fight.
Round three started with some great combinations by Huck, and his British opponent was clearly affected by it. But in round four the challenger, coached by Fritz Sdunek, landed a strong left hook to the chin of the German during an infight. And it seemed as if the champion was on the verge of losing his belt after a deep cut opened up above his left eye.
But then the WBO champion started using his left hook and right straight. Towards the end of round nine he let lose a salvage of blows. Afolabi was lucky that he was saved by the bell, otherwise he probably would have been brought to the canvas. This did cost a lot of energy for Huck, nevertheless he still managed to dictate the pace for the remainder of the fight. During the last round the world champion really went for it as it was all or nothing. Although both men were struggling to stand on their feet, Huck still managed to find some energy and landed some important blows on his opponent.
And the judges' scorecards showed how significant this last hurrah was. The belt would most likely have been lost without the tremendous character shown by Huck towards the finish of the bout. Ulli Wegner: "I am so happy that Marco showed his power at the end of the fight. Both sides should be pleased with the result. The fans saw an exciting and entertaining fight."
Afolabi`s coach Fritz Sdunek had a similar view: "At times Ola forgot to box. He was on top but let Marco surprise him. The result is alright but I am not happy with Ola´s performance," said the coach at the post-fight press conference.
Related Articles: